News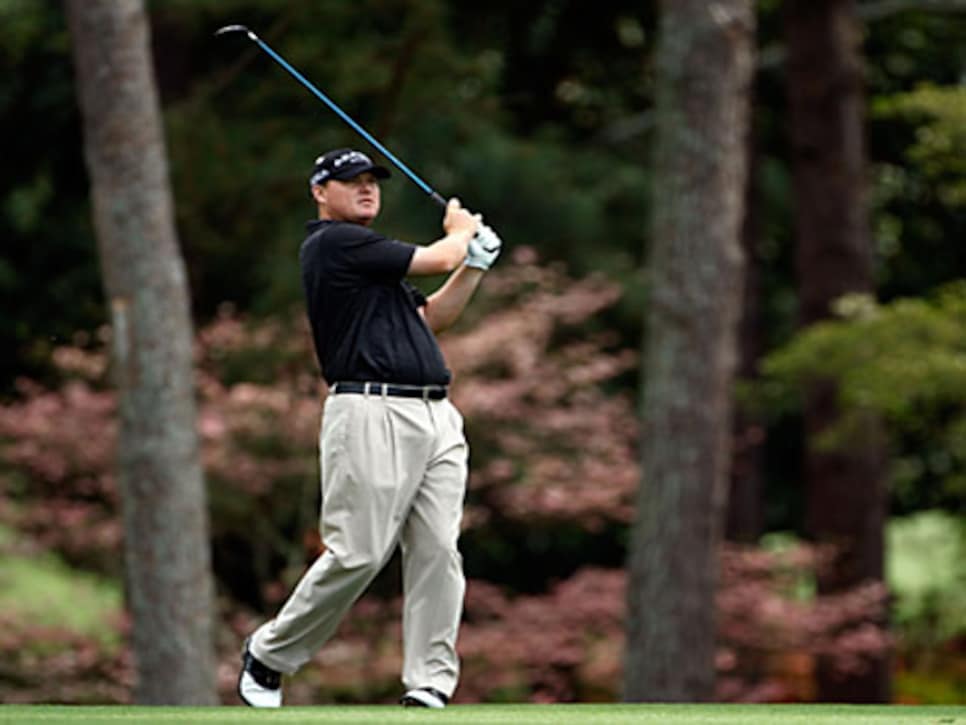 Chad Campbell has remained even keel through two rounds of the Masters. That's because he knows no other way.
AUGUSTA, Ga. -- This time, Chad Campbell wore a black shirt, and he's probably fortunate his skin didn't reject it. That's because Campbell is a white shirt kind of guy. He is also a white bread, tan slacks, beige dining room wall, blend-into-the-background kind of guy.
But there he was Friday afternoon at Augusta National, slamming a runaway, downhill, 20-foot birdie putt into the hole at the 18th that tied him for the 36-hole lead at the Masters.
Campbell's reaction was classic. He low-waved the gallery and ambled over to pick the ball out of the hole. If he walked any slower, you could have timed him with a sundial.
So far at the Masters, Campbell has let his play account for the flair. After rounds of 65 and 70, he shares the lead with Kenny Perry and both of them have a chance to make history.
Since World War II, the only player to win the Masters without playing in it the year before is Fuzzy Zoeller, who was a rookie in 1979. Neither Campbell nor Perry played here last year. Campbell is not the kind to get too excited about that kind of stuff. He'd rather be tooling around in his boat or off somewhere hunting. Back home in Colleyville, Texas, Campbell does not search for the high-profile life. In fact, even his dry cleaner isn't sure who he is, Campbell said.
"He doesn't say anything. He certainly doesn't give me any discounts."
Discounts aren't really something Campbell needs, not after winning four times on the PGA Tour, including the 2003 Tour Championship, and banking almost $17 million. What he doesn't have is a major title.
Maybe it's coming, possibly this weekend, or then maybe not. You get the idea it's not going to change Campbell all that much. Growing up in the tiny West Texas town of Andrews, Campbell mostly played a nine-hole muny courses and picked up his own range balls. When he played college golf at UNLV, he worked part time in a coffee shop to earn some extra cash.
Campbell is as dry as a Texas sidewalk in the summertime and he's got a drawl you could slide underneath a door. Boo Weekley, who knows Campbell as well as anyone except Mrs. Chad Campbell, was uncharacteristically at a loss for words when asked if anything bothered Campbell.
"Well, I reckon once, maybe," Weekley said. "It was [Thursday] when he was flirtin' with a 63."
The real color in Campbell is his wife, Amy, a one-time American Idol wanna-be as Amy Lepard and a recording artist on her own independent Lepard Skin Productions. She's the one with the flamboyant personality, playing off Campbell's own, borderline nondescript one.
Not that any of this personal sizzle factor actually matters, of course.
What matters is whether Campbell is for real this weekend, or whether he has just been visiting for a couple of days. The grounds of Augusta National are littered with 36-hole leaders who turned around and did a quick fade, including two last year, when Brett Wetterich shared the lead with Tim Clark and wound up 83-77 and tied for 37th. Clark shot 80-74 and tied for 13th.
At one point Friday, Campbell seemed to be on his way toward running away. He reached 11 under with a birdie at the 10th and led Perry by five shots.
Campbell said he didn't know that.
"I try not to pay too much attention about it," he said.
No matter how he feels about his place in the spotlight, Campbell has experienced his share of noteworthy moments. The most well known is the 2003 PGA Championship at Oak Hill, where he found himself in a two-man battle with Shaun Micheel. Campbell was one shot down as Micheel stood 175 yards from the hole at the 18th and stopped the ball three inches from the flagstick. Micheel made the birdie putt, claimed a two-shot victory, and won his major championship.
Campbell was left to keep searching and he still is.
"I'm not mad at him or anything," Campbell said. "You can't think that way. He played great on a tough course."
That's just what Campbell has done so far at Augusta National. It may be windy the rest of the way, like it was Friday, but that doesn't upset Campbell.
"I'm used to playing in the wind . . . that doesn't mean I like it, though."
It looked like Campbell almost cracked a smile. That must mean people can surprise you. If things work out by Sunday evening, maybe even his dry cleaner will know who he is.