News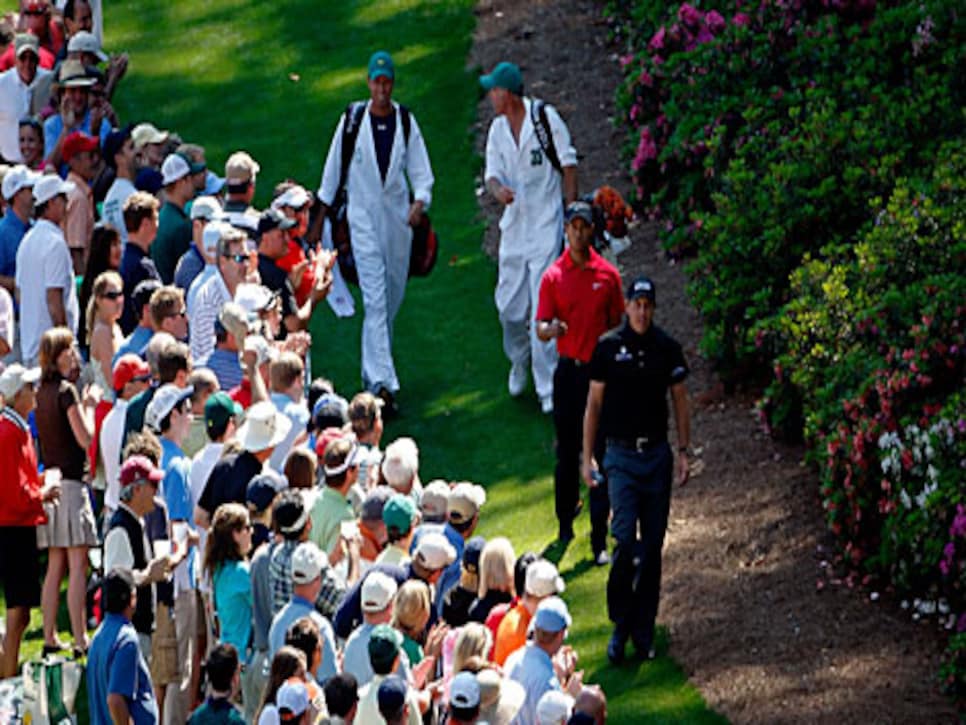 The pairing of Tiger Woods and Phil Mickelson on Sunday provided plenty of intrigue.
AUGUSTA, Ga. -- The 73rd Masters is now in the books. Who flourished? Who faltered? Let's take a closer look with our rundown of birdies and bogeys ...
Birdie: Phil Mickelson -- With an electric display of front-nine shotmaking, including a that-must-have-been-digitally-enhanced approach shot on No. 7, Lefty sent Augusta National into a frenzy when he made the turn in 30, bringing himself within one shot of the lead.
Bogey: Mickelson: Actually, make that double bogey. It might have been asking too much for Mickelson to avoid at least one brain cramp down the stretch, but this one proved to be particularly costly. In chunking his wedge shot into Rae's Creek on the par-3 12th, Mickelson lost momentum at an inopportune time, and was never able to recover.
Birdie: The beer cups at Augusta National -- Not only may it be the last sporting event on the planet where a cup of suds only sets you back $2.75 ($3.50 for an import), but the cool hard plastic cup with the Masters logo on it is a prime keepsake among patrons, many of whom stack 10 or more cups together to take home.
Birdie: Man in a Bunker -- When a spectator decides that spectating isn't enough, it's not a good thing. Such was the case when Mickelson and Tiger Woods approached the 17th green, both at 10 under par and still in contention. Mickelson was facing a short birdie putt and Woods had missed the green to the right, but as they neared the green a young man jumped under the gallery ropes and ran into the greenside bunker to their left.
Remarkably, no one overreacted. Mickelson and Woods went about their business, and after the fan reached his arms out to Mickelson's caddie, Jim (Bones) Mackay, as if to plead for acknowledgement, Mackay motioned him away. Jay Rains, a USGA official and San Diego-area lawyer perhaps best known for helping to bring the 2008 U.S. Open to Torrey Pines, motioned for the interloper to leave the bunker and then walked him around behind the grandstand.
With very little delay, play resumed. Woods failed to get up and down from a difficult position and made bogey, and Mickelson missed his birdie putt. They'll be back to Augusta National. The "spectator"? Not so much.
Bogey: Chad Campbell and Kenny Perry -- Can't anybody here play this game? Both players had chances to win, or at least stay alive in the playoff. But both stumbled badly at the worst possible moments, including when they each missed green badly from the middle of the fairway.
Birdie: Armchair psychoanalysts -- Could there be a better opportunity to dissect the Tiger-Phil dynamic than the two of them paired together during the final round of the Masters? Did they look each other in the eye when shaking hands? Did Tiger say "nice shot" or "nice 5" to Phil (and if he did, was it sincere)? Was that a chuckle we saw when Phil's ball ended up in the drink? It doesn't matter what the real answers are. It's still fun to speculate.
Birdie: Hackers everywhere -- Admit it, you experienced a slight tinge of joy when you saw Angel Cabrera shank his approach shot on the par-5 eighth, his ball jumping abruptly to the right. It was a rare reassuring moment that it can happen to the best of them. Better yet was the reaction of an utterly flabbergasted Nick Faldo: "Oh, it's all happening today."
Bogey: Sam Torrance -- As Angel Cabrera dropped the putt to win in the playoff, the former European Tour great, announcing on the BBC, said: "In Argentina, this makes up for 1968 when Roberto De Vicenzo signed an incorrect scorecard and won in a playoff." Ah, no, Sam. No playoff when De Vicenzo screwed up. Just a Bob Goalby victory.
Birdie: John Merrick -- Merrick's route to the Masters was an interesting one. He needed to go through sectional qualifying to get in last year's U.S. Open then had to drop a lengthy birdie putt on the 72nd hole to finish T-6, thus getting him an invite to this year's Masters. Merrick made the most of his opportunity, firing a day's low 66 Sunday to ensure a return trip to Augusta in 2010.