News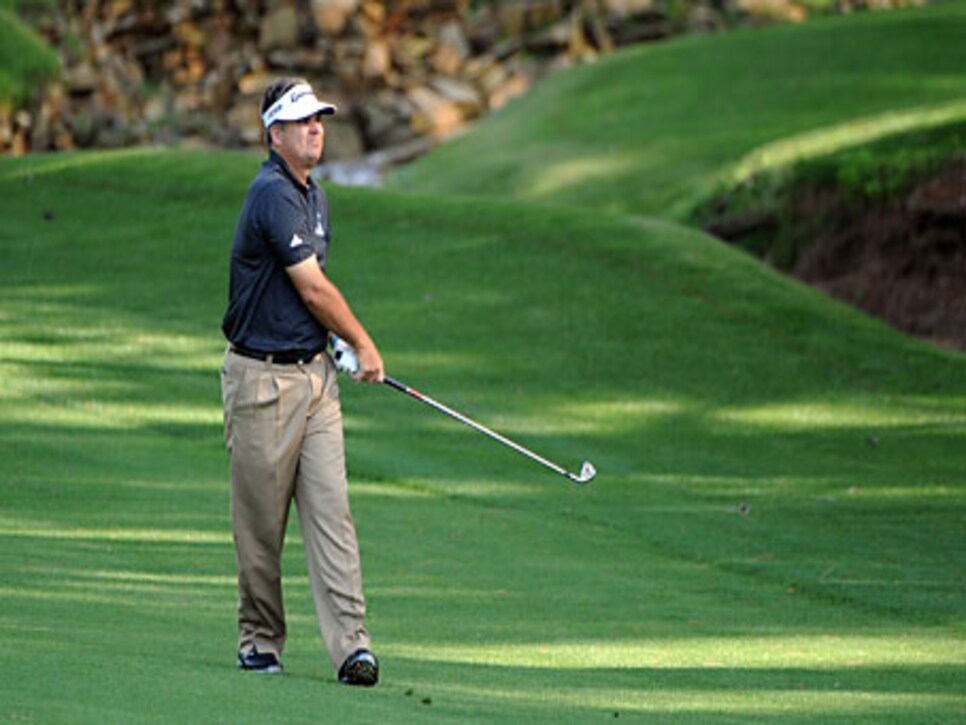 Given the opportunity to implode on Saturday, Kenny Perry never did.
AUGUSTA, Ga. -- The third round of the 73rd Masters is now in the books. Who flourished? Who faltered? Let's take a closer look with our rundown of birdies and bogeys.
Birdie: Kenny Perry -- If you figured a 48-year-old guy without a major championship to his name was going to disappear into the scenery at Augusta National on Saturday, try again. In entering the final round tied for the lead with Angel Cabera at 11-under, Perry has a chance to capture his first major, and become history's oldest major champion, eclipsing Julius Boros, in the process.
Bogey: Tiger Woods -- We're going to assume during Woods' strategy sessions with Hank Haney heading into Saturday, double bogeying the first hole wasn't part of the plan. But that's exactly what happened, and despite playing the next 17 holes in four under, Woods is almost certain to go a fourth consecutive year without a green jacket.
Birdie: American Lung Association -- Not only did Angel Cabrera throw himself into contention for another major during Saturday's three-under 69, he did without the aid of cigarettes. After puffing his way to the U.S. Open title at Oakmont in 2007, Cabrera kicked the habit, but now has to answer a new question: how does being in contention Sunday of a major feel nicotine-free?
Bogey: Rory McIlroy -- Sure, he avoided disqualification after a rules controversy Friday night, but the 19-year-old McIlroy might not have endeared himself to rules officials in the process. The "golden boy of European golf" admitted that when competition committee chairman Fred Ridley asked him to come back to the club to discuss the matter, he initially declined. And you thought no one in their right mind would ever turn down an invitation to Augusta National ...
Birdie: Steve Stricker's putting -- Always a good putter (currently ranking eighth on tour in putts per round), Stricker outdid himself Saturday. Calling it "one of my best putting rounds," Stricker holed birdie putts of 20-plus feet at Nos. 2 and 7 along with a long-distance par save at No. 11. Add in a ton of fantastic two-putts and five-foot tiddlers for par and it gave Stricker a 68 that left him at seven under par, just four off the pace.
Bogey: Defending champions -- Since Woods defended his title in 2002, the defending champions at the Masters haven't exactly put on much of a defense. As Trevor Immelman sits at one over par, tied for 37th, it brings to mind Zach Johnson's T-20 last year and Phil Mickelson's T-24 the year before. Woods did finish T-3 in 2006, but that's about it. At least Immelman didn't pull a Mike Weir. The Canadian lefty missed the cut in 2004 and had to sit around all weekend before he presented the green jacket to Mickelson.
Birdie: Fred Couples -- Yes, the 1992 Masters champion missed the cut this week, but he can take solace in what he sees on the leader board. Five of the top six scores through 54 holes has been by an American, which bodes well for Couples' Presidents Cup team this October in San Francisco.
Bogey: The Paddy Slam -- It was fun while it lasted, the dream of all four major championship trophies resting on a mantel in Dublin. Instead, Padraig Harrington will have to try to start a new streak at Bethpage. The reigning winner of the British Open and PGA Championship hit the same tree twice en route to a quadruple-bogey nine on the second hole Saturday, essentially ending his hopes of a third consecutive major.
__Birdie:__Tiger Woods/Phil Mickelson pairing for the final round -- After the pairings are released for the final round, one jumps out from the rest: Tiger Woods and Phil Mickelson are playing together at 1:35 p.m. In the five times the two have been paired since the start of the 2007 season, Mickelson has had the lower score three times, Woods once. Patrons likely are hoping for a replay of the one tie, however, when both shot 64 in the second round of the 2007 Deutsche Bank Championship.
-- *Mike Johnson and Sam Weinman *