News
What's Wrong With This Picture?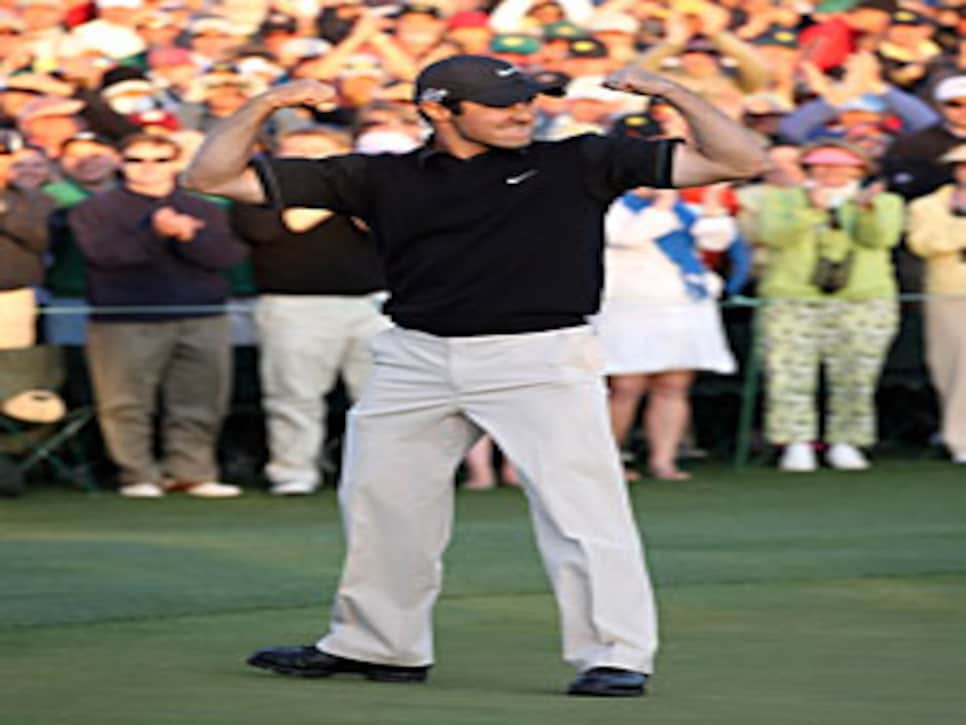 Perhaps if Trevor Immelman didn't stumble in with a 75 in last year's final round, this celebration wouldn't seem so absurd.
Tiger Woods has delivered his fist pumps in 31 flavors, give or take a butter pecan. Phil Mickelson showed off his three-inch vertical leap after winning the 2004 Masters, which proved to be a far cry from Nick Faldo, who wept in the arms of caddie Fanny Sunesson after making the 1992 British Open his fourth major title. The emotion of victory is a beautiful thing. Nothing beats the spontaneous joy that helps frame the defining moment in a golfer's career.
Nobody, however, beat Augusta National in the final round of last year's Masters, which is why Trevor Immelman's muscle flex on the 18th green, which originally struck me as awkward, has become unsavory after getting heavy airplay in TV promos for this year's tournament. The dude shoots a 75, the highest Sunday score ever by a Masters champ, then strikes a Charles Atlas pose?
As little more than the last man standing, Immelman should have fallen to the ground, then proceeded to the scoring hut on his hands and knees, His green jacket was justly earned, the best performance on a week when brisk winds and several years of course changes turned the friendly beauty into a fiendish beast, but you don't flash the biceps unless you've closed with a 66, rallied from five back or finished with a birdie binge.
The worst thing about the 2008 Masters wasn't Immelman's triumphant reaction, but the utter lack of final-round drama. He began the day leading by two strokes, played untidy golf for much of the afternoon and still saw his final margin grow to three. Before he made a mess of the par-3 16th, Immelman actually had a six-shot advantage, at which point one could easily see the difference between thriving and surviving.
Easy there, little fella. You've got your green jacket, and there's no need to cut off the sleeves.