News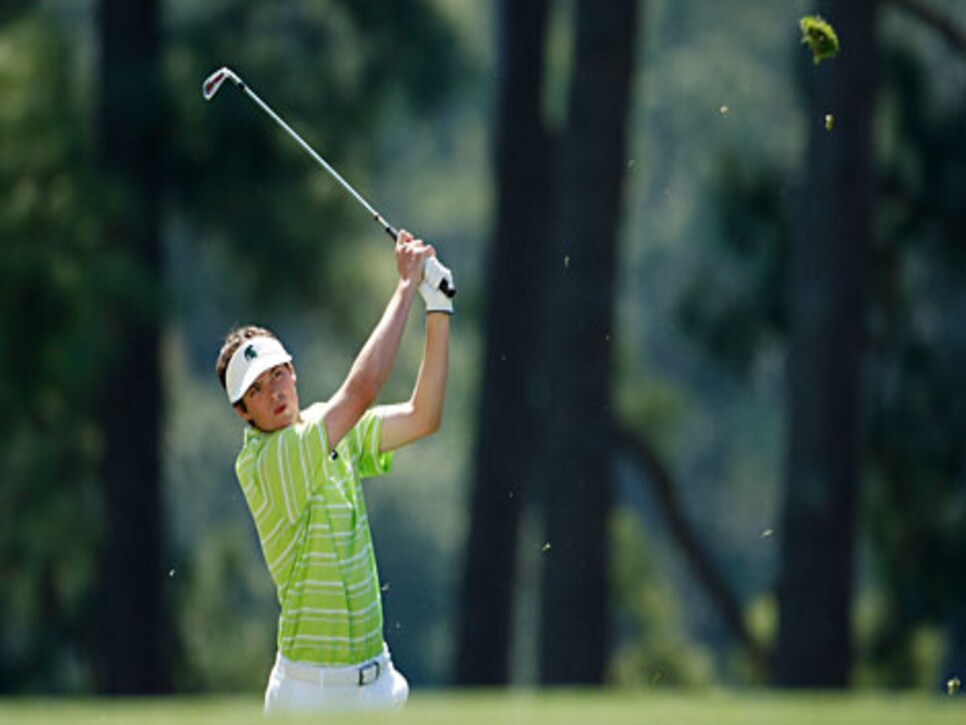 Newman survived his first round at the Masters in pretty good shape. He fired an even-par 72.
Editor's Note: U.S. Amateur Public Links champion Jack Newman, a junior at Michigan State, is playing in his first Masters this week. He'll be sharing his thoughts about the experience in a daily diary for GolfDigest.com.
I think I felt every emotion you can imagine today as I shot a 72 in my first competitive round at the Masters: calm, nervous, upset and elated.
I got a good night sleep after moving out of the Crow's Nest and staying at the house my parents are renting this week. Being with them, my three older brothers and my older sister (along with another dozen close friends) helped clear my mind. We're a really close family so it was good to spend time with them the night before such a big day.
By the time I got to the course Thursday, however, I knew things were different. It started with the security guards I've been talking to all week. Instead of joking like they have every other day, they were pretty serious. "You can go sir" was all they said as I entered parking lot. You knew everyone was getting down to business.
My starting time was 12:02 p.m. and once I got to the first tee, I'll admit I was unbelievably scared. I don't know how I managed to hit the fairway with the opening drive. The nerves stayed for a little while. I was actually hitting the ball all right but I couldn't figure out my yardages. Maybe it was adrenaline. Then I struggled getting up and down when I missed a few greens and before you know it I was four over after 12 holes.
At that point, I sort of got more fired up than anything else. I tried to stop thinking too much and start just playing, if that makes any sense. Sure enough, I birdied the 14th, 15th and 16th holes to get it to one over. I needed to start having some fun out there, and that's what I was doing. I managed to cap it off with a birdie on the 18th hole to finish even par. It doesn't get any better than that.
Suffice it to say, being the low amateur after the first round is pretty cool, but there's still a lot of golf left. I don't have any particular number in mind that I feel like I need to shoot tomorrow. I try not to do that before any round really. That's not good for me. I know it's a cliché, but I just need to take it one shot at a time. That's what I've been working on this year at school. It will be great to be back out with Rocco [Mediate] and Freddie [Couples]. You couldn't ask for anything more as an amateur than playing with those two guys.
I'll probably practice some wedge shots here later tonight, then go back to the house for dinner and play a little more cribbage with my family. I've actually got to get some gas for the Mercedes courtesy car, so that will help me keep my mind off things too. I'm really looking forward to tomorrow. My goal all week is to play well enough to get back here next year. I think I'm on my way to doing that.