News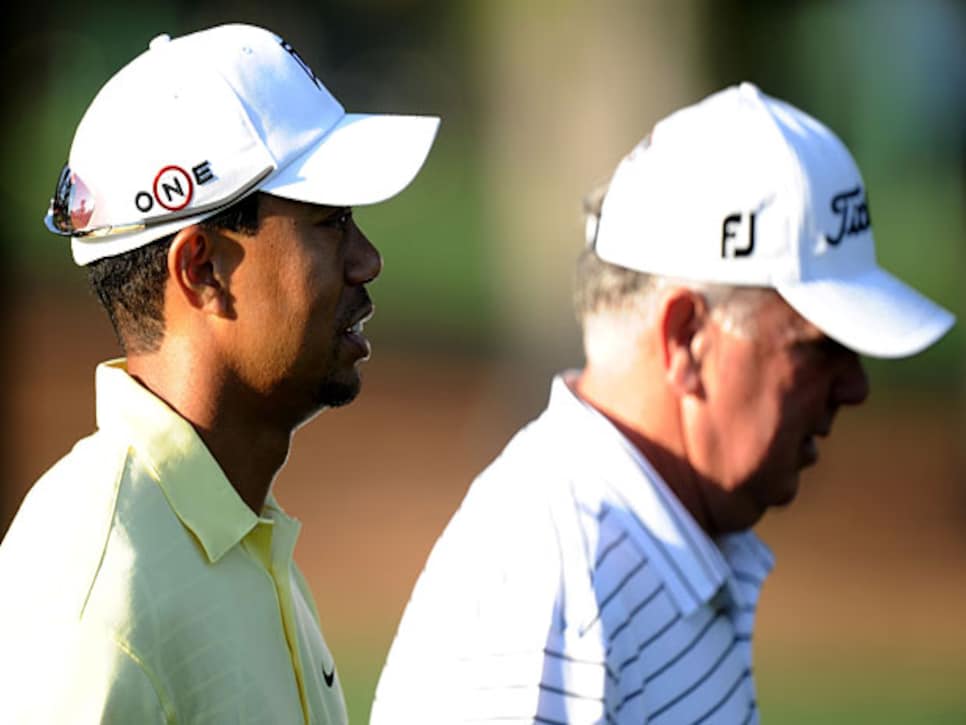 Tiger Woods and Mark O'Meara enjoyed playing a practice round together on Tuesday.
AUGUSTA, Ga. -- Walking down the second fairway at Augusta National this week, two old friends who happened to be former Masters champions strode in unison. As they made their way from the shadows to the light and onto the green, Tiger Woods and Mark O'Meara were greeted with a warm applause. Then a ladies' voice called out, "Hey Tiger," and the crowd went "Whooo!" In that moment of time, if you hadn't been on earth for the last five months, it was impossible to tell that Tiger had ever been away.
Walking next to the scoreboard at No. 3, a young boy's voice called out to his hero and Tiger made eye contact as he walked toward the green. The sordid affairs we had clicked on since Thanksgiving must not have registered with this kid. He was here for the guy in the yellow shirt with the four green jackets.
By 9 a.m. this had all the feel of the old Woods-O'Meara "Dawn Patrols." "We were walking down the fifth hole and he told me, 'This is what it's all about. This is what we did, you and I together, practice rounds. It's just like the old days,'" O'Meara said. "I said, 'Yeah, some things never change. You're still hitting it 40 by me and that's OK.'"
By the time Woods and O'Meara reached the seventh green, the galleries were 10-deep. When Woods spun back his approach shot into the ninth green, nearly holing out, a voice could be heard above the applause that seemed to say what everybody was thinking: "Welcome back, Tiger."
The reception is not without its share of skeptics, and rightfully so. But as Woods said, time will tell. If you judge him by his actions going forward, and not what he left behind -- if you believe him when he says, talking about missing his son's first birthday because he was in rehab, "I can't go back to where I was" -- then Woods deserves the benefit of the doubt.
Late in Monday's news conference, I had a chance to ask Woods, with all that's gone on since Thanksgiving, what would he be thinking in that window on Thursday, when they announce his name on the first tee and the ball is on its peg, awaiting his official return to competitive golf. His answer said as much about the on-course behavior we saw last year -- especially here, where he complained about wind gusts, barely had a word for CBS, let alone the working press, and took out his frustration on swing coach Hank Haney Friday afternoon after bogeying 18 for the second straight day.
"That first tee, I'm looking forward to it," Woods said. "I haven't looked forward to that tee shot in a long time, not like this. It feels fun again. You know, that's something that's been missing. Have I been winning, have I been competing, have I been doing well? Yeah, I have. I've won numerous times the last few years but I wasn't having anywhere near the amount of fun. Why? Because look at what I was engaged in. When you live a life where you're lying all the time, life is not fun. And that's where I was. Now that's been stripped all away and here I am. And it feels fun again."
There is not much fun if the golf ball isn't going where it's aimed, which seems to be the case in Woods' practice rounds. He played the back nine Sunday afternoon phenomenally well -- 32 was an unofficial score -- but since then the rust has been showing. In a brief follow up, I had a chance to ask if he felt this comeback will be tougher or comparable to coming back from ACL surgery -- which he did by winning seven times worldwide. "I would have to say this emotionally and the ACL physically by far," Woods said.
An emotionally tapped Ben Crenshaw was able to win a Masters just after a divorce in 1984, and while Woods' future with Elin was one of the areas he would not go in Monday's news conference, there have been hints the future of the marriage is still very much hanging in the balance. She will not be at Augusta and when asked if he took enough time off to repair the relationship, Woods responded, "Well, I'm excited to play this week."
That excitement was reflected in the galleries continuing to grow on the back nine. "They're cheering for him like it was Sunday," said Dwight Anderson of Columbia, Tenn., who was attending the tournament with his father, Dwight Sr., earning the right to buy practice round tickets in the lottery.
To the left of the 17th fairway, Glen Curry of Atlanta said, "I'm just glad we're past a lot of the stuff. Let's get on to golf." Behind the green, Dick Nevils of Harrogate, Tenn., watched as Tiger hit wedge shots. "I'm not a Tiger fan or a Tiger basher," Nevils said. "I just like to see him play."
Keeping track of the reception, and the reaction, was O'Meara, who admits that Woods can't totally change overnight. "I thought he was better," O'Meara said. "I thought he smiled, he was telling people thank you, looked at them, waved to them, acknowledged their appreciation, which maybe in the last three, four, five years hadn't been happening. It'll be a difficult week for him, but if anybody can handle it, he can."
Under the tree behind the clubhouse, O'Meara stood next to his wife, Meredith. They were engaged on the clubhouse porch last year and married in late June. Back in the old days at Isleworth, Tiger and Elin would be regular guests of Mark and Alicia O'Meara, his wife of 29 years. So while it felt like the old days, these were very much new days for Tiger and Mark.
They actually didn't talk until the putting green on Sunday, when O'Meara came off the ninth hole of a practice round and saw his friend. During the ordeal, O'Meara tried to reach out by sending Woods repeated text messages that were never answered. Finally, the Sunday before the Tavistock Cup, O'Meara got a text from Woods, asking to play practice rounds with him at Augusta.
Has Tiger changed? "People don't change over night," O'Meara said. "They get going in a certain direction and it takes time to right the ship. I think he's got the ship going in the right direction."
Can Woods do the unthinkable and take the renewed joy he has for the game and actually be a factor this week? While O'Meara admits Tiger is "not sharp, not totally there," that his game would be ranked seven, eight on a scale of 10. "He can win at seven, eight, he doesn't have to be a 10," O'Meara said. "I think he will be more patient now. Let's face it -- he's been playing with a lot of scrutiny inside himself the last two-three years. Now he's in the healing mode. I think that will help him. I think he's going to have a good week."
Perhaps a more objective opinion comes from Peter Kostis, the CBS analyst who has been in Tiger's doghouse for analyzing his swing, but who has always remained objective throughout Woods' various swing changes. "With Tiger, you never, ever exclude the possibilities of him winning," Kostis said. "Having said that, it's going to be an extremely difficult process for him. There is a lot of conflict he has to deal with. The emotional control that he's going to need this week has to be extraordinary."
While admitting that Woods' greatest strength is his mind, just making the cut could symbolize a victory. "He's trying to change his persona on the golf course. That in itself is difficult." Kostis said. "The five months he's been away; that in itself is difficult. All that he's dealing with, the extra marital stuff is difficult. All three of them in and among themselves would be very, very difficult to deal with. He has to deal with all three simultaneously this week."
Not that the patrons really care. All they want to see is Tiger play golf.