News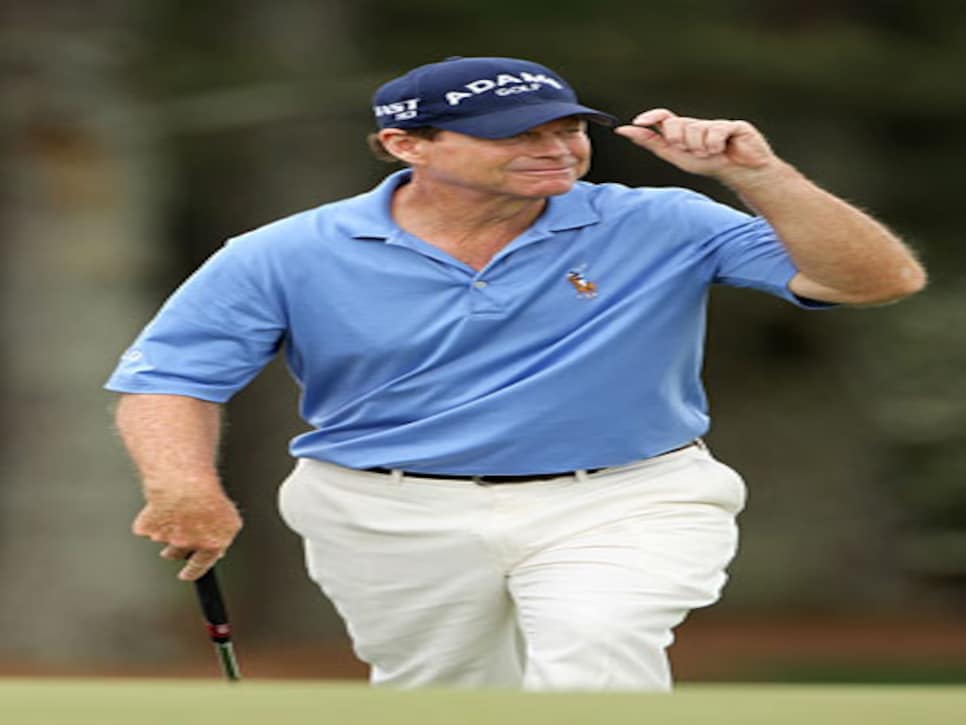 Watson didn't card a bogey in the first round.
AUGUSTA, Ga. -- On Sunday afternoon, April 4, Tom Watson jerked a 4-iron way, way, way, left out of the 13th fairway. The shot flew so far left it crossed a stream into trees and disappeared in the hillside shadows.
Just the way he planned it.
Sundays before the Masters, players often take family members with them as they knock shots around the place. Watson's son, Michael, 24 years old, was his caddie. Walking with Michael was his girlfriend, Beth Lindquist, who trudged into the trees to help her guy search for Dad's golf ball.
Then Michael Watson did the damnedest thing.
He dropped to one knee in front of Beth.
To his proposal of marriage, let the record show that Beth Lindquist said, "Are you kidding me?"
And the petitioner said, "I'm on one knee in the trees with a ring in my hand. You think I'm kidding?"
The smiling week had just begun for Tom Watson, who in Thursday's first round of his 37th Masters, at age 60, did the damnedest thing himself.
He shot 67. Last time he did that here, Michael was 4 years old.
Return to the 14th hole to see how he did it. There, Old Tom's idea was to dial time back a couple decades and hit one of those high 7-iron shots that always landed on butterfly's feet. But he caught it thin, a groove or two down, and it rolled all the way back from the top of the elephant grave disguised as a green.
Knock it in, knock 'em all in.
Old Tom one-putted every hole on the back nine.
Never had he put up a better score in the Masters than this day's 67, five under par. When he arrived in the press room, the assembled scribblers weren't sure it was yet time to begin the interview session -- until Watson called out, "Hey, this ain't a funeral."
Return to the 15th green to see how he did it. Two big shots put him over the green on the 530-yard par-5. Rather than run a chip across the green toward a pond, he left it 30 feet short, the lesser of two dangers. Two putts would give him an escape/par, then on to the 16th -- except that his hot-running putt . . .
Well, listen: "I hit the putt too hard from about 30 feet ..."
Some such putts run hot until they startle the turtles taking the sun at pond's edge.
" ... and it went right in the middle of the hole, birdie."
This was Young Tom, a boy laughing at how much fun a boy can have.
He made five birdies and no bogeys in the fourth 67 he has shot at Augusta National, the most recent in 1990, the most meaningful in 1977 on the last day to win the first of his two Masters.
You can have Tiger, Tiger, burning dark and dreary.
Give me Old Tom young again, aglow.
He nearly became the oldest major championship winner last summer, beaten in a playoff at the British Open at Turnberry after missing a short 72nd hole putt for a par that would have won it.
"There's been a certain glow" about the Turnberry experience that is still alight, Watson said. "And the glow comes from the people who watched it and who have come up to me ... a lot of them have said, you know, 'I'm not too old. You've just proven to me that I'm just not too old.'"
Soon enough, maybe, a guy hearing that comes to believe it about himself.
Return to the fifth green, where Old Tom spoke to Young Tom of a memory. Fifteen years ago, Watson played a practice round with his friend and mentor, the legend Byron Nelson, who showed Watson how, 50 years earlier, he had hit low-running 3-woods that rolled up the elephant grave at the 14th. So at the fifth this time, Watson, yielding to age on his ability to land a high shot on that diabolical green, hit a low-running 5-iron that landed short and rolled to within 20 feet.
Watson, smiling, said, "Byron said, 'That's how we used to play it.' Well, that's how I'm having to play it now."
At day's end, at the 18th, Watson's big drive and a 7-iron up the hill put him five feet from the hole.
He needed only 25 putts on this day, remarkable for anyone, extraordinary for a player once uncertain if he could draw back the putter on anything inside 10 feet. On a scale of 100, Watson said, he must work at 90 percent of his possibilities to do well at Augusta. "My driving has been very good. That's much better than 90 percent. My iron game is just a little questionable. My putting is, I would have to say, above 90 percent." That said by Young Tom, there was enough of Old Tom whispering in his ear that he also admitted, "Short putts still don't feel worth a darn. It's always an adventure when I have a four-footer."
So far, it has been "Dad's Excellent Adventure"
"A big part of my success today was having my son on the bag," Watson said. "He said, 'Dad, show me. Show me you can still play this golf course.'"
"He didn't say 'for a change.'"
Old Tom can still play, we know that now.
If Young Tom hangs around three more days, we'll truly know we have seen the damnedest thing.