News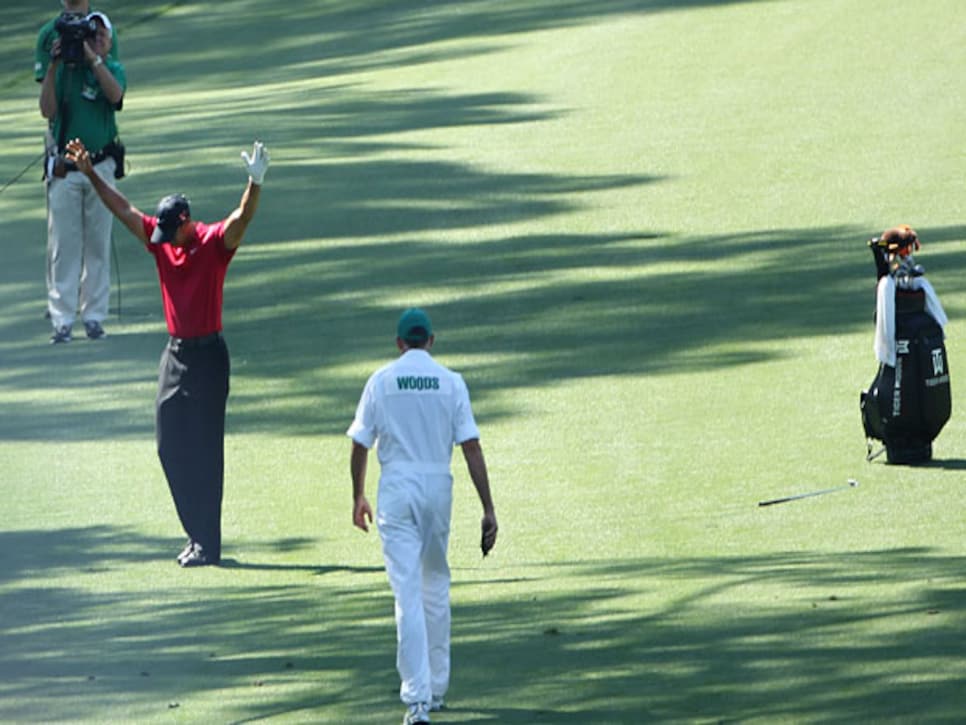 Tiger Woods provided excitement at the Masters despite his inconsistent play.
AUGUSTA, Ga. -- There is a belief in Buddhism that near-perfection is more beautiful than perfection -- because it is attainable. One thing learned over a cruel winter was that Tiger Woods falls far short of perfection off the golf course. And at Augusta National Golf Club, for this hectic week at least, he was far from perfect on it. Yet if this Masters is any indication of the kind of golf to expect from the post-scandal Woods, then we already know the new version is perfectly entertaining.
For the second consecutive day Woods went on Mr. Toad's Wild Ride through the pine-covered hills of Augusta National. Get this: Woods missed the first five greens of Sunday's final round, made five bogeys overall, hit two trees, left a ball in a bunker, missed a one-foot putt, was three over par with 12 holes to play -- and still shot a 69 to finish tied for fourth, five strokes behind Phil Mickelson.
"Yeah, I finished fourth," Woods said after his round. "Not what I wanted. I wanted to win this tournament. As the week wore on I kept hitting the ball worse." While he wouldn't admit it, there would be no surprise if the erratic nature of Woods' game as the week progressed had to do with mental fatigue. This was not just a four-day tournament for Woods for the first time in five months. It was a seven-day tournament that began with his news conference on Monday, the first since his scandal broke.
Woods' return here was as much a referendum on him as it was a golf tournament. Sandwiched between Fred Couples and Mickelson on Sunday, Woods couldn't help but hear the raucous ovations those players received on every hole. This was the kind of affection denied Woods at Augusta National and a kind of affection he may never again receive from galleries -- a situation to which he will have to adjust as the season progresses and tournaments are played in less-controlled environments.
While there was no outward heckling of Woods, there were fans that would say out loud "good" or "yeah" when he hit an errant shot, and tasteless jokes swirled through the galleries. Yet even those ambivalent or hostile toward Woods were drawn into the vortex of his play. People were not so much cheering him, but rather his shots. How could you not? This guy can still do things with a golf ball no one else can.
The Woods saga was part of one of the more memorable Masters. Mickelson was a popular winner, the 50-year-old Couples finished sixth and was in contention going to the back nine on Sunday, and young gun Anthony Kim closed with a 65 in the final round to finish third. Among the many storylines of this Masters is the fact that there are other stories beyond Woods. But even then, he was a large part of the plot.
Woods began the final round four strokes behind Lee Westwood, who would finish second at 275, and three behind Mickelson, who closed with a 67 to be at 272. But a wild hook off No. 1 led to a bogey. He was in the greenside bunker in two on the par-5 second hole but needed two shots shot to get out, bogeyed Nos. 4 and 5, again missing the greens, and when he stood over his second shot on the par-4 seventh hole he was seven strokes behind and fading fast.
"I had another terrible warm up today," Woods said. "I didn't have it and it was pretty evident. I hit a quick hook off of one, popped up the tee shot on two, bladed a little pitch shot on three, stuck it in the ground on four and hit a low hook on five. Tough day."
But if there is one thing learned over the decade and a half Woods has been playing professional golf it is that he never gives up on a round -- never. He holed out from the fairway with an 8-iron on No. 7 for an eagle, birdied No. 8 from the left trees and added another birdie on No. 9 to miraculously turn in 35, just three strokes off the lead.
Throughout the back nine Woods never really threatened the lead -- Mickelson was playing too well -- but he wouldn't quite go away either. He bogeyed No. 11 when he hit a tree dead center with his second shot; birdied No. 13 despite hitting another tree with his drive and getting a fortunate bounce to the fairway; bogeyed No. 14 when he missed an eight-foot birdie putt and then the one-foot tap-in for par; eagled No. 15 after he hit a 5-iron second shot to 15-feet and, just to prove he is always the entertainer, closed with a birdie.
"I feel pretty good about my play this week," Woods said when asked if he returned to competition too soon. "I felt everything was pretty good for the first two days. I had a two way miss going today so it was a really tough day. I felt very uneasy on every shot I hit out there and it was just, I tried as hard as I possibly could to post a number and give myself a chance. I really dug deep to find something and that's something I'm pretty proud of. "
For the most part, Woods was successful in containing his famous temper as he struggled with his play. When he missed his par putt on No. 1 he quick-walked to the hole as the ball was halfway there. Throughout the opening holes, as he struggled, he walked with his head down, not tipping his hat to the crowd. When he found his ball behind a tree on No. 11 he stared at it a long time, his lips moving slightly as if reprimanding it. And when his approach sailed deep on No. 17 he angrily said "Tiger," stared at his feet, took a deep sigh and handed the offending club to his caddie.
"I think people are making way too much of a big deal of this thing," Woods said about his on-course demeanor. "I was not feeling good. I hit a big snipe off the first hole and I don't know how people can think I should be happy about that. I hit a wedge from 45 yards and basically bladed it over the green. These are not things I normally do. So I'm not going to be smiling and not going to be happy."
That's the same old Tiger Woods. He is passionately connected to his golf game. And when might we see Woods' game again? The Quail Hollow Championship, which begins April 29, has been a regular part of his schedule in recent years and The Players, May 6-9, and The Memorial, June 3-6, are other likely stops before the U.S. Open at Pebble Beach June 17-20.
From the way Woods was talking at the Masters, it seems as if the New Tiger will stick to the practice of the Old Tiger and not announce he is playing until the 5 p.m. ET deadline the Friday before the tournament. "I'm going to take a little time off and kind of reevaluate things," Woods said when asked about his playing schedule.
The way things ended Sunday at Augusta National will likely motivate Woods to get back sooner rather than later. He came into the Masters with rust on his game and much on his mind. But he was still almost good enough. By the time Woods get to Pebble Beach for the U.S. Open the game will be better honed -- and more competitively tested -- than it was here, where he was near-perfect and perfectly entertaining.