News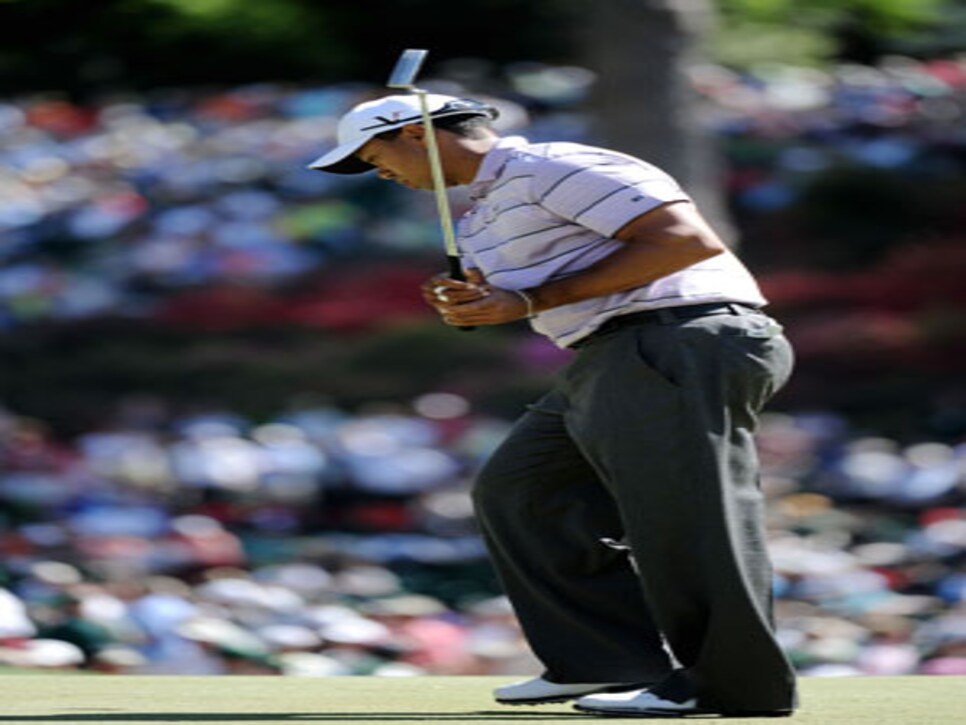 Tiger Woods was overshadowed by other players on Saturday.
AUGUSTA, Ga. -- One of the glories of Augusta National is when the roars rattle through the tall pines and the gentle hills shake with passion. Such was the case Saturday as Tiger Woods negotiated the third round of the Masters, still remarkably holding the naysayers at bay by staying in contention. This time, however, the cheers didn't embrace Woods, they surrounded him. On another remarkable day in what is turning into a most memorable Masters, the roars were not for Tiger.
At times Woods looked bewildered, or at least inquisitive, as if seeking an explanation for the wall of sound erected around him. Two groups in front, Phil Mickelson was ripping off an eagle-eagle-birdie stretch beginning at No. 13 on his way to a 67. One group behind, Lee Westwood was fashioning a 68 to take the 54-hole lead at 12-under-par 204, one better than Mickelson. It was great theater and Woods was reduced to a supporting actor, albeit a significant one who could still claim the starring role.
The tens of thousands present loudly supported the exploits of both Mickelson and Westwood on another glorious spring day. Woods, meanwhile, appeared at times as if he were running a little low in the emotional gas tank, especially during a sloppy stretch from No. 4 through No. 10, seven holes in which he made four bogeys, punctuated by an obscenity after a poor tee shot on No. 6.
Still, Woods counterpunched on the back nine like a tired heavyweight champion fighting on instinct. Perhaps motivated by the roars for the others, he ripped off three consecutive birdies beginning on No. 13 that got him back in the ball game as he rode a rollercoaster to a 70 in which he made seven birdies, five bogeys and only six pars.
Remarkably Woods, who at one time trailed by seven strokes, was tied for third place with K.J. Choi at 208, a manageable four strokes off the lead. "I was fighting it all day," Woods said. "My warm-up wasn't very good. I was struggling there. I really struggled with the pace of the greens and fighting my swing. It was a tough day. I just wanted to put myself in contention, and I did that. As of right now I'm only four back, so good round tomorrow..."
Woods's voice tailed off as he finished the answer with a shrug and a smile. If Woods were to storm from behind in Sunday's final round it would be the first time he has rallied to win a major championship. All of his 14 major titles have come with Woods either leading or sharing the lead after 54 holes.
The way Woods started the third round it appeared as if he would have the lead going into Sunday. He birdied Nos. 1 and 3 to get to eight under par and pull within a single stroke of Westwood, then inexplicably hit a series of bad shots and even worse putts. He bogeyed No. 4 when he jerked his tee shot on the par-3 into the left bunker, and three-putted the par-3 sixth hole when he again pulled his drive and landed on the lower tier of the severe green with the pin on the upper.
Woods greeted the errant shot on No. 6 with a verbal outburst that is probably not his current Buddhist mantra. The tumble of words included one that suggests a person creates a partial vacuum with their mouth, followed by a little blasphemy -- par for the course for the old Tiger Woods, but now noteworthy from a man who says he is trying to change.
"Did I?" Woods responded when asked if he regretted the outburst, adding, "If I did, then I'm sorry." He made another bogey with a three-putt on No. 7 and yet another three-putt bogey on No. 10. Throughout the front nine he was hearing the cheers behind him as Westwood went out in 33. On the back nine the roars were up ahead as Mickelson closed with a 33.
"No, I mean, we have a long way to go," Woods said when asked if the earsplitting noise concerned him. " This is only Saturday. "If it were Sunday, it would have been a different story. But being Saturday, I had the same opportunity on those same holes to make birdies, and I did that. Unfortunately I made a bunch of bogeys out there today as well."
Even as Woods was rallying back, fans were focusing their attention elsewhere. On No. 14, thousands were waiting on the right side of the fairway to cross over to the left side. When the ropes were dropped after Woods and Choi passed, the crowd surged across. When they reached the other side, instead of turning right to follow Woods on No. 14, most turned left to seek out Mickelson on 16.
Woods, who likely paid no attention to the defectors, responded like he did. He stuffed his approach on No, 14 to three feet as if to say, "I'm still here and I'm still Tiger Woods." He made what seemed at the time like a deadly bogey on No. 17 when he drove into the right trees, but immediately erased that mistake with his seventh birdie on the day, hitting his approach to four feet on the final hole.
Returning to competitive golf at a major championship -- especially after all the attention focused on his personal life -- seemed like a risky proposition because it is difficult to practice the mental focus needed to play in a major. Asked if the emotion of the week might be taking a toll on him, Woods said: "It's fine. That's never a problem." Asked if three days of competition was wearing him down he said again, "It's not a problem."
Perhaps Tiger Woods is setting us up for one of the few things he has yet to do in his 15 years as a professional -- come from behind to win a major championship. Is this all part of the script? Is this all part of the Master plan of how Woods makes all of his recent struggles go away?
Does he make us forget -- or at least forgive -- his transgressions by doing something outlandish like complete the calendar-year Grand Slam? And does that all start here at Augusta National on Sunday? One thing you can say about Woods: as a story he never lets us down.