News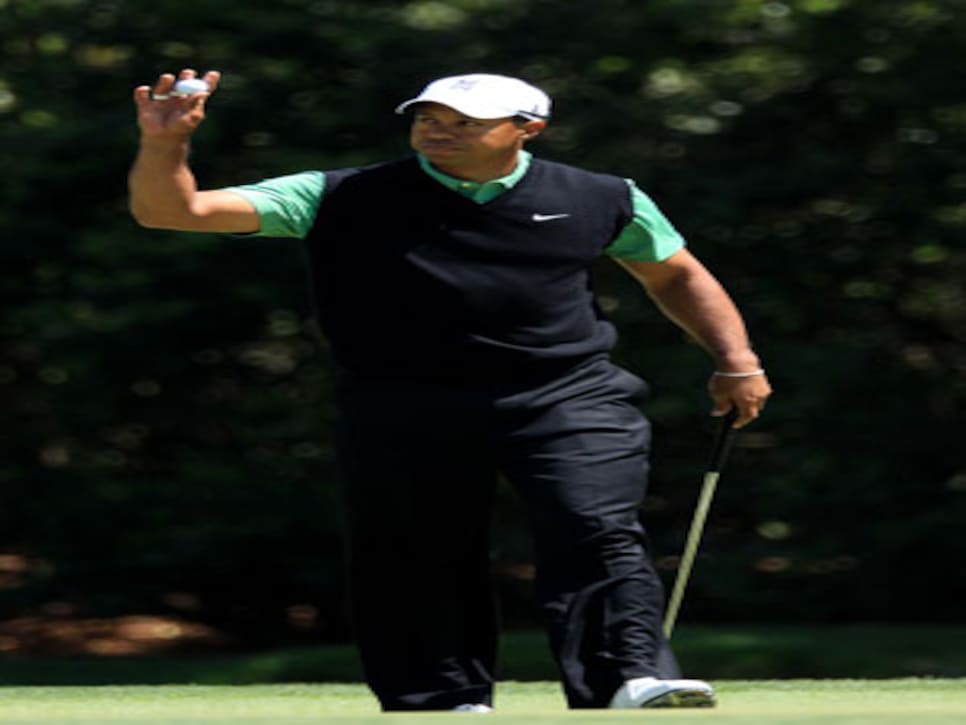 Despite his strong play, the jury may still be out on Tiger Woods.
AUGUSTA, Ga. -- Tiger Woods eased in behind the microphone at Augusta National Golf Club, flipped the sunglasses used to try to keep the ever-present pollen out eyes of his onto the back of his hat, a cough punctuating his allergies, then turned his gaze to a room full of reporters. Ten minutes and 17 questions later Woods exited to sleep on a 36-hole total of 138, very much in contention at the Masters and another step closer to normalcy.
Not one question put to Woods Friday after his second-round 70 was about anything other than golf. The closest anyone got to referencing the sex scandal that has sullied his reputation was to ask how he could play so well after a five-month, self-imposed leave of absence. Unlike Thursday, there were no airplanes pulling mocking signs today. On this day, at least Woods had successfully shifted the conversation from porn stars to pars.
Still, there was a clear unspoken message from the tens of thousands who ambled the hills of Augusta National on a glorious spring day: The jury is still out for many on whether or not they are ready to embrace Woods. Sensational shots elicited generous roars -- on Nos. 13 and 15 when he birdied, on No. 17 when he played a great recovery shot under one tree and over another -- but on most tee boxes and as he approached many greens, the greeting was restrained.
Some of the cheers seemed almost as if they were spontaneous responses to brilliance divorced from the person creating it. Woods himself reacted in much the same way when he was asked if he liked his position, three strokes behind leader Lee Westwood. Impulsively Woods chuckled, said: "Yeah, I do," then burst out laughing and added, "Yes." There was the smile and exuberance that won so many fans, many of whom are now trying to decide whether to return to the fold.
Certainly, being this close in a tournament he has won four times, but not since 2005, was a remarkable achievement considering his break and the personal distractions that must weigh on his mind. His mother, Kultida, walked Augusta National not with Tiger's wife, Elin, and their two children, who are not here with Woods, but arm-in-arm with Phil Knight, the billionaire founder of Nike.
Woods' attention -- perhaps as a survival skill, perhaps as a symptom of he self-focus that got him into this mess -- has been solely on golf. Not once since Monday has he referenced his family. Asked if he was more comfortable in his second round back to competition than he was in the first, he made the answer all about work.
"I felt more comfortable because I was hitting the ball better and I was putting better, even though I didn't shoot as low a score," Woods said. "I think that's a factor of the conditions. The greens, even though we had a bunch of rain [overnight], they were certainly faster, and the wind was blowing." Diabolically, the competition committee placed nine holes five paces or less from the edge of the green.
Woods made two birdies and only one bogey. His play was consistent and solid. One of the keys to scoring at Augusta National is to step onto the eighth tee even par after the treacherous opening holes. Woods has done exactly that in both rounds, playing the final 11 holes four under Thursday and two under Friday.
If not for the fact he has used the putter 61 times in the first two rounds -- including putts from the fringe -- Woods might have the lead going into the weekend. What he has, however, is an opportunity to win his 15th major championship and fifth green jacket after going 0-for-4 in the majors in 2009.
"It feels good," he said about being back in the hunt. "It feels good to be back and in contention." And his peers know what it means to have Woods in the hunt. "I think after he won the [2008] U.S. Open [at Torrey Pines] on one leg we all realized he could do anything, and we'd never second-guess his ability on the golf course again," said Matt Kuchar, who played the first two rounds here with Woods.
If there was any letdown from the adrenaline rush Woods surely experienced in his return Thursday it was well hidden Friday. The day did not start well -- he hooked his opening drive into the trees -- but he roused his first cheers of the day with gorgeous one-hop, bounce-and-check pitch over a bunker to a short-side pin to save par on No. 1
Has enough normalcy returned to Woods life to allow him to get back to a regular PGA Tour schedule? "I would like to, but I don't know," he said when asked if he was ready to get back in the flow. "I'm going to have to evaluate some things after this event."
Throughout Woods' career he has mastered the art of not answering questions, yet being entertaining while doing it. But rarely is he ever apologetic for giving the Heisman stiff-arm to an interrogator. That's why it was notable Friday when asked by a reporter whether doubling his six-under total would be good enough to win, his answer came with a courteous -- and in this particular case unnecessary -- apology.
"A lot of it depends on what the committee does with the pins," Woods said. "Today they gave us a couple of easy pins, but also, then they also tucked a few away. Sorry for not answering your question, but it really is dependent on what they do with the pins. If they give us a chance like they did [Thursday], 138 might not be enough."
The two haunting phrases in that answer that resonate because they could be applied to Woods' overall attempt to return to public life are "a lot of it depends" and "might not be enough." Woods has answered some golf questions the last two days, but other questions remain, those involving behavior. And they will not be answered quickly, but over time through a pattern of behavior. Depends and enough, indeed.