News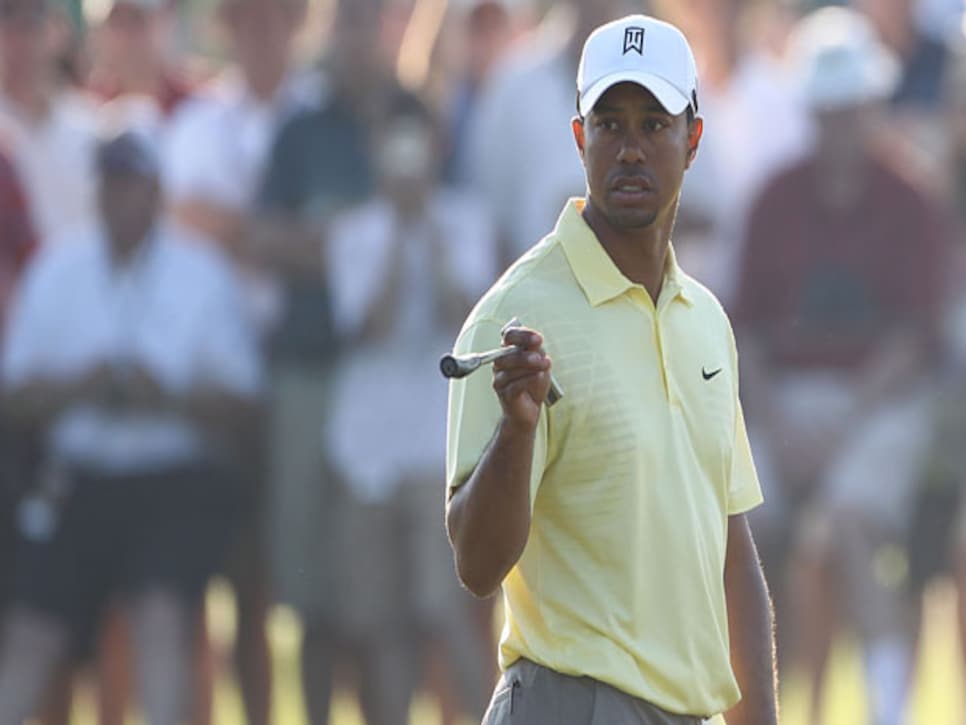 Woods showed more on-course focus during Tuesday's practice round.
AUGUSTA, Ga. -- Day II, Act II of the long-running hit show known as the Tiger Woods Era should bear the subtitle "Chillin' at Augusta National." The man who arrived Tuesday morning for a Masters practice round with long-time friend Mark O'Meara was a much more relaxed character than the guy who played in front of spectators a day earlier for the first time in five months -- since, well, you-know-what happened. It was as if the weight of the world had been lifted from his shoulders, and perhaps it had.
The reason for the relief is likely that Woods did something else on Monday he hadn't done in a while -- let the media ask him questions. And while not every question was answered to the satisfaction of everyone, Woods took each query seriously and never responded dismissively – a tactic he has employed in the past when the media annoyed him. He acted Tuesday like a man ready to move on with his life, whatever that may bring.
The main thing Woods gained from Monday's 34-minute session with reporters is that now he can say, "I addressed that in my news conference. Let's talk about golf." Certainly, one of the objectives Woods has here this week -- one perhaps even more important that capturing his 15th professional major championship -- is changing the conversation about him from one that focuses on his personal life to one that marvels about his professional accomplishments.
If the improvement in his game from Monday to Tuesday was any indication, Woods may give everyone a lot to talk about this week. On Monday he hooked his first drive into the tall pines separating No. 1 from No. 9. On Tuesday he gassed a frozen rope up the left side of the first fairway, leaving O'Meara's ball on another ZIP code behind and moving one fan to shout, "All right buddy, OK champ."
On No. 13, the diabolical par-5 that is extremely vulnerable to birdies and eagles if the drive is well struck and well positioned, he hit a high fade that settled into the right short cut of rough. Then he teed up another ball and powered a low draw that hugged the left side of the fairway and cut tens of yards off the hole -- a perfect position and probably three clubs closer to reach the green in two.
What at first appeared to be a mulligan ball hit by Woods because he was not happy with the first drive was in reality a practice attempt at two different strategies for attacking the hole. The safe shot on No. 13 is the high fade, and the aggressive shot -- when you need eagle -- is the low draw. He was preparing for every situation.
Walking with Woods on Tuesday, this became clear: He was not practicing merely to prepare to compete; he was practicing to prepare to win. Playing in a twosome with a foursome behind them, Woods and O'Meara had plenty of time to work on subtle aspects of the game and they took advantage of the situation. Both hit shots from the right bunker on No. 12, which is not a bad bailout place that takes the water out of play.
Then Woods did something consistent with his major championship preparation. He putted to the hole cut for Tuesday's practice round. Then he putted to where the hole will likely be for Thursday's first round, which will begin for him at 1:42 with Matt Kuchar and K.J. Choi. And then he putted to the position where the cup is traditionally cut in Sunday's final round. He was practicing to win.
Back in 1997 -- Woods' first full year on the PGA Tour -- there were some who found it a tad arrogant that when asked in the pre-tournament news conference how he expected to fare that week, he would always say, "I came here to win. Why else would I come?" What some failed to see was that the response was not a boast, in Tiger's mind at least, but rather a mere statement of fact.
Woods has always played to win. One of the reasons he has 71 PGA Tour trophies is because winning has never gotten old for him. Every time he takes a tournament title it is as if he has never been victorious before. That's the way his father, Earl, taught him to play.
Yes, this is Woods' return to competition after rehab, a shocking scandal and a loss of endorsement deals and popularity. But it is also the Masters, a major championship, and it represents an opportunity to pick up one of the five majors he needs to pass Jack Nicklaus' record of 18. And Tiger is preparing for the week with exactly that mindset. If he did not have that approach on Monday, he certainly did on Tuesday.
On Monday, Woods seemed to be playing merely to get on with his life. On Tuesday, he was playing to win. And while it is difficult to imagine that Woods can put aside the events of the last five months and focus on golf fully enough to take home a green jacket this year, we have seen him pull off the impossible before.
Whether Woods can maintain the relaxed air he had Tuesday when they start counting the scores on Thursday is a question that will be answered only on that day. And whether the "new Woods" -- one he says will be more respectful of the game -- can compete on the same level of excellence without the same intensity, which often included profanity and club throwing, is another question only competitive pressure can answer. But on Tuesday, at least, it appeared as if Woods already knew the answers.