News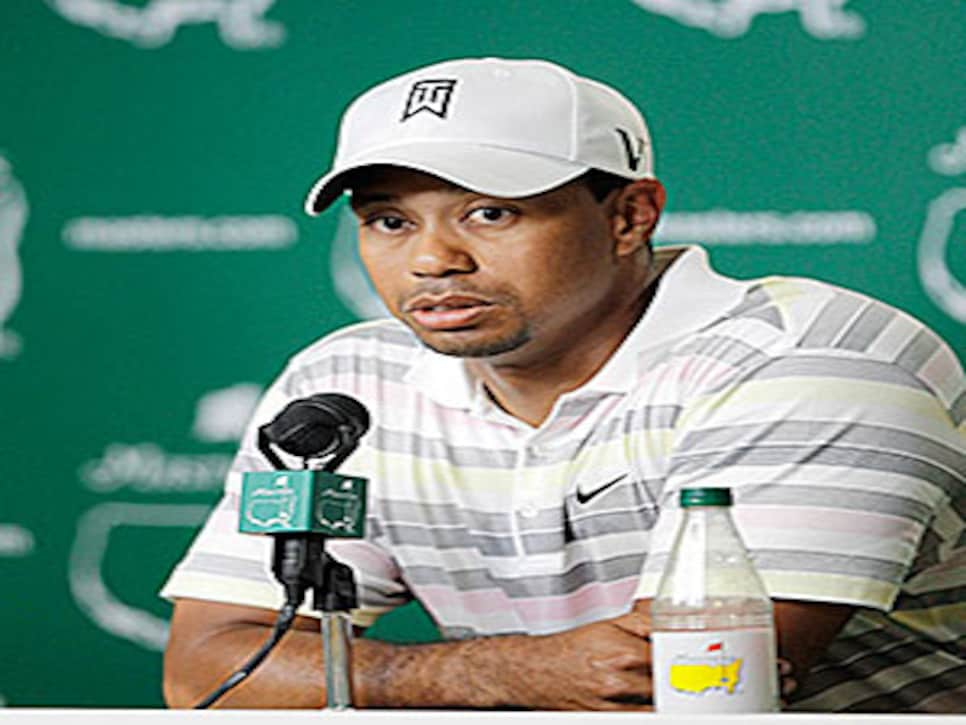 As opposed to his two earlier public appearances, Tiger Woods seemed to be speaking more from the heart this time.
AUGUSTA, Ga. -- As Tiger Woods walked into a packed interview room on Monday to face reporters for the first time since his life became tabloid fodder Nov. 27, he playfully jabbed me on the arm. "Hey Ronnie," he said as he walked past. For a moment, I was brought back to 13 years earlier, to a round of golf with Woods at Bay Hill Resort at the end of the 1997 season, when he greeted my well-struck draw on No. 1 with a casual, "Nice one, Ronnie." The memory sent a shudder through me. How did we get from then to now? And can we ever go back?
For 34 minutes and 15 seconds Woods did what he has been unwilling or unable to do for five months: Answer questions about the events that undid the world's No. 1 golfer. Not everything was resolved -- we know he got five stitches in his lip the night of the car crash, but we still don't know how the injury occurred -- but he was straightforward in his answers.
Their veracity, however, will be determined only by time. And the simple fact we need proof of his honesty is an indication of how far he has fallen. But there was reason to evaluate this as a victory for Woods. For one thing, he never got testy or dismissive with reporters, behavior of which he is completely capable. For another thing, his answers seemed less canned than what we have heard up to now.
Sporting a goatee, wearing his TW logo hat and speaking behind eyes in which the usual mischievous sparkle was replaced by a hint of weary sadness, Woods was 27 minutes into the news conference before he relaxed enough -- or felt it was appropriate enough -- to laugh, responding to a cumbersome question by saying, "That's a long one, Bro." He laughed again three minutes later when he said he hoped his feel for golf would return by the second hole of his first round on Thursday.
Asked what sensation he expects when the Masters begins Thursday -- his first competitive golf in five months -- Woods said: "It feels fun again. That's something that was missing. Why? Look what I was engaged in."
In what was surely one of the oddest media events in sports history, 206 writers approved by Augusta National were handed small, white cards with a number and their name. At 1:15, the doors to the interview room opened and the cards were cross-checked against a master list. Only one pool photographer was allowed inside and four video cameras recorded the event. When Woods entered the room shortly after 2 p.m. the door was locked.
In Woods' three previous, well-controlled public appearances -- the apology in front of a hand-picked audience, and two TV interviews limited to five minutes -- he provided stock, well-rehearsed answers. The only emotions he displayed were anger three times during the apology: when he spoke about reports his wife Elin had hit him; when he discussed photographers following his children; and when he denied any involvement with performance-enhancing drugs.
In those controlled sessions, he replied with stock answers:
"I quit being a Buddhist."
I had "inpatient treatment for 45 days."
"It's all in the police report."
"That will remain private between [Elin] and I."
"I felt entitled and that is not how I was raised."
While he repeated some of those talking points, his answers on Monday seemed to come more from the heart than from a memorized checklist.
Among the points revealed:
Woods said that while he was treated by Dr. Anthony Galea, the Canadian physician under investigation by U.S. authorities for involvement with performance enhancing drugs, "He never gave me HGH or PEDS." Woods did say Federal authorities have contacted his agent Mark Steinberg about Woods' association with Dr. Galea and said, "We will fully cooperate."
He apologized to the players for the questions they have been asked by the media and said he hoped the Augusta news conference would end that.
Although he acknowledged taking prescription painkillers, he said he has not been treated for drugs. "I have never taken illegal drugs," he said.
His wife, Elin, was not in the room and he said neither she nor the children would be at the Masters. The general tone in his answers regarding their relationship did not offer much optimism the marriage would survive.
When he was asked if his inner circle knew what he was up to, Woods didn't answer the question directly, but did say, "I have lied and deceived those around me. I fooled myself as well". He also said he would remain loyal to the team of people around him.
He said missing his son Charlie's first birthday because he was in rehab was "something I regret and will probably regret for the rest of my life." When asked what he was in rehab for he said, "That's personal."
He said a result of trying to be less angry on the golf course might be that he will also be less exultant, though he also acknowledged that will only be tested in the heat of competition. He said, "If I win championships along the way, so be it," but said he was more concerned with being a good person.
Woods said he was heartened by the reception he received from the Augusta patrons during his Monday practice round, but he must have been expecting the worst. As he walked to the first tee, he received only a smattering of polite applause. That complicated chemistry between an athlete and his fans is a relationship that can affect performance, and that will be part of what we will be watching when Woods tees off Thursday.
The game plan Woods articulated sounds promising. Now we see how it plays out. "Going forward, I need to be a better man," Woods said. "Just because I've been through therapy doesn't mean it is done." In his Feb. 19 apology Woods said his real apology "will not come in the form of words; it will come from my behavior over time."
That's pretty much the way most people are feeling. Has Tiger Woods changed? We will see. Certainly it can never be 1997 again -- or even Nov. 26, 2009. But this could have been the beginning of a new day for Woods, a new pattern of behavior. When the interview ended, Woods rose slowly and exited through the back of the media center. As he disappeared through the door it was difficult not to wonder what waited for him on the other side.