News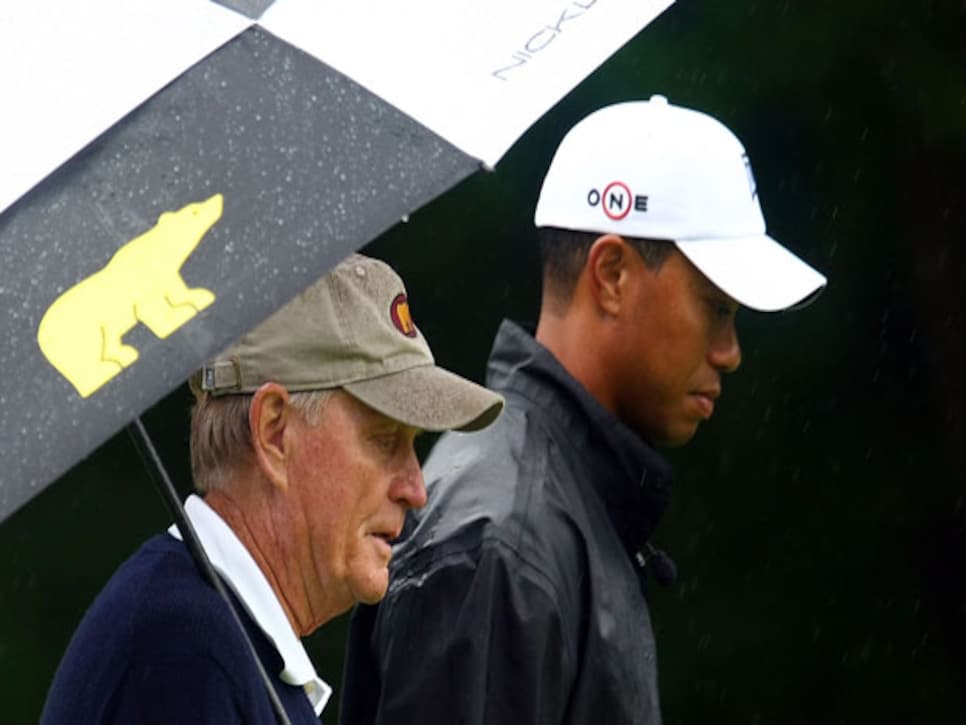 Tiger Woods could learn something from Jack Nicklaus' public persona.
AUGUSTA, Ga. -- Pretty much all you need to know about Jack Nicklaus is that his first professional win was a major championship -- the 1962 U.S. Open -- and the last of his 73 tour wins was a major -- right here at the 1986 Masters, providing perfect bookends for a brilliant career. Nicklaus was always about winning, and he was always about winning major championships. That's why he said for so long he did not want to be a ceremonial golfer. Until now.
At 7:40 Thursday morning, Nicklaus will join Arnold Palmer in striking the first drives off No. 1 at Augusta National. Accepting the honor is an indication that Nicklaus is comfortable with his new role in the game -- that of elder statesman, defender of tradition and spokesman on behalf of the growth of the golf. And Nicklaus has proven to be every bit as much of a champion outside the ropes as he was inside them.
"When I was first asked about [hitting the ceremony first ball] I was still playing [and] I had no desire to do it," Nicklaus said. "I'm old enough now, I can do that, guys. We'll have fun and we'll both belt it out there about 150. Best thing is that we don't have to go chase it and it doesn't matter where it comes down."
Nicklaus' tireless efforts on behalf of golf -- he successfully campaigned to get the game into the 2016 Olympics, is intimately involved with the staging of two PGA Tour events, and has supported The First Tee program to bring golf to young people from challenged environments -- provides a blueprint for how other stars should promote the sport.
In fact, it would not be a stretch to say that Tiger Woods would serve himself well -- and his battered image -- if he focused on emulating Nicklaus' public persona as much as his professional accomplishments. On his way to the five more majors he needs to break Jack's record of 18, Tiger should work on pursuing the Nicklaus manner with the media as well.
When Jack faced a room full of reporters at Augusta he began by saying, "What can I do for you?" The first time the green-jacketed moderator tried to end the interview, Jack said: "No, I have a few more minutes. Let's try something else."
Two other times when the moderator tried to rap things up Nicklaus ran the red light. How many points would Tiger have earned -- and how much would he have enhanced the believability that he is a changed man -- if he had offered to stay longer and take more questions when he was before the media on Monday?
Nicklaus played his first Masters in 1959 as the U.S. Amateur champion and his last in 2005 at the age of 65. He missed the cut in both. In between he picked up six green jackets in three different decades, the first in 1963 and the final one in 1986.
One of the more remarkable achievements in sports is the fact Nicklaus won six Masters, five PGA Championships, four U.S. Opens, three British Opens and two U.S. Amateurs. Woods has won four Masters, four PGA Championships, three U.S. Opens, three British Opens and three U.S. Amateurs.
"The first year I played [the Masters], I played pretty well from tee to green," Nicklaus remembered. "I hit 31 of 36 greens -- that obviously means I didn't play 72. But I had eight three-putts in 36 holes I said you better learn how to chip and understand what happens on the golf course. I learned by watching and seeing and seeing what people did."
And that is another lesson Woods can learn from Nicklaus, exemplary behavior can be an acquired skill and one of the ways to develop it is to watch those who have it. Just as Jack learned to play Augusta National, he learned his responsibilities to the game. Woods has proven to be woefully short in that capacity.
Augusta National chairman Billy Payne made both subtle and not-so-subtle distinctions between Nicklaus and Woods in his Wednesday meeting with the media. He welcomed Nicklaus as an honorary starter and he chastised Woods for the behavior that led to his five-month absence from competitive golf.
"It is only fitting that the custom of Honorary Starters, which began in 1963, the year of Jack's first win here at Augusta, now includes Jack, our most decorated champion," Payne said. "On behalf of millions of fans around the world, Jack, thank you."
Later Payne gave every indication that while Woods has decided to make the Masters his first tournament back, Augusta National Golf Club should in no way be viewed as an enabler. In fact, given the club's traditional for being tight-lipped about most matters, the very fact Payne addressed the Woods matter directly likely indicates the members are not happy with the fact he chose to return here.
"It is not simply the degree of his conduct that is so egregious here; it is the fact that he disappointed all of us, and more importantly, our kids and our grandkids," Payne said. "Our hero did not live up to the expectations of the role model we saw for our children." The bluntness of the words took all in the room by surprise.
"Is there a way forward?" Payne asked about Woods. "I hope yes. I think yes. But certainly his future will never again be measured only by his performance against par; but measured by the sincerity of his efforts to change. I hope he now realizes that every kid he passes on the course wants his swing, but would settle for his smile. "
In more than 50 years in golf, through the 45 times he competed in the Masters, Nicklaus never once brought shame to the green jacket or the game. That's something Woods will never be able to say no matter how many Masters or majors he wins. In that area, Woods is far from being the champion Nicklaus is.
And it makes you wonder if the club will ever be able to forget completely, if we will ever see Tiger do what Jack begins this year: Receive the honor of starting the Masters with a ceremonial first drive. Or if he will ever be invited to be a member of Augusta National, as Palmer and Nicklaus are.