News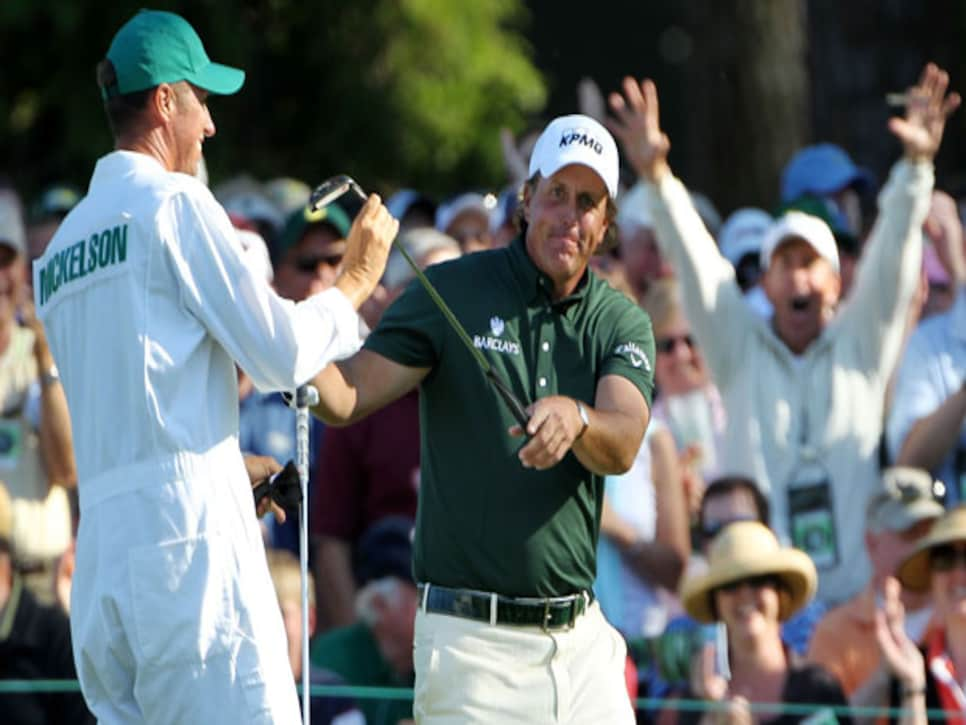 Phil Mickelson's back-to-back eagles were only part of Saturday's excitement.
AUGUSTA, Ga. -- A guy's heart can't take much more of this.
In a half hour of golf as thrilling as golf gets, this deal quit being the Tiger Rehab Classic. This is the Masters as the Masters is supposed to be.
At 5:29 p.m. Saturday, we lazed in the warm Georgia sun. We watched a couple Englishmen separate themselves from the field. Not to say this was a snoozefest, but an examination of my notebook reveals the scribbbled question, "Which looks sillier, Ricky Barnes's painter's hat or Ian Poulter's 'do?'"
Then, like lighting from a clear blue sky, it happened.
Eagles flew from Phil Mickelson's cap!
Freddie Couples rose from his bad-back bed!
Barnes went birdie-birdie-birdie on top of Tiger's birdie-birdie-birdie!
And I don't care if the wonderfully flamboyant Ian Poulter wears a Speedo with suspenders, as long as he and countryman Lee Westwood bring their A-games to a Sunday round that is anywhere near as loud, raucous, and clamorous as Saturday's.
"Those roars," Tom Watson said, "are Augusta roars."
"I just love this place," Couples said.
"A fun day," Mickelson said.
And there was a bluebird. Watson saw it. He didn't play well, a 73, but he was still two under par, 10 shots off the lead, no bad thing for a man 60 years old.
But on a day when the Masters showed us, again, that golf exists outside TigerWorld, Watson said, "It's still always a pleasure to walk around Augusta when the azaleas are popping -- and there was the most beautiful bluebird on 17 that I ever saw." So we now can add a Watson amendment to Walter Hagen's stop-and-smell-the-roses rule: However amazing the day, stop and watch the bluebirds.
You'll pardon my exuberance.
I am on record as having said this tournament would be no fun.
I was wrong, and not by a little but a lot. It can't get any better than Saturday's circus. But, happily, and this was the basis of my sourness, the man fresh out of 45 days of therapy for a problem he won't identify had nothing to do with the joy.
Instead, this was the kind of golf fun Bobby Jones had in mind when he asked Alister Mackenzie to design and build a course that rewarded great players willing to take great risks -- as Mickelson did on the 13th hole Saturday.
It's not the length of the par-5 that matters; 510 yards is nothing by today's standards. But the green is guarded by a ravine and creek in front, by steep inclines at all sides. Miss it anywhere with an approach shot, you'll make par at best and lose a shot to most of the field.
A good drive left Mickelson 195 yards from the green. At that moment, he was five shots behind the leader, Westwood.
"If I missed it left," Mickelson said, "you almost never get it up-and-down from there."
He put it to eight feet. The risk-taker's reward was an easy putt for eagle.
Followed at 14 by another eagle -- this one from the fairway. He sent a wedge 141 yards and caused a roar that sustained itself nearly the entire time Mickelson needed to walk to the green.
"It was pretty cool, that walk up," he said later, still flushed by the day's work, his face fixed in a boy's can't-stop-smiling smile. "I can't believe that ball disappeared ... It was sure fun."
Mickelson figured that someone had made back-to-back eagles in a Masters. It had been done twice, in fact, on those same holes -- by Don Pohl in 1982 and Dustin Johnson last year.
The 15th was a par-5, usually reachable in two.
"I was trying to make a third," Mickelson said, almost laughing at the audacity that comes when adrenaline meets serendipity. "Unfortunately, I pushed that drive behind the trees and didn't have a chance to go at the green."
But even from his lay-up spot 87 yards short, Mickelson nearly did it. His wedge bounced 12 feet below the cup and curled behind the hole, stopping eight inches away.
"As it was crossing the hole," Mickelson said, "I was expecting it to disappear."
In less than a half hour, Mickelson went from five-down to tied for the lead with Westwood, who immediately answered with a birdie of his own at the 15th and will go into Sunday's last round a shot in front.
Any question as to how much of his game Woods lost in his five months off and 45 days of rehab now seems to have been fully answered.
Even as the roars from Mickelson's work cascaded over him, Woods made three straight birdies to stay in contact with the leaders -- and finished with a birdie at the 18th that left him tied with K.J. Choi four shots behind Westwood, three behind Mickelson.
"Good round tomorrow," he said, "you never know."
Woods has lost nothing, and though he has promised to be a kinder, gentler, more sportsmanlike competitor filled with a new respect for the game, he seems to have failed in that reforming of his behavior -- if we may judge from his words at the 6th tee when he put his tee shot maybe 60 feet below the hole.
"Tiger Woods, you suck," he said. "God damn it!"
Asked later about profanity uttered loudly, Woods said, "Did I?"
"If I did," he said, "I'm sorry."
There is, however, one thing certain.
"Tomorrow is going to be another exciting day," Mickelson said. He expects another windless, sunny day, with what he called "birdie pins." He sees "a real shootout" involving everyone within six, seven shots. "There's some low rounds out there, and we have seen guys get 7-, 8-under par in the round. It will be very possible tomorrow."
Couples came back from his Friday 75 with a Saturday 68 that left him five behind Westwood. He figures Sunday's late tee times will give his old man's back time to feel good.
"I have a shot at it tomorrow," he said, "if I can shoot a crazy score."
And wouldn't that would be some fun?