News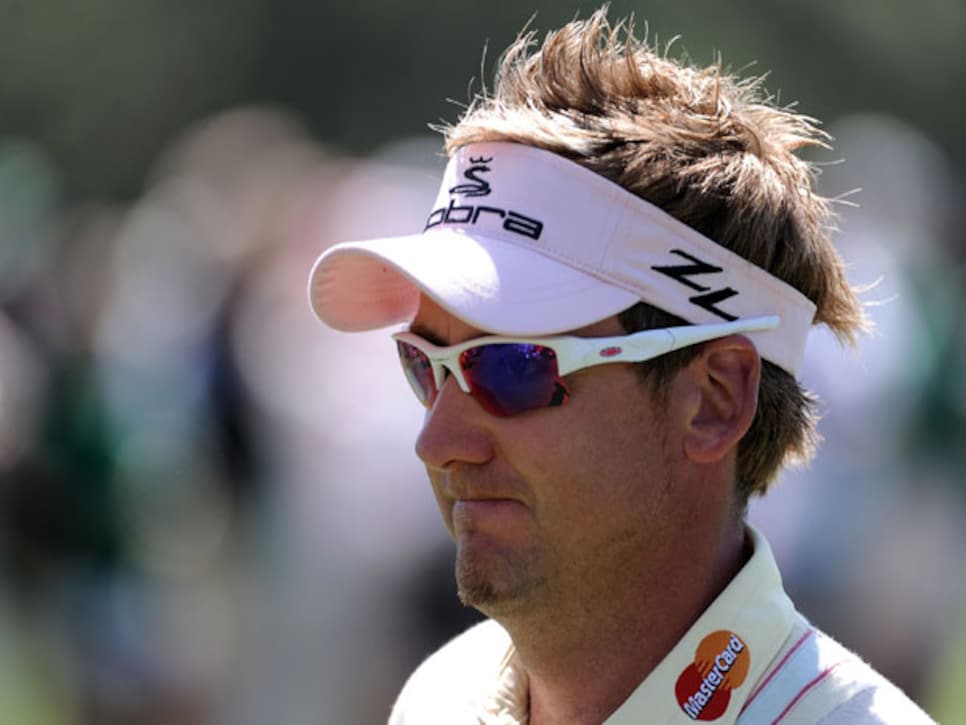 Ian Poulter has the game to win the green jacket.
AUGUSTA, Ga. -- Ian Poulter can win this Masters. Successive rounds of 68 have put the tall, lean Englishman in a tie for the lead halfway through. Tonight he'll get out the ironing board.
Ian Poulter irons his outfits before every round.
Ian Poulter irons his outfits before every round.
They're famous outfits. They're rainbows in fabric. Trousers of plaids so complex as to make the eyes weep. The man wears every shade of pink from blushing-baby to hottt to Pepto-Bismol.
At 5:56 p.m. this past Wednesday, Poulter tweeted this note to his 978,879 followers on Twitter:
"Just going to iron my Thursday outfit."
Yes, 978,879 followers on Twitter.
No, I won't. There are, after all, better evidences of Ian Poulter's exuberance.
Such as the nude magazine cover.
Before the 2008 Dubai Desert Classic, Ian Poulter posed standing in his birthday outfit with his moving parts obscured by a touring golf professional's bag.
The money quote from Poulter in that magazine: "The problem is I know I haven't played to my full potential yet. And when that happens, it will be just me and Tiger."
This seemed presumptuous. As accomplished as Poulter had been on the European Tour -- now a winner nine times, three times a Ryder Cup player -- he had never won on the PGA Tour. That changed in February when he defeated Paul Casey in the final of the WGC-Accenture Match Play Championship. And though a long time coming, the victory should have been small surprise to followers who read Poulter's tweet of Jan. 27:
"Check me out! Broken into the top 10! Tiger here I come!"
Whoa. The man wears shirts of lilac, magenta, and cerulean blue. Spikes his blond hair. Stands naked for the camera. And howls out a warning/challenge to the greatest golfer of all time. Who does this preening peacock think he is?
As it happens, Poulter may know exactly who he wants to be. "Ian has a lot of flair and a lot of imagination, he's not bashful, he's going for it in two every time," said the breathless Marty Hackel, Golf Digest's guru of fashion and a long-time friend of Poulter's. "It tells you something that one of Ian's favorite sports books is about another one of a kind who was never bashful, Muhammad Ali."
Poulter came to Augusta as one of the favorites in this Tiger Rehab Classic. He came with confidence born of the WGC victory and six years experience at Augusta National. Shots that once frightened him are now shots he wants. "I am more aggressive on the golf course and you have to be aggressive to your targets around this place," he said. "You can't let this course intimidate you too much because you'll back away from the shots you should be taking on."
At the par-3 12th, for instance, the Friday flagstick was maybe a step or two left of the traditional Sunday placement at the far right end of the wide, shallow green. It's a placement that dares a player to fly at the hole because the slightest of mis-hits leaves the ball in Rae's Creek (unless you're Fred Couples getting green-jacket lucky in '92).
But Poulter, brash as Ali, flew an 8-iron shot at the stick.
It landed softly, eight feet away.
The birdie putt made Poulter the leader on the course -- but his work barely evoked applause from the thousands in the gallery because, as Poulter's putt fell in, Woods, the object of all attention, had walked onto the nearby 11th green.
"You can't see back there," Poulter said, meaning in the shadows of the 12th green 160 yards from the gallery ropes.
Then, with a knowing smile:
"They were looking at the 11th."
On a breezy day with more challenging pin positions than the first round's, Poulter had made five birdies without a bogey coming to the 18th.
"It's funny," he said. "It was windier yesterday, but the pin locations today were a lot more difficult ... I played very well today. I felt I hit the ball much better."
He called it one of his best rounds in some time, hardly spoiled by a wayward 5-iron approach to the last hole. It was such good work that an English reporter, perhaps carried away by the moment, asked, "Can you describe the feeling of leading the Masters and walking to the green, getting a standing ovation from the crowd ... "
"It's Friday," Poulter said. "So I don't want to get carried away."
Still, Ian, all that posturing of the past -- have you justified it now?
Laughing: "Sure, if I win this week, I'll probably go to No. 2, which would be lovely. So I guess it's a work-in-progress. I'm working towards that. So we'll see."
He has come to a moment of his dreams: "To be playing Augusta was in my dreams, and to be sitting at the top of the leaderboards was in my dreams as well. So hopefully we can have a good weekend and be in a similar situation come Sunday night ... "
Wait, Ian. One more thing.
What color combination goes well with a green jacket?
Quickly, laughing: "Absolutely anything!"
A Masters champion in hottt pink.