News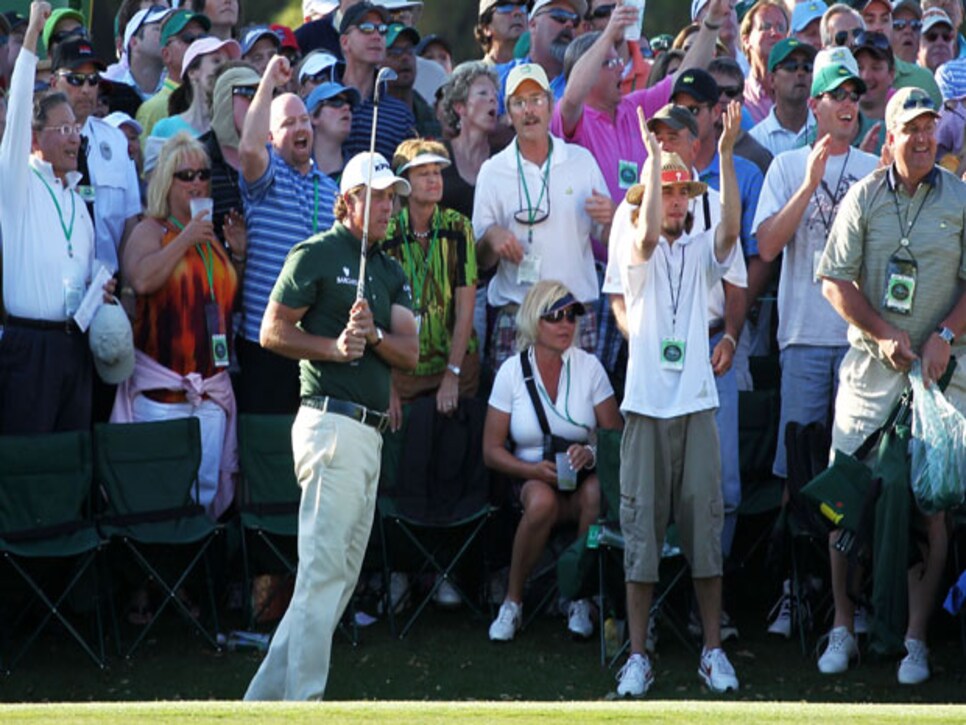 Phil Mickelson's wife, Amy, was diagnosed with cancer last May.
AUGUSTA, Ga. -- When the rousing cheers he had so assiduously stirred up with his inspired play had faded away, and the day offered almost no more sun under which to bask, Phil Mickelson hopped into a golf cart Saturday evening to confront another night of heartache.
The third round of the 74th Masters was one of the most magical in memory, with the stately golfing cathedral, Augusta National GC, shook to its roots with cheers and hosannas. And it was Mickelson, the two-time winner, who was the primary instigator, whose shotmaking made the verdant grounds rattle and its spirits roil.
In a mere 27-minute interlude Mickelson orchestrated a scoring run that was both stunning and surreal and altered the very complexion of the competition. He did it by converting consecutive eagles -- and very nearly added a third -- made up six strokes in three holes, and with a 5-under 67 reeled in the runaway train Lee Westwood. When Sunday dawns, Mickelson will be in the final group with the English pugilist, just one back, with a chance not only to embellish his resume, but also to bring a little light to a dark time in his family life.
Mickelson, 39, has been a disappointment this year to the golfing aficionados. With Tiger Woods on his self-imposed hiatus, Lefty was supposed to carry the game on his shoulders, embark on new conquests, exhibit a sustained brilliance that he heretofore had only revealed in fits and starts.
But the mercurial left-hander, who finished 2009 with a flourish that fueled those greater expectations, hasn't seemed himself. He exuded a puzzling indifference in his seven starts leading into the year's first major, and although he shot an exhilarating 58 in a practice round three weeks ago, his relatively desultory performances on the PGA Tour left many wondering if he would contend for a fourth major championship.
What no one has known, and what Mickelson has kept concealed, is the anguish he endures for the hours of his day not spent on the golf course. His wife, Amy, who was diagnosed with breast cancer last May, is struggling. While her prognosis is good, her day-to-day quality of living is rife with difficulties. She has bad days, and she has worse days. And Phil has been suffering along with her. And for the foreseeable future this is how it's going to be for them; Amy is barely a year into a course of treatments that could take up to five years to complete.
"It has not been easy for either one of them," Mickelson's father, Phil Sr., said. "I am so proud of Phil and how he has handled it so well. [Amy] is the most important thing in his life. To be the father that he is, I couldn't be more proud."
All golfers, titans and mortals, point towards the Masters, the year's first major and most cherished event on the competitive calendar, but Mickelson -- even more than the troubled Woods with his well-publicized personal hang-ups -- has been reserving his focus and energies for this week. Not that he hasn't been trying at regular tour stops, but Augusta has a way of touching a man's soul, even one as anguished as Mickelson's.
"No question, Phil has had a ton on his plate. And I can say this: Every single bit of poor play this year has nothing to do with golf and execution," said Jim Mackay, Mickelson's longtime caddie and close friend. "But he loves this place. He's got a real game plan here when he comes here. He's got that magic book [yardage book] in his back pocket. He feels like he knows every inch of the place. The question is, could he make it happen?"
That question was answered at the tail end of Amen Corner, where prayers aren't always heard. Mickelson ripped a 7-iron from 195 yards, a "hammer draw" that ended up 10 feet away from the flag at the par-5 13th. "I took a chance to go at it and hit one of the best shots of the tournament," said Mickelson, whose 7-iron usually goes about 180 yards max. "It spurred the rest of the round."
Indeed. He drained that putt and then he took a pitching wedge from 140 yards at the par-4 14th and knocked that into the hole for a two. Only two other times has a player made consecutive eagles at the Masters.
"At 14, he's got a lot of good mojo with that pin; he almost holed it there in '04," Mackay said, referring to one of the key strokes during Mickelson's charge to his first Masters victory. "He was actually talking about that walking off that tee."
For good measure, after having to lay up at the par-5 15th, Mickelson nearly pitched his third shot from 87 yards into the hole for a third straight eagle.
"I actually thought it had gone in," said Mickelson, whose knees buckled after watching the ball just skid by.
Westwood later was asked about the swiftness with which his lead evaporated into the pines. Didn't take but 30 minutes. "Glad you were timing it. Seemed quicker," he deadpanned.
It was an amazing run (the third time in his career he'd carded back-to-back eagles, but the first in a major) that briefly gave Lefty the lead when Westwood bogeyed the 12th, but by day's end, the fourth-ranked Englishman led at 12-under 204 to No. 3 Mickelson's 205 total. But as Fred Couples, who on the course had exhorted his friend through gestures and remarks to make a run, said Saturday evening, "Phil is probably the guy to beat."
Mickelson, who has been out of the top 10 just twice in the last dozen years at Augusta, likes his chances. He should. It's what he's been waiting all year to do. To win. And to win for Amy.
"I played about as well as I have in a long time. This is the way I expect to play, but this is I haven't played this way in a long time, and I feel great about my game."
And it felt great to go back to his rented home Saturday night and see Amy and their children. "It's really fun having them here, and it takes a lot of the heartache away, and it's been great," Mickelson said in the only acknowledgment of what he's been confronting.
They haven't traveled with Phil since last year's Players Championship. Still, Amy hasn't been well enough to come to the course this week, which is why Mickelson has been trying to keep his post-round interviews brief. He wants to get back to her as soon as possible.
But he was especially eager to depart Augusta National Saturday evening, so he could to tell her about his day and show her the ball, the one on which he scribbled a private message. Only he knows what it says.
All we need to know is that what he did with that ball, what he made it do with his wiles and will, says a lot about his resolve.