The Loop
Augusta National's 12th was anything but a simple little par 3 Thursday
Adam Scott had a decent excuse for his 12th-hole double bogey. The defending champion received "the most incredible ovation" as he came to the tee, then lost his focus, donating a 9-iron shot into Rae's Creek for the first time in his career.
Scott's unsightly 5 added to the hole's 3.423 scoring average, making the 12th the second toughest hole Thursday with just six birdies recorded. (The par-4 11th ranked first, averaging 4.474 strokes with only two birdies. Amen Corner indeed.)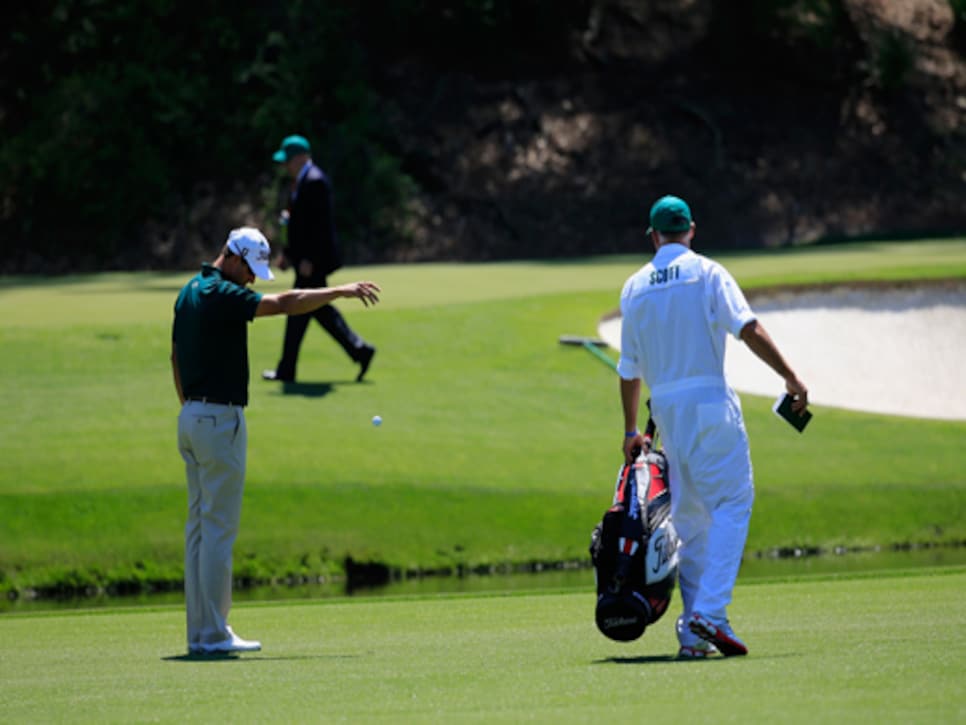 Calm conditions for the first half of Thursday made the 12th hole's difficulty somewhat surprising, with veterans Miguel Angel Jimenez (double-bogey 5) and Ben Crenshaw (triple-bogey 6) among those stumbling there, Jimenez while holding the early lead. "There was so little wind, it was probably a problem today, rather than when it's blowing all kinds of directions," Scott said.
The west-southwest breeze picked up in the afternoon, and players continued to find trouble. Matt Jones, Lucas Glover, Darren Clarke and Louis Oosthuizen all bogeyed while Bernhard Langer and Chris Kirk made doubles.
With the hole playing 158 yards from the upper right tee to the far-right hole location seven paces from the back corner, a majority of players took an aggressive line to the flag instead of the conservative play to the center of the green, as experienced players often suggest.
And never underestimate the role of distraction.
"The reception into every green and almost every tee box was incredible, and the best one, the memory that will stick with me forever today was walking up to the 12th tee and everyone getting out of their seats as I approached there," Scott said. "It was great. The level of respect that everyone has for this golf tournament and what happens here, but then I went and hit it in the water."
You weren't the only one.