The Loop
Augusta National's 12th hole: Computer model aims to predict wind's effect on ball flight
Golf is a complicated game, as most already know, and those that don't know aren't likely familiar with the vagaries of the wind at the par-3 12th hole at Augusta National Golf Club.
The centerpiece of Augusta's Amen Corner, the 12th hole was the model used in a study, "Golf in the Wind: Exploring the Effect of Wind on the Accuracy of Golf Shots." It was conducted by Rajat Mittal, a professor of mechanical engineering at Johns Hopkins University, and Neda Yaghoobian, a visiting post-doctoral scholar, and presented recently at the annual meeting of the American Physical Society Division of Fluid Dynamics.
And, among other things, here's what they discovered (those playing the Masters, take note): Standing on the 12th tee and tossing grass clippings in the air won't help.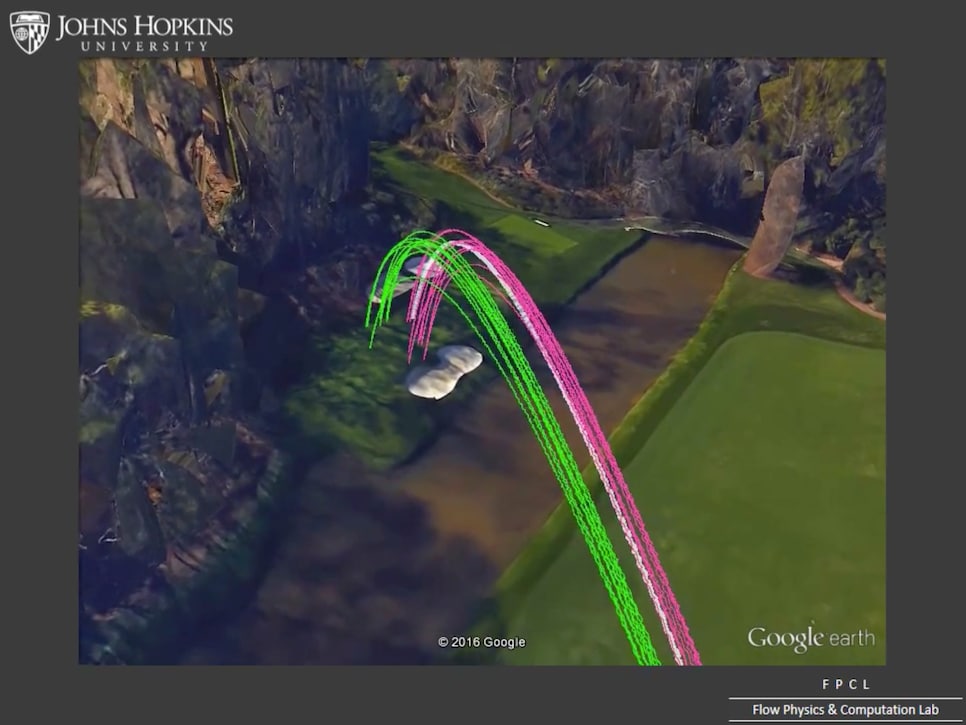 "Not based on our analysis," Mittal said. "We actually checked two things: The correlation of the wind on the tee box experienced by a golfer with a tuft of grass and the ball as its flying. There's very little correlation between the two."
"I thought, 'this is pretty interesting and maybe something we can address and use scientific principles and figure out the complexities of the wind at this hole,'" he said.
Computation fluid dynamics is an area of expertise for Mittal, who with Yaghoobian developed a computer model that incorporated ball aerodynamics, launch angle, spin rate, topography, the trees and their canopy and weather data. The goal was to predict how the variances in wind speed and direction would influence the flight of the ball.
"The real complexity in the wind is coming due to the tree canopy surrounding the hole, which based on our estimates is almost 30 meters [98.4 feet] high," he said. The apex of the ball flight using a 9-iron from 155 yards "stays below 30 meters. The entire flight happens in the shadow of the tree canopy.
"The way we address [the swirling winds] is that if we remove all the trees from the model. It's easy for us to do it. We run these simulations without the trees and everything becomes a lot simpler and more predictable. Large-scale computer simulations solve millions of equations of aerodynamics, and in these simulations we account for two key details: direction and speed of the wind, and the layout of the plants and trees and canopy around the hole. We used eight different wind directions and four different wind speeds."
What they found was that wind coming from the northwest (toward the tee box) and the southwest (toward the northeast) were the most problematic for golfers, producing the highest levels of variability. A tailwind, meanwhile, "was not bad based on our analysis."
Incidentally, checking the direction the flag on the 11th green is as ineffective as tossing grass in the air. "There's very little correlation between wind at the 11th and 12th holes, so it's impossible to gauge anything," Mittal said.
And checking the direction the top of the trees are blowing, "that won't work, either," he said. "The wind coming on top of the trees, that might tell direction of the overall wind, but that still is not going to exactly tell us what the local whirling conditions are. The whirlpools can be in the opposite direction of the main wind."
But all is not lost. Their study can be helpful "if [golfers] take the time, and I'm hoping they will eventually," Mittal said. "Wind from certain directions is going to create the highest level of uncertainty in location of where the ball drops on the green. A headwind is the most dangerous. If the local forecast is that it's going to be a headwind, then they can choose to be more conservative with their shot."