News
Time To Unpave A Parking Lot And Put Up A Paradise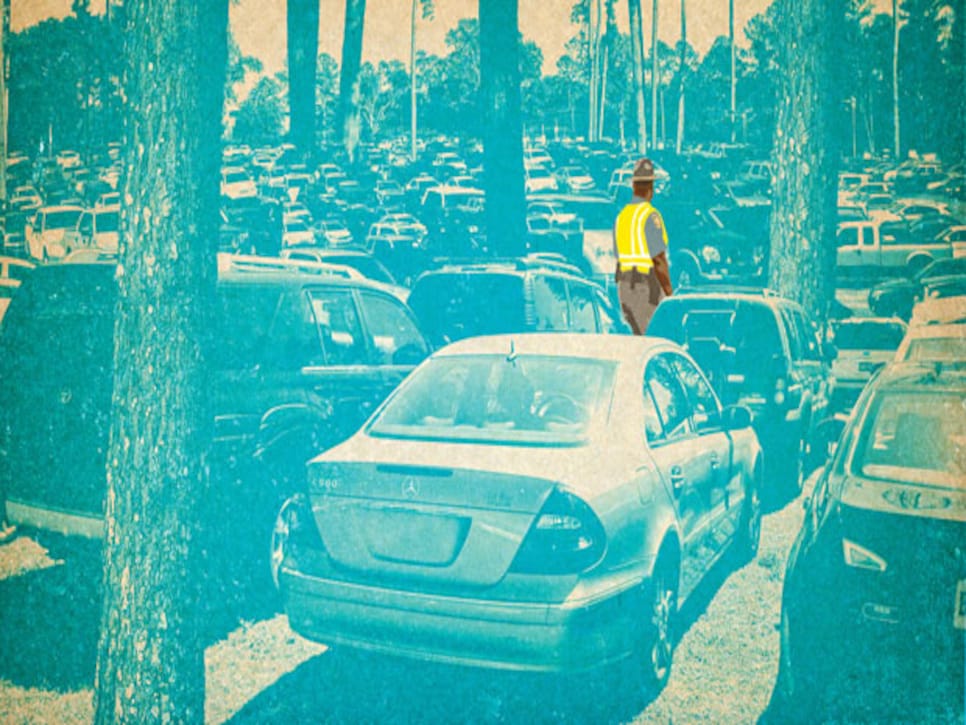 Even the Masters parking lot exudes an air of heaven-sent grandeur.
Any "patron" who has turned off Berckmans Road to park (for free) under the towering pines and atop the perfectly rolling valleys can't help but wonder why the Lords of Augusta National haven't already turned this 51-week-a-year piece of vacant real estate into a golf course.
Few things could be better at the Masters, but place a golf course over the parking lot and voilà, the coolest tournament just became über cool.
But this must not be just any course. For starters, it must be public access and, more pointedly, fit club chairman Billy Payne's desire to support grow-the-game initiatives. This should be about the kids. Particularly, in presentation and accessibility, this has to be the opposite of ultra-exclusive Augusta National. And yes, for one week a year the property must be able to function as a parking lot for 40,000 or so patrons a day who might roll in right after a thunderstorm rolls out.
No small order. But the Rose Bowl and the University of Michigan's Big House are among football stadiums that use adjoining golf courses for game-day parking. Complicating a conversion to golf will be the city of Augusta's plans to reconstruct Berckmans Road through the center of the acreage controlled by the club. The city has undoubtedly been encouraged behind closed doors to make this change in hopes of creating a safer and more peaceful entry into the pearly gates of golf. (In some conspiracy circles, the road move allows for the lengthening of the par-4 fifth hole.)
The potential golf-course land in question sits immediately west of Augusta National and has included homes as long as the club has been around. Starting some time in the late 1990s, an outfit called Berckman Residential Properties began paying—eventually at $1 million per acre, for a total approaching $40 million—for residential properties. The residences were later razed and the land left as an open, grassy and pine-dotted prairie topped with a light gravel spread to ensure navigability for cars during wet weather. A few homeowners continue to hold out, but based on aerial photos, the club—excuse me, Berckman Residential Properties—controls about 120 acres where the club parks cars during Masters week. After that, this prime real estate sits as open pasture land with no fence. But also no purpose. (Another area right of the fifth hole is being used for hospitality and has replicas of three Augusta National greens: 12, 14 and 16.)
The site's limited acreage makes a full-length course difficult. Generally, 150 acres is needed, and in this case, the various access roads within must remain, effectively limiting the property to 100 to 110 acres of usable ground. This makes the obvious—and clichéd—option a par-3 course and the now-requisite First Tee facility, with perhaps a driving range thrown in. In that scenario, areas of maintained turf could be kept limited to tees, greens and surrounds, leaving plenty of rougher ground to get beat up by cars once a year.
Yet somehow that seems too cookie-cutter. The Lords don't do cookie-cutter. Besides, Augusta already has one of the country's best First Tee programs. So think like Bobby Jones and look to the game's origins in Scotland that so inspired his thinking. Forget replica holes or a copy of Augusta's Par-3 Course. Don't even think about striped mowing and over-seeded rye grass. Instead, we envision something of utter simplicity: The Children's Course of Augusta.
A lay-of-the-land links with simple greens, Bermuda-grass fairways, clever use of the site's creeks, perhaps augmented by minimal bunkering and minimalist maintenance. Let the kids have room to whap a ball around while the contours give them all the test they need. There would be a small starter's shack, but that's only to ensure the adults tagging along are parents. That's right, the course would be for kids first, and parents can join them only as invited guests.
There's precedent for a free links like this, in Scotland. Edinburgh's Bruntsfield Links sits in the center of the city and has been played for centuries, mostly by university students. It's 36 holes of pitch-and-putt, with wild contours all mowed by a gang mower. No one seems to mind the simple conditions, and anyone interested in trying out the game can give it a shot. For free.
As for the parking-on-turf-and-gravel issue? The club declined to comment on our idea, but considering Augusta National is home to several maintenance-industry inventions, we have little doubt in the ability of Marsh Benson, the senior director of golf course and grounds, to figure out a solution. For the kids of Augusta.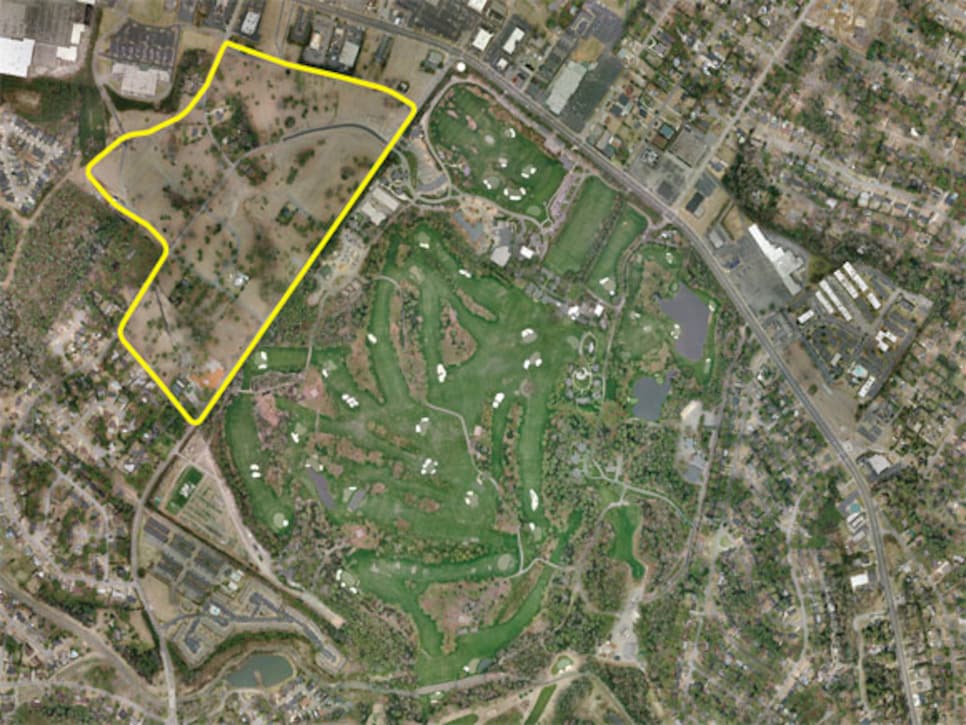 __The parking lot is in the area outlined above.