The Loop
Augusta National entrance sign sells for $25,000 at auction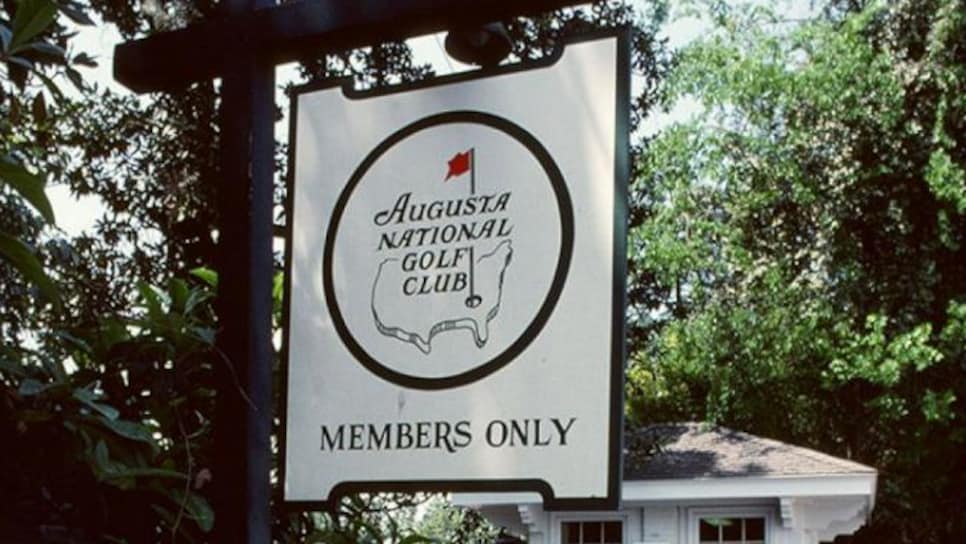 For those of you who couldn't pony up the cash, here's an update on the sale of an extremely rare piece of Masters memorabilia hosted last week by Green Jacket Auctions. Or looked at another way, consider it an update on the impossible-to-figure valuation proposition that is golf memorabilia.
The iconically understated Washington Road entrance sign to the Augusta National GC (an example is shown above) was up for bid at the golf memorabilia website last week, and the winning bid was $25,063.20. Apparently tossed in the garbage some time in the 1960s, the sign was retrieved by a local resident and put up for auction on eBay originally in 2010. Quickly removed from that auction, it was again put up for bid as part of Green Jacket Auctions annual Masters week auction just a few weeks ago.
It was estimated that there have been maybe as many as 20 versions of the entrance sign over the last 80 or so years, although this is the only one ever offered at a public auction. This three-foot rectangular version featured vinyl lettering and hand-painted renditions of the club's United States map logo on either side.
According to Ryan Carey, co-founder of Green Jacket Auctions, "it is the highest price ever obtained for a golf sign," although he expected it to fetch an even higher price than it did.
"Unique pieces of memorabilia are notoriously difficult to value," he wrote in an email to Golf Digest. "The high bidder did well by purchasing the sign at that price. The next time it changes hands, if ever, it will certainly command a premium."
The sign was part of a large auction of other Masters and non-masters memorabilia. That list also included a vintage Augusta National GC member's jacket, which went for more than $14,000; a 1934 Masters program signed by Chairman Clifford Roberts (just shy of $12,000) and a "tournament used" Masters pin flag signed by Tiger Woods (a bit more than $4,000). The full list of items and their selling prices are listed here.