News
Augusta National announces cancellation of 2021 Latin America Amateur Championship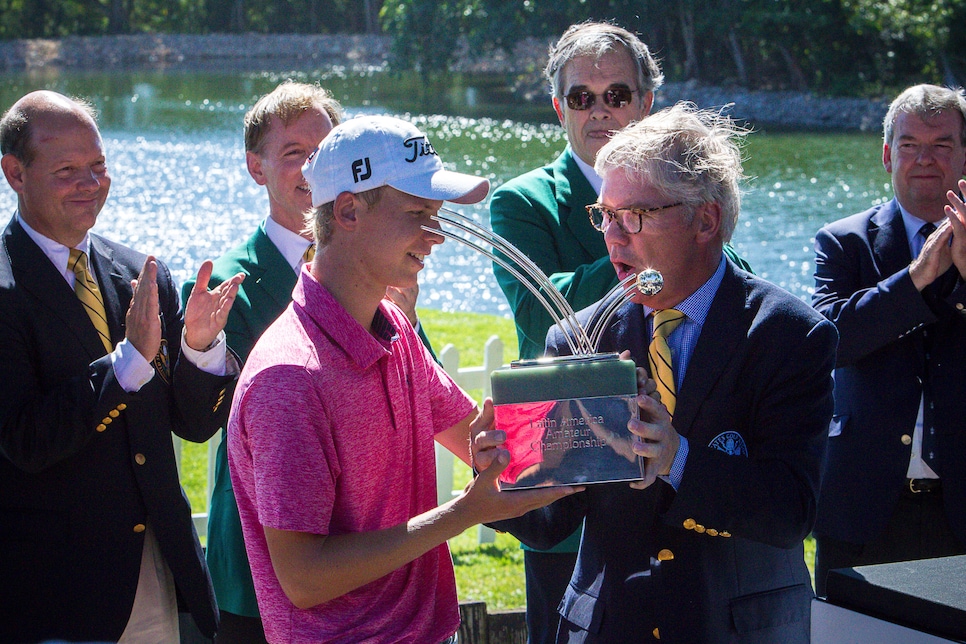 LA ROMANA, DOMINICAN REPULIC - JANUARY 17: Paul Chaplet from Costa Rica receives the trophy after winning the 2016 Latin America Amateur Championship at Teeth of the Dog, Casa de Campo in La Romana, Dominican Republic on January 17, 2016. (Photo by Santiago Vidal/LatinContent via Getty Images)
Santiago Vidal
Augusta National Golf Club announced Tuesday that the 2021 Latin America Amateur Championship has been canceled.
The event, scheduled to begin Jan. 14 at Lima Golf Club in Lima, Peru, was called off due to complications presented by COVID-19, according to the club.
The LAAC was founded in 2014 by the the Masters Tournament, USGA and R&A to give a platform to the sport in South America, Central America, Mexico and the Caribbean. The tournament rotates venues, visiting courses in the Domincan Republic, Chile, Panama and Argentina over the last five years. The LAAC champ receives invitations to the Masters, the Open Championship, and the U.S. and British Amateur Championship
Joaquín Niemann is a past winner of the LAAC, with PGA Tour winner Sebastian Munoz also a past LAAC participant. Álvaro Ortiz, who won the 2019 competition, was the first Mexican player in the Masters field since 1979, and ultimately made the cut. Abel Gallegos of Argentina will be the LAAC representative at next month's Masters.
Future plans for the LAAC will be announced at a later date.