News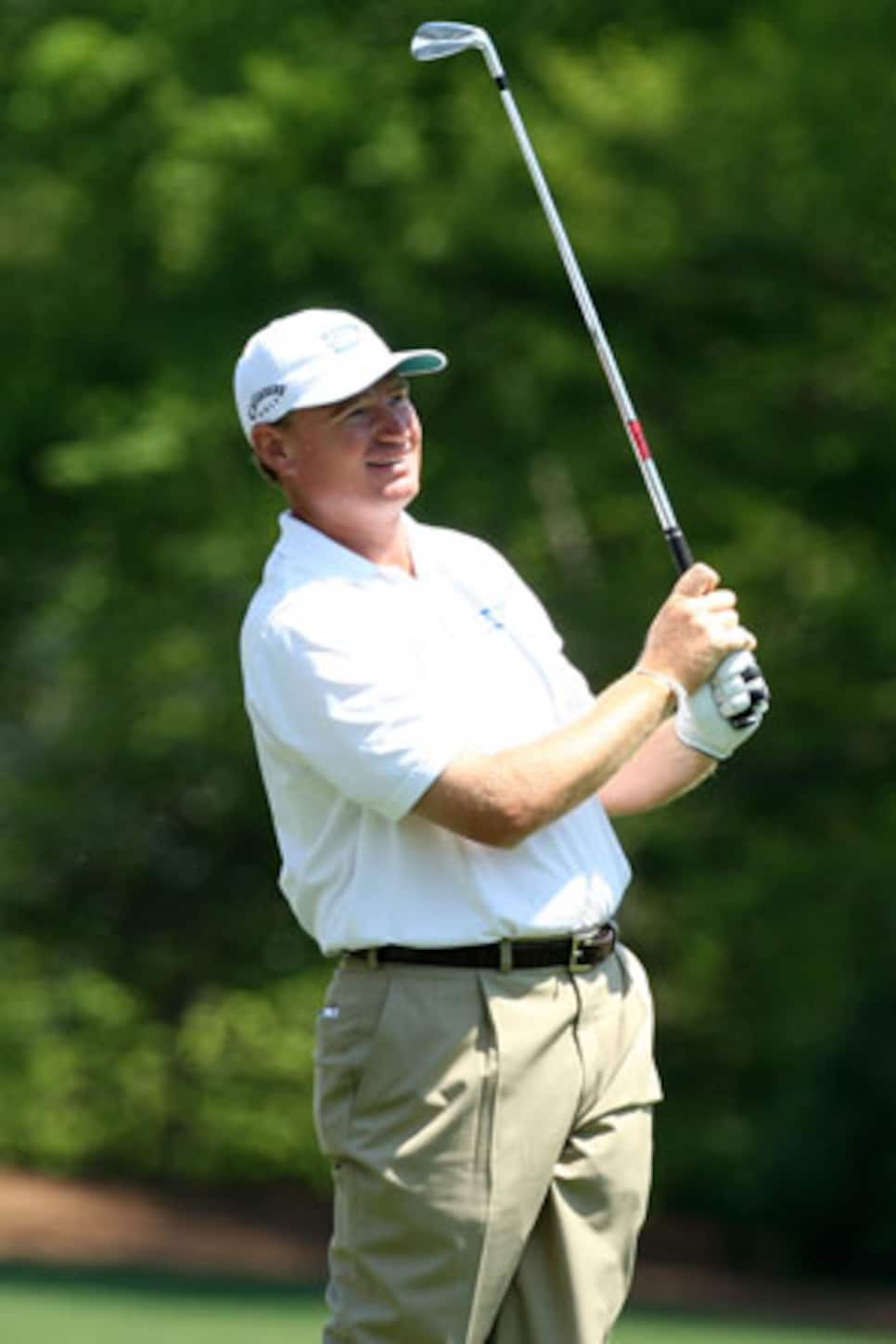 Ernie Els wasn't interested in watching Tiger Woods' press conference.
AUGUSTA, Ga. -- Is one man bigger than the game of golf? Has one man ever been bigger than the game?
Time was supposed to stand still at 2 p.m. EDT Monday when Tiger Woods assumed the position on the dais in the interview room at Augusta National GC for his first legitimate press conference since he took an early-morning drive last November near his home in Windermere, Fla., and cracked up his car, his personal life and his image.
Finally, there would be questions. Finally, perhaps, the No. 1 player in the world would provide some answers. And the whole world would surely be watching. Right?
Not Ernie Els. The Big Easy has been the only multiple winner on the PGA Tour this year while Woods has been on his self-imposed sabbatical to undergo rehab for undisclosed problems. And, at age 40, Els appears primed to make another run on a coveted green jacket. He was in the clubhouse eating lunch at 2 p.m. Monday before heading to the practice putting green about 2:20.
"Why aren't you in the interview?" he asks a reporter as he starts putting.
"Why aren't you watching it? Aren't you curious?" the reporter replies.
"Nah," he says shaking his head. "I'm more interested in what I have to do this week."
Heath Slocum was on the new practice range at 2 p.m. "I needed the work," he said. "I have my own issues."
As Woods marched into the media center, Mark O'Meara, the 1998 Masters champion and one of Woods' closest friends, also was toiling on the range under a blazing sun. "I didn't want to watch. I'm ready to move on, as I'm sure a lot of people are," O'Meara said. "The best thing everyone can do is let the man come out and play golf now."
Chris Wood, who tied for third in the 2009 British Open at Turnberry and as low amateur earned a berth in his first Masters, was walking down the first fairway at 2 p.m. having teed off as a single. At the same time, Scott Verplank, Jerry Kelly and No. 2 Steve Stricker, were putting and chipping at the ninth. A throng of patrons surrounded the green.
Granted, the crowd was not as large a gathering as the assembled masses who watched Woods and Fred Couples earlier, but it was a healthy number there, just taking in the golf, cheering when Kelly sank a downhill 50-footer that counted for nothing but was entertaining nonetheless.
Looking out from the veranda behind the clubhouse at Augusta National, one could see thousands of patrons were milling about the stately old course, trailing David Duval here and Retief Goosen there or catching up to former Masters champion Vijay Singh, his aching back preventing him from playing the last month, desperately trying to prepare for the year's first major.
Woods' press conference wasn't a priority.
Just ask Ed and Joan Axel of Bella Vista Village, Ark., who were attending the Masters with their son-in-law and daughter, George and JoAnn Riegel of Richmond, Va. They didn't care.
"It's a beautiful day here, lots of golfers, lots going on, just a thrill to see this place," Ed Axel said.
"We have no interest in what Tiger has to say," Joan added. "What he did is his personal business. We're just here to watch the golf."
In another part of the world, Jack Nicklaus, who this year joins Arnold Palmer as an honorary starter, was just walking into a meeting with the Crown Prince of Morocco at around 2 p.m. Accompanied by sons Jack II and Gary and other members of his course design team, Nicklaus was there to discuss how he and his company could help the Moroccan people grow the game of golf in their country.
As for Palmer, at 2 p.m. he was, according to longtime press coordinator Doc Giffin, playing golf. The King was somewhere on the front nine at his Bay Hill Club in Orlando, Fla., participating in the daily shootout.
Two legends, two former Masters winners, doing what they love to do in the game, knowing that time does not stand still, knowing from long-ago experiences that they were never bigger than the game.
The air was warm and still at 2 p.m., and another legend, one still active, was giving pointers to two youngsters as he toured the course he's played hundreds of times. That would be Tom Watson, the two-time Masters champion who last year nearly won the British Open, going round with Irish lad Rory McIlroy and Matteo Mannassero, the British Amateur champion.
They were on the eighth green at 2 o'clock. Behind them, in the seventh fairway, was Robert Karlsson. He and his caddie, Gareth Lord, surely must have been pondering the meaning of Woods' comeback here at the Masters and what the enigmatic star was saying to the media and a live TV audience.
What was going through their heads?
"We were trying to figure out whether we should hit 6- or 7-iron [into the green], and figuring out the wind," Lord said.
Fred Couples, the '92 Masters champion who helped Woods break the ice this morning by accompanying him on his practice round, was planning to go to a Five Guys Burgers and Fries this afternoon. He said he had no plans to watch the press conference. Neither did Geoff Ogilvy, who trailed Woods and Couples as a single and was headed to his hotel room after lunch to rest for the big week ahead.
"Every day that he plays out here is another behind him and the issue is going to get smaller and smaller, and I think anyone who cares about the game wants that," Ogivly said. "As the tournament develops -- obviously, if he's involved, it's going to get crazy...but as the week goes on you'll see that the tournament will get out front. The tournament is the biggest thing here. And by Sunday that will be evident."
So, is any one man bigger than the game?