News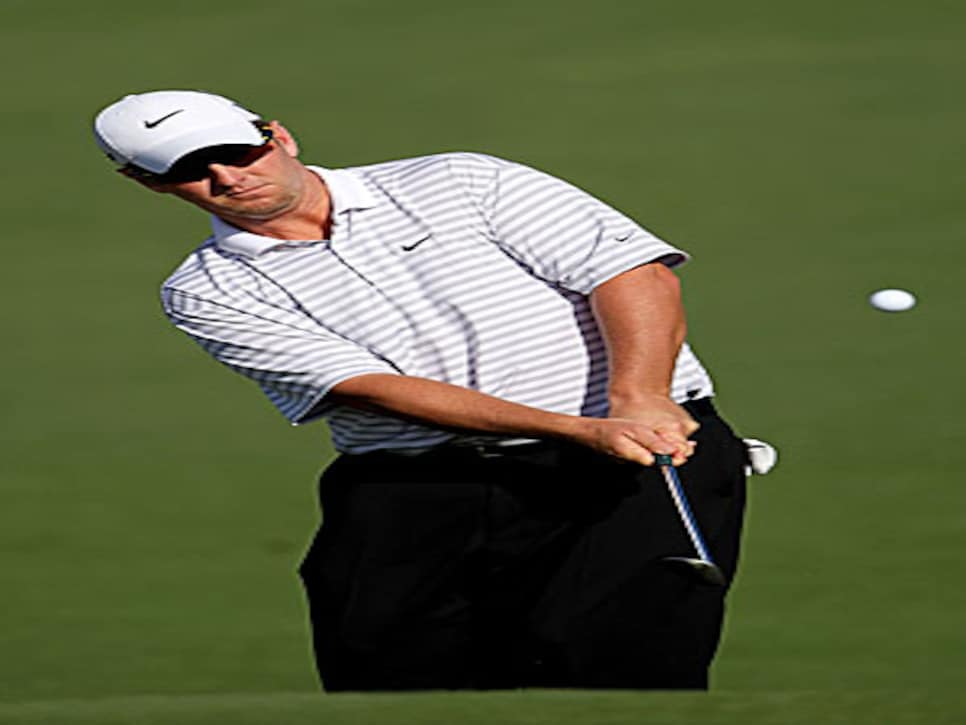 Despite a near-decade of struggles, David Duval almost won last June's U.S. Open.
AUGUSTA, Ga. -- David Duval poured water onto a towel spread out at his feet.
I tell you this because he's going to win the Masters and you should know his every move in preparation for his return to the living.
The towel lay on the velvet turf beside a practice green.
"I introduced my daughter to Duval a couple years ago," the journalist Tommy Bonk told me. "She didn't know him, so she asked, 'Are you famous?'"
A bunch of balls at his feet now, Duval had a sand wedge in his hand.
"Duval laughed and said, 'I used to be.'"
Somebody once, he will be somebody again.
"Can Duval win this thing?" I asked John Huggan, a wise sportswriter from Glasgow, Scotland.
"Why not?" I said, plaintively.
"Because he's not good enough," the Scot said, economically.
Hah. Hard-hearted Huggan relied on a cold-eyed study of past performances. Duval has made the cut in only three of seven events this season, only once finishing better than T-41. I prefer to rely on the magic of intuition. My hunch is, it's time. This man who fell off the edge of the world is now hitting pitch shots to a practice green at 4 o'clock on a searing spring afternoon.
No one else is there. One man, alone with his ambition. Thirty-eight years old. Hasn't won a tournament in nine years, the last the British Open of 2001, a year when he and Tiger Woods were lords of all they surveyed. Then came the fall. Somehow, the swing that worked flew into a zillion dysfunctional pieces. With the loss of mechanics came a loss of confidence so profound that he once hit three drives out of bounds before going to a wedge off the tee.
Now he's pitching wedges to flagsticks on a practice green because he knows there's only one way to win here. He must score. Of course, to win anywhere a guy must turn bogeys into pars, pars into birdies. But here, maybe more than anywhere, scoring is the last and ultimate test of the winner. It's not necessary to miss a green to make a number one bigger than you want; put the ball in the wrong spot on the green, there's hell to pay.
The game here is not only length, though length is important.
Nor is it only putting, though only sensational putters win.
The game is patience and precision.
I'm thinking of Duval at last summer's U.S. Open, played on the Black Course at Bethpage Golf Club. Never fun, an Open on Bethpage Black is torture. Duval embraced it as a rival worthy of his full attention.
"I loved the fact that it was very, very big golf course," he said. "I felt that the bigness of it ... can be intimidating to some people."
Not to him. Whether it's a good thing or bad -- the scales tip to a negative answer -- Duval in his years of decline-and-climb has done his best work in major championships and on the greatest courses. He has professed to having no understanding of why that is so, but the amateur shrinks among sportswriters believe there is in Duval, having been No. 1 in the world, a lingering arrogance that allows him to be motivated only by the most difficult of challenges. Look at it this way. When you've won 13 PGA Tour events, when you've won the claret jug, when you've traveled with Tiger on his personal jet, how big a deal can it be to win the Home Depot Screen Door Classic?
Which goes some distance to explaining his runner-up finishes in that Open and in the National AT&T at Pebble Beach this January. Instead of walking to the first tee on a Thursday and finding yourself already eight or nine strokes down -- make birdies or die!! -- he likes an Open start: "Invariably somebody shoots four or five or six under the first round," he said, "and you're like, 'That's no big deal, they're a shot or two ahead of the winning score.'"
Unless the philanderer Woods becomes the golden-child Tiger again, no one will go 20-under at Augusta National. With some weather, a stiff breeze, maybe rain, a guy could win with a number in single digits.
"I would much prefer severe conditions, severe, fast, firm, fast greens," Duval said. "That brings out precision, and in the end, that's ultimately what you're looking for. Certainly in the big-time events like this, you're looking for somebody who is really precise to win the golf tournament."
In the years 1998-2001, no one was better than David Duval at Augusta.
His finishes: T2, T6, T3, 2.
Woods' finishes: T8, T18, 5, 1.
Someone asked Duval if, in those years, he felt that any one of those Masters could have been his?
With a smile: "Pretty much all of them."
So it's time to get even. And the good thing is, he's ready. He has not qualified for a Masters invitation since 2006; he made it this time on his Open finish. But after the AT&T runner-up finish, he said "something good is about to happen."
"I'm entirely comfortable with what I'm doing right now," he said. "I feel like I'm swinging the golf club how I want to. I feel like I'm striking the golf ball how I want to ... I don't make nearly as many putts as I want to, but I don't know of any pro that does. And I don't get up-and-down every time, which blows my mind, like every other pro ... But I feel very good about what I'm doing."
As Duval spoke at a sparsely attended press conference -- only Tiger matters this week -- I waited to hear one word.
It came when someone asked his feelings on being back here.
And this: "I feel like I have a chance to win."
Can't do it if you don't dream it.