The Loop
Augusta double eagle ball makes its way home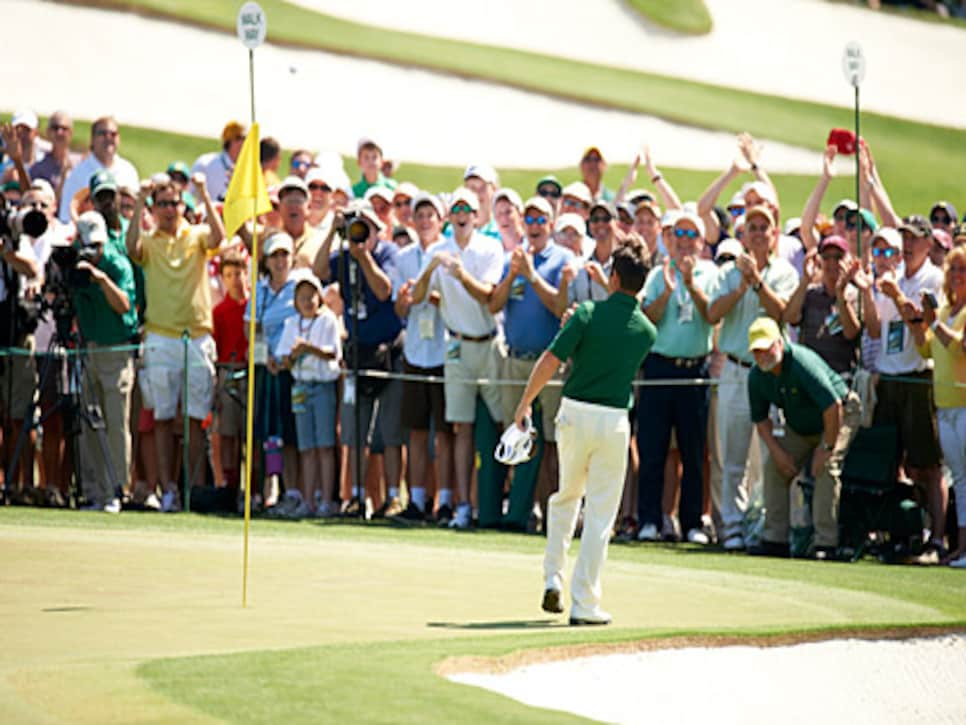 (Louis Oosthuizen throws his double-eagle ball to the crowd. Photo by Al Tielemans/Getty Images)
The thrilling journey of the most famous golf ball in recent Masters history is over.
The ball belonged to Louis Oosthuizen. After making double-eagle at the second hole Sunday, the South African tossed the ball to a fan in the gallery. That man, Wayne Mitchell, gave it to Augusta National Golf Club. The club then returned the ball to Oosthuizen, who, in turn, donated it to the club for its archives.
Still unanswered, this question: What kind of deal did Mitchell strike with Augusta National? In exchange for the piece of history, did he wangle a lifetime badge? Or a round of golf with Billy Payne? Perhaps all the peach cobbler he could eat?
"I'm not discussing that," Mitchell said Tuesday morning. "I was happy to give them the ball."
The ball is the Titleist Pro V1X used by Oosthuizen to make only the fourth double-eagle in Masters history. It is the most meaningful since the first, Gene Sarazen's in 1935 that put him a 36-hole playoff which he won. Oosthuizen's 4-iron shot from 253 yards catapulted him into the tournament lead, which he held until losing to Bubba Watson on the second hole of a sudden-death playoff.
As Oosthuizen left the green, he tossed the ball to Mitchell, who sat in the front row of the gallery. Because Oosthuizen and Watson were the day's second-to-final pairing, the gallery dispersed -- except for Mitchell, intercepted by a handful of reporters and an Augusta National member who hooked arms with Mitchell as if to assure the beginnings of negotiations.
From his office at Air Products and Chemicals, an industrial gasses company in Allentown, Pa., Mitchell said, "The only part of the discussion that I'll share is this: Augusta thought Louis might have made a mistake in giving the ball and might regret it later."
At greenside Sunday, Mitchell had said he'd "absolutely" return the ball to Oosthuizen if the player wanted it. Mitchell's account of the ball's ultimate movements was confirmed to Golf Digest by an Augusta National spokesman, who said he could comment no further.