News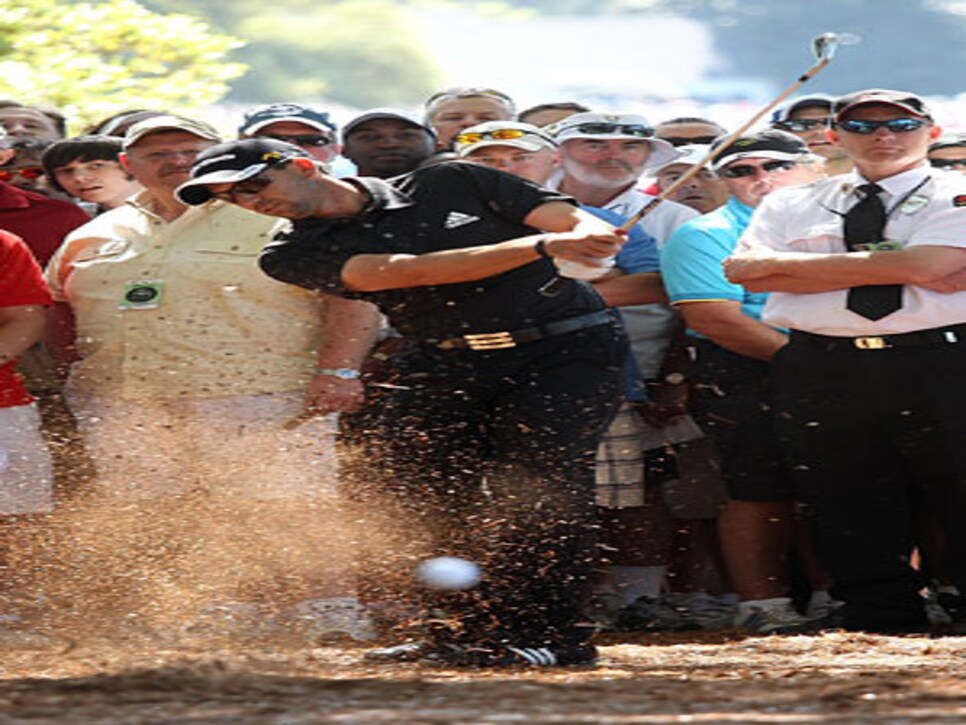 Sergio Garcia gets a bogey for his terrible play over the weekend.
AUGUSTA, Ga. -- The thrill-a-minute 2010 Masters is in the books, and we're sorry to see it go. Who were the winners and losers on Sunday at Augusta National? Let's break it down with our final-round edition of birdies and bogeys.
BIRDIE: Phil Mickelson -- A guy who seemed to sleepwalk through the first part of the season shifts into another gear on Sunday at the Masters. Five birdies, no bogeys, and one heavy heart adds up to a third green jacket. If the scene behind the 18th green didn't get you even a little, you weren't paying attention.
BOGEY: Tiger Woods -- His ninth top-five at the Masters could have been something more if not for a horrific start and a brain cramp three-putt on the 14th hole. Still four wins away from tying Jack Nicklaus' mark of 18 majors, these are the days that will gnaw at Woods if he ends up falling short. Throw in the fact he had to watch his chief rival slip on another green jacket before an adoring crowd, and Woods knows he has even more work to do to win back the public's affection.
BIRDIE: Tiger Woods -- One way to look at it is Woods blew an opportunity here. The other is to recognize he had no business being in contention in the first place. After five months off, returning to an oppressive amount of scrutiny, Woods risked becoming an afterthought on Sunday and yet always found a way to vault back into the fray. Heaven help the rest of the tour when he works out the early-season kinks.
BIRDIE: Mickelson -- Not that he needs another one, but after striking Augusta resident Gary Condrey on the left shoulder with his tee shot on 11 (and watching his ball bounce out into the rough where he had a clear shot) Mickelson shakes Condrey's hand, hands him a signed glove with the message "Sorry", and tells Condrey, "Sorry about that -- but thanks for the assist!" A classy move from a guy in the middle of the final round of a major.
BOGEY: Sergio Garcia. After a 70 Friday put him at level par, Garcia closed with 76-78 on the weekend. Perhaps most telling is that no one even noticed. The only thing worse than a disappointing tournament is when no one expects much from you going in. Garcia now finds himself two years removed from his last PGA Tour win, on the brink of irrelevance.
BIRDIE: Butch Harmon -- It wasn't until Mickelson coughed up the 2006 U.S. Open at Winged Foot that he took up with the famed instructor. That partnership yielded wins in big events such as the Players Championship and last fall's Tour Championship, but it wasn't until Sunday that they were able to celebrate a major together.
BOGEY: Lee Westwood and K.J. Choi -- They both had at least a share of the lead on Sunday and both let it slip away. It's one thing to make your share of mistakes. It's another to appear unflappable right up to the point a win enters your sights.
BIRDIE: Ryan Moore -- With 109 putts for the week -- a tournament low by three putts -- Moore made the $59 investment in a Tiger Shark putter just before leaving for Augusta money well spent.
BIRDIE: Anthony Kim -- Starting the day seven shots out of the lead, Kim actually pulled to within one at one point with a barrage that totaled six birdies and an eagle (against one bogey). Considering the kid had to be running on fumes after winning last week, plus playing with a thumb that needs surgery, AK is showing some serious heart these days.
BOGEY: The U.S. Open -- One major's success sheds a light on another's deficiencies. The Masters shined this week because players were able to do what they do best -- bomb drivers, fire at pins, even attempt recoveries out of the trees. A major championship that actually showcases talent? What a concept.
BIRDIE: Buyers of Callaway drivers at Golfsmith --The retail chain ran a promotion leading up to the Masters that offered a full rebate on purchases of Callaway drivers if Phil Mickelson won. A reported 12,000 Callaway drivers were sold during the promotion. Don't worry, though. We're sure Golfsmith had insurance.
BOGEY: Aussies -- For those scoring at home, that makes 74 consecutive Masters an Australian fails to win. Let's get going, boys. The sooner one of you claims a green jacket, the sooner you don't have to explain why an entire nation keeps coming up short.