News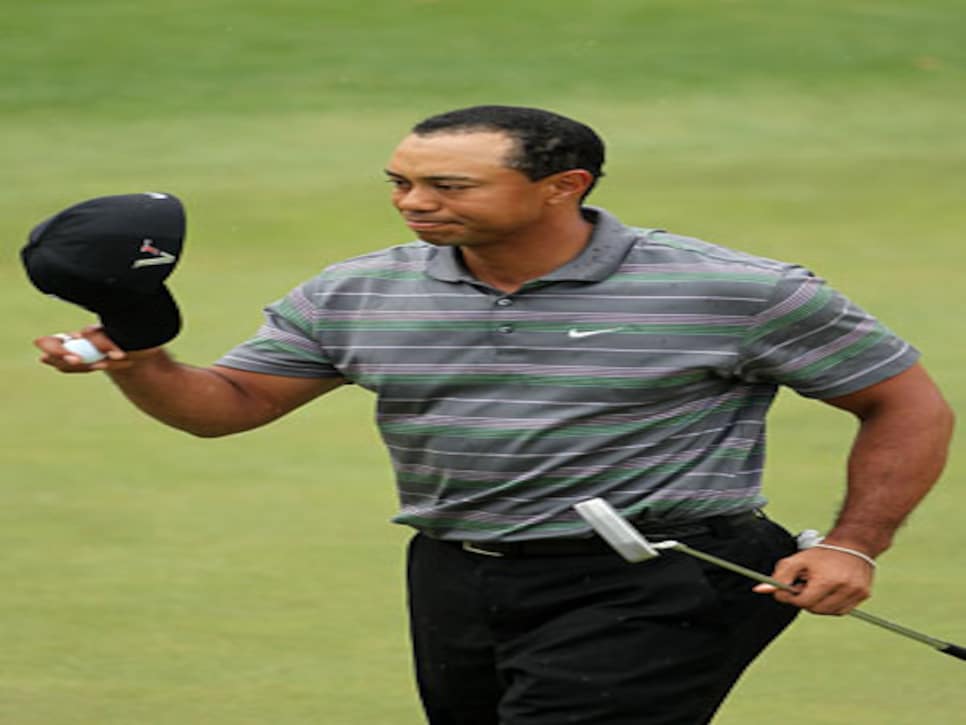 It looked like nothing has changed for Tiger Woods on the course.
AUGUSTA, Ga. -- The first day of the Masters is over, and not a single TMZ reporter was in sight. Who were the winners and losers at Augusta National on Thursday? Let's break it down with a long-overdue edition of birdies and bogeys.
BIRDIE: Tiger Woods -- As it happens, we've learned just about everything else there is to know about the world No. 1 over the last five months -- WAY too much, some might say -- and yet we're no closer to figuring out if he's actually human. Case in point, his opening round at the Masters, when only the entire globe was curious to see how this next phase of his career would look. Turns out it looks an awful lot like the old days.
BOGEY: Tiger Woods -- Well, actually it was a par, but the missed six-footer on the par-3 12th continued an intriguing stretch where the best player in the history of oxygen has only birdied the hole once in his past 41 tries.
BIRDIE: Champions Tour -- Starting with Fred Couples and Tom Watson, and continuing with Sandy Lyle and Bernhard Langer, this was the best day for seniors since the invention of the Early Bird Special. Of course, don't tell that to 52-year-old Ian Woosnam. He defied the trend with an 81.
BIRDIE: Jack Nicklaus -- Although the Golden Bear once said he never wanted to be a "ceremonial golfer," his decision to join Arnold Palmer as an honorary starter made an already special occasion even more memorable. We can only hope Gary Player is asked to join in the near future, reuniting the game's "Big Three."
__BIRDIE:__The Mickelsons -- Phil awakes from his early-season slumber to shoot 67. But the best news is that wife Amy is in Augusta, her first trip to a tournament since her diagnosis with breast cancer last May.
BOGEY: Local airspace -- On two separate occasions on Thursday afternoon a plane could be seen buzzing above Augusta National, carrying messages explicitly for Woods. Give them points for creativity. Take away even more points for being a tad cruel.
BIRDIE: Anthony Kim -- Make that six birdies. And an eagle too. Kim got it to three under par early, kicked it all away, then came storming back to finish at four under, further demonstrating the maturity he showed last week in Houston where he won without playing his best. Maybe AK isn't all belt-buckle after all.
BOGEY: Angel Cabrera -- El Pato was three under par at one point but shot 40 on the second nine, thanks to a double bogey at the par-5 13th. Other than an injured Vijay Singh (playing with a bad back), Cabrera was the only Masters champ from the past 10 years not to match par or better. Angel, you have to do better than hit seven greens in regulation in beginning defense of your title.
BIRDIE: MSNBC's Willie Geist -- Geist, of "Morning Joe" fame, had been reporting near the water tower on the corner of Berckmans and Washington roads. On the outside looking in at Augusta National for two days Geist had said, "I'm gonna find a way in." And he did. Geist was watching the action along the first fairway early in the day.
BOGEY: Louis Oosthuizen -- After winning the Par 3 Contest, Oosthuizen came out today and made birdies on Nos. 2 and 3 taking the (very) early lead at two-under par. He eventually finished at three-over-par 75, another victim of the Par 3 jinx that has seen no winner of the pre-tournament exhibition capture the title the same year. "There's always a first time to break the curse," he said yesterday. Yeah, just not this year, right, Louis?
BOGEY TURNED BIRDIE: On Wednesday a sign on the 16th hole read "Quite Please," a typo that shows even the folks at Augusta National are human. Today, however, a sign with the proper spelling was in its place. It's OK, guys, even spellcheck wouldn't have caught that one.