Hazard of the job
Watch Dottie Pepper not even flinch when she nearly gets pulverized by this wayward drive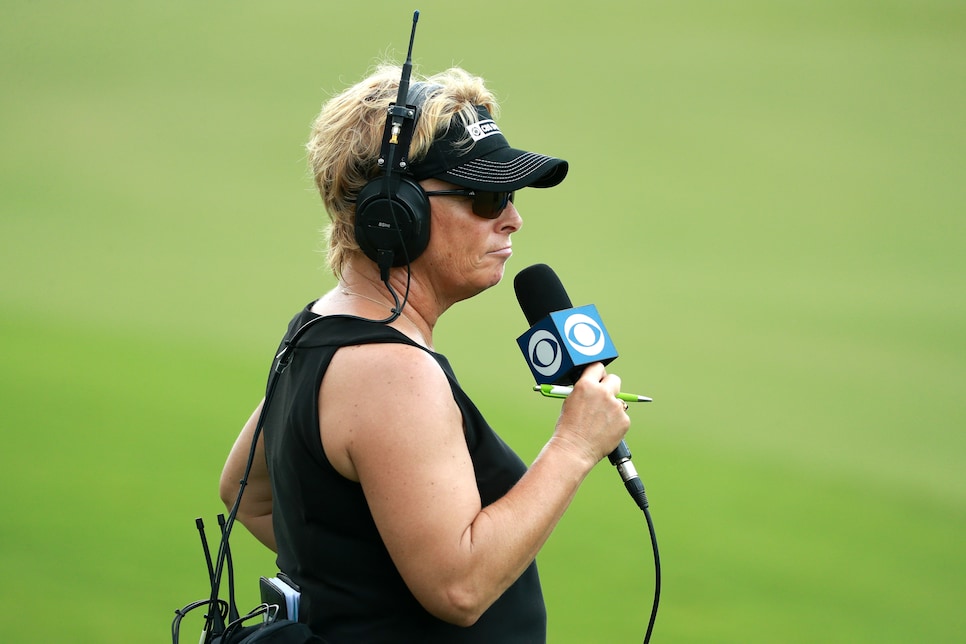 To lug all that gear for 18 holes while walking with one of the lead groups and being a cogent surveyor of what's going on during a round is a burden that TV's on-course golf reporters take pride in, CBS' Dottie Pepper among them. The former LPGA major winner, in her sixth year with CBS but her first as the lead on-course commentator, has become a respected voice for her polished analysis and insight.
She's also not afraid of incoming fire.
During Saturday's third round of the AT&T Byron Nelson, Pepper was out with the last twosome of Sam Burns and Alex Noren. As she ordinarily does, Pepper had walked ahead of the players and was standing in the rough right of the fairway nearly 300 yards away from them on the par-5 ninth hole, when Noren hit his tee shot. As the ball was in the air, Pepper was describing what Noren was facing when this happened:
A couple takeaways here, the first and most pressing is the fact that Pepper DID NOT FLINCH when Noren's drive nearly knocked the mic right out of her hand. Now, potentially that was because she doesn't appear to have been watching the ball off the tee, which in hindsight was probably a good thing give just how close she nearly came from getting pulverized.
"Almost got me," Pepper joked. "Don't flinch. I didn't."