The Loop
At this point in his career, Jordan Spieth is outperforming Adam Scott, Rory McIlroy and Phil Mickelson
Jordan Spieth's rookie year on the PGA Tour was, by almost any standard, phenomenal.
Just in case you were under a rock: At 19-years old, Spieth became the PGA Tour's youngest winner in 82 years and the fourth-youngest winner ever. He rose to 22nd in the World Golf Rankings, became the youngest ever player to make the Presidents Cup team and pocketed nearly $4 million -- more than Gary Player and Arnold Palmer made on the tour in their careers, combined.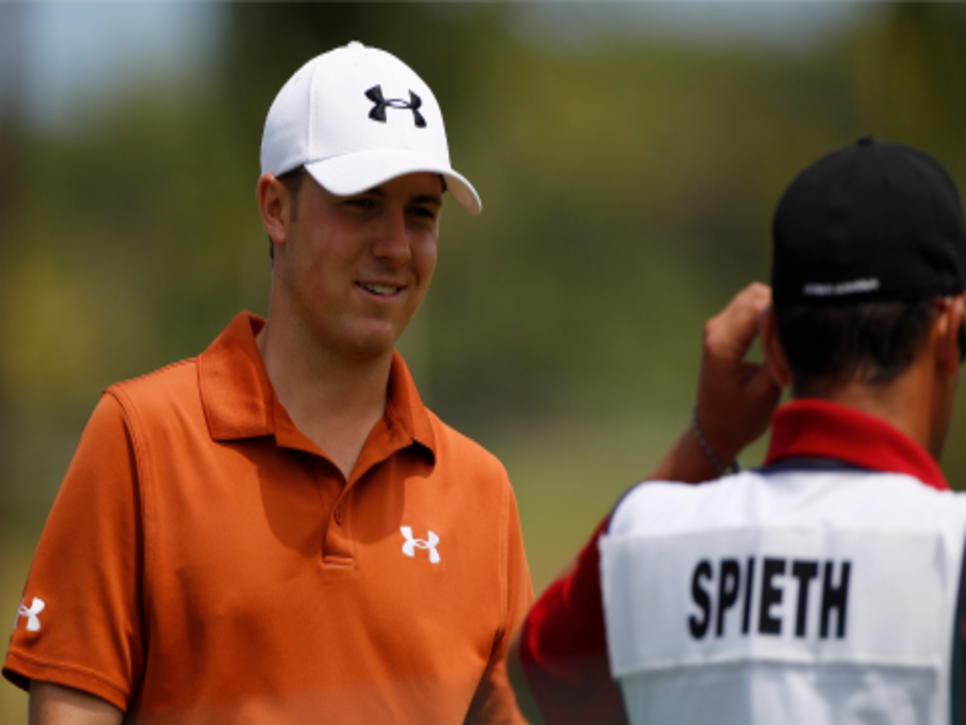 Let's say Spieth wins this week at the Hyundai Tournament of Champions (he's tied for first through three rounds with Webb Simpson and Dustin Johnson), that would mean that through 25 official PGA Tour events as a pro, including majors, Spieth would have two wins, three seconds, 10 top 10s and 15 top 25s.
Here's how that compares to the first 25 PGA Tour events as a pro of each of the current top six players in the World Ranking: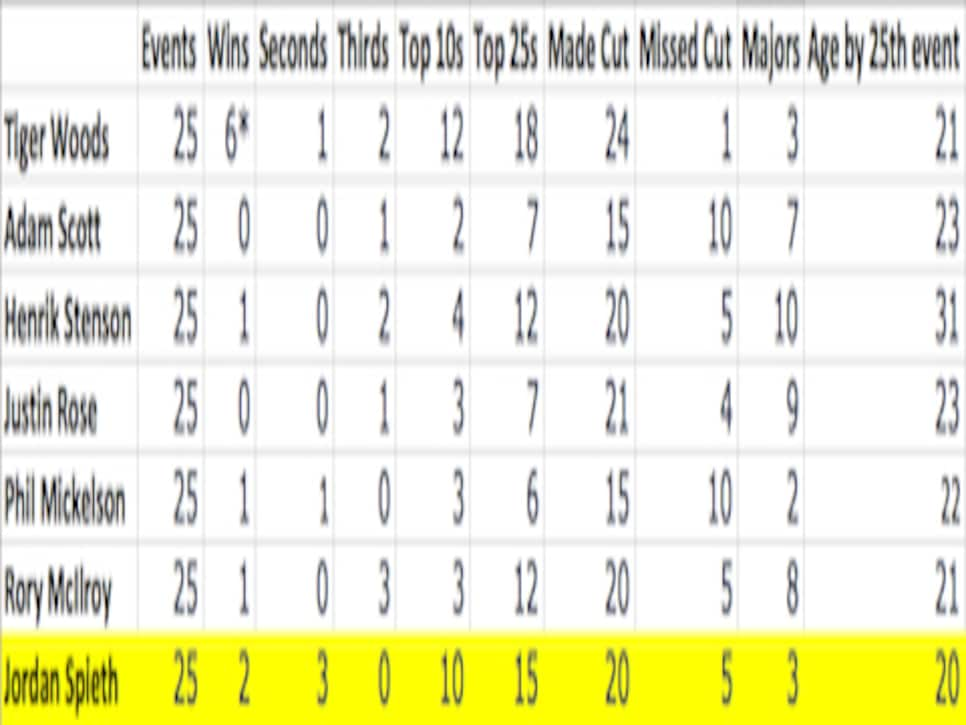 But behind Tiger, it's hard to look past Spieth.
A win at the Hyundai would give him two victories in 25 events as a pro, second only to Tiger. And even if he doesn't win, and suppose he somehow finished the Hyundai outside the top 25, he'd still proceed with more second-place finishes than anyone currently in the top six of the World Rankings and more top 10s than Adam Scott, Rory McIlroy and Phil Mickelson had in their first 25 events as a pro, combined.
Assuming Spieth doesn't explode and manages to finish in the top 10, that will mean he'd have finished in the top 10 in 40 percent of his events as a pro, and all by the age of 20, making him the youngest of anyone mentioned.
The one spotty part of his stats, you might notice, is the numbers of majors he's played in relative to the others, but don't read too much into that -- it's more a product of our process rather than Spieth's performance.
Because the breakdown measures the pros' performance in their first 25 PGA Tour events as a pro, the number of majors category is slightly skewed towards the three players who started their careers on the European Tour: McIlroy, Rose, Scott and Stenson. That's why Stenson didn't reach 25 PGA Tour events until he was 32, but had played in more majors than anyone else by that point. We did this to avoid trying to compare European Tour finishes to PGA Tour finishes.
Nevertheless, what this shows is that on paper, Spieth is in the midst of laying the groundwork for a truly historic career -- the likes of which we may not have seen since Tiger Woods' ascent.