The Loop
At the turn, a Masters ripe with possibilities
AUGUSTA, Ga. -- Because the risk-reward quotient is so high on the last nine holes at Augusta National, legend holds that the Masters doesn't begin until the dry-throated, gasping-for-breath, wannabe-immortals reach those final examinations of mettle. That was still true on this day, but it was also true that this 2011 tournament took its thrilling shape on the last day's first nine holes.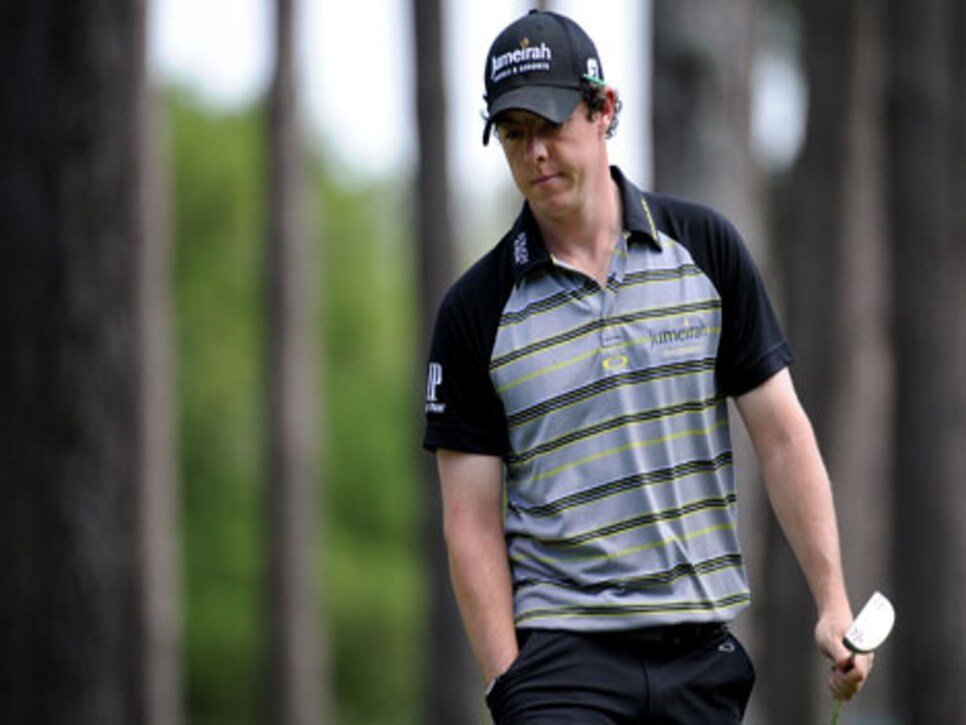 Rory McIlroy has seen better days on the golf course. (Photo by Getty Images)
Four shots to the good when he got out of bed on this gorgeous Sunday morning, Rory McIlroy lost that lead once, to Charl Schwartzel, and regained it only to see that his lapses had given hope to a stampede of contenders. Suddenly, there were seven men within two shots -- and one was perhaps the most famous unlikely contender ever, which is to say that at last we had seen the return of the artist once known as Tiger Woods.
Woods had said on Saturday, against all evidence, that he "absolutely" could win the tournament. To do that, he said, he needed a good start Sunday. And what he did on his first nine holes Sunday is the very stuff of legend, a five-under-par 31 that put him 10-under for the week and, just as important, announced to McIlroy that the heat on the back of his young neck was the breath of fire coming from the old man Woods.
At 4:47 p.m., the sun lowering, McIlroy led by a shot over Schwartzel, K.J. Choi, and Angel Cabrera, with Woods, Luke Donald, and Adam Scott another shot back.
And then came the last nine holes.