The Loop
At the site of a triumph, Nelson bids a quiet goodbye
JOHNS CREEK, Ga. -- Forget the scores of 78 and 75 that Larry Nelson shot. Never mind that on Friday night he would be in the agate scores as another golfer who missed the cut badly in the 93rd PGA Championship at Atlanta Athletic Club. "I didn't make a birdie in two days," Nelson said. "I don't know that I've done that ever."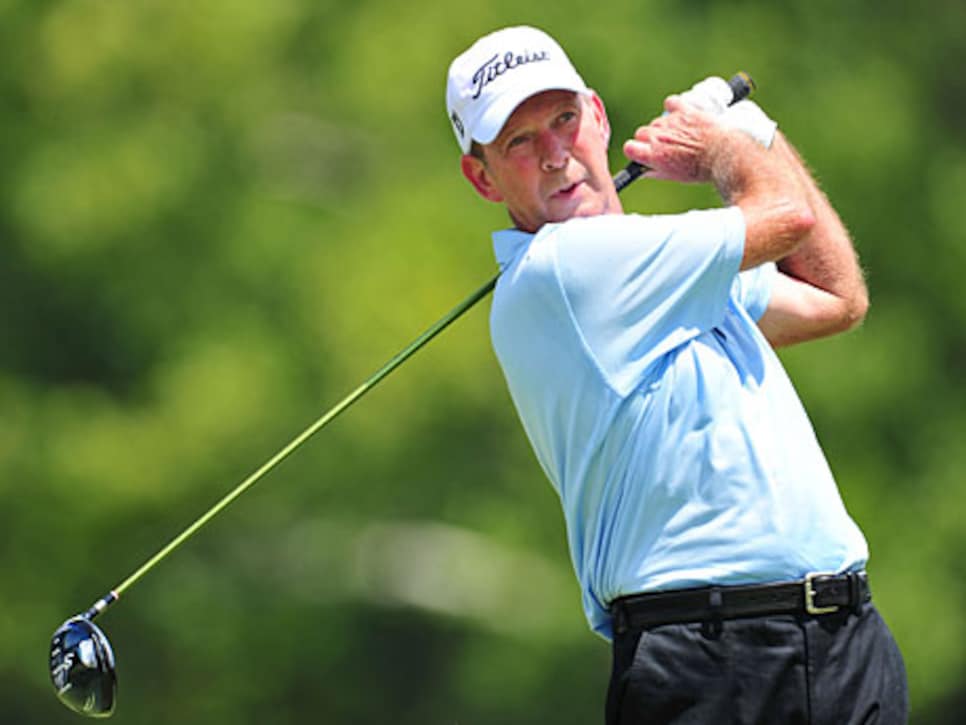 Although -- even at age 63, at only 5-foot-9 and 150 pounds -- Nelson was frustrated with his performance on the same course where he won the 1981 PGA, it was a successful encore for a man deserving of one.
This was the final major championship for Nelson, who also won the 1983 U.S. Open and 1987 PGA. There was no botanical garden to walk past, no old bridge to pose on, just a long, hard golf course on which a pro's pro could try to do his best on one more time.
Atlanta Athletic Club is a lot different than it was 30 years ago -- the grasses, the yardages, just about everything. In 1981, Nelson hit 48 of 56 fairways here, best in the field. He averaged 246 yards off the tee. That can be a 4-iron today for Bubba Watson or Dustin Johnson. Thirty years ago, Jim Dent couldn't hit a 4-iron 246 yards.
Nelson has a few more wrinkles, but otherwise looks like the same fellow with a receding hairline under a golf cap that he was then. Morever, he acts like the same guy: considerate, modest, honest. Of playing the final hole then and now, Nelson said of the grandstand, "They were kind of just full of friends and family in '81. There were a few friends and family out there [today], the ones that haven't died since then."
A couple of younger tour pros, Stewart Cink and Davis Love III, are featured in an current advertising campaign for a brand of soap in which they proclaim they "are comfortable in their own skin." Nelson has been that man for many years.
He was never quotable enough for some reporters, but for most of his career -- during which he won 10 times on the PGA Tour and 19 times on the Champions Tour, where he still competes -- he let other folks pump their fists in victory or curse in defeat. Some of his personality was molded years before he got on tour, when his objective was trying to stay alive as an U.S. infantry leader during the Vietnam War.
"I was a competitive person but not demonstrative, and the stress of Vietnam really made me rein in my emotions more," Nelson said to Golf Digest's Guy Yocom in 2008. "In Vietnam you had to let events sort of bounce off you to keep your sanity."
That Nelson became a business-like golfer was no different than being a business-like soldier, only the bogeys were less consequential. "We went over because we loved our country and were asked to do it as members of our free society," Nelson said in that 2008 interview. "A lot of us didn't agree with the war and were disappointed almost daily with things that happened there, but we did what we were told and did whatever else we could."
Gentlemen with strong constitutions will keep being attracted to golf, but the way Nelson came to the sport hardly happens anymore -- former factory worker Tommy Gainey is the only current pro who probably comes close. Nelson didn't take up golf until he was 21, back from Vietnam. He pounded drivers at a range until he could hit a ball far and sure, relying on Ben Hogan's words (his famous instruction book, Five Lessons) to supplement his sweat. A $67-a-week job as an assistant pro followed, then came further education on the mini-tours. Just five years after wearing out that loaner metal driver at the range, he was on the PGA Tour. Only Calvin Peete comes close to doing as well on tour after taking up golf so late.
Nelson was awarded the Distinguished Service Award this week by the PGA of America, the association's highest honor. He should have been a U.S. Ryder Cup captain, not only because of his multiple major wins and his character but his stellar record as a player in the biennial matches (he was 9-0 in his first two appearances). It seemed all set for 1997 in Spain, that Nelson would captain opposite Seve Ballesteros, with whom he had sparred so memorably as a player. Tom Kite got the nod instead, and Nelson never did.
Others always complained more loudly than Nelson did about the slight. That wasn't his style.
After Nelson had signed his card and cleaned out his locker Friday afternoon, he had a 30-mile drive home, more time to reflect on what a ride it has been.
"It's just hard to believe," he said. "Things pass by so quick."