The Loop
At Tavistock, a tradition worth dropping
Editor's Note: Ron Sirak didn't attend the 2011 Tavistock Cup, for reasons that should be obvious enough if you recall what happened when he tried to attend last year's event. Here's Sirak's account of that day, which earned him honors in the Golf Writers Association of America writing contest, but probably not any friends at Tavistock.
WINDERMERE, Fla. --- Ladies and gentlemen, we have a new record. Previously, the shortest stay at a golf tournament in my professional capacity was at the 1996 Senior PGA Championship at PGA National. After two rounds, the 36-hole leader, Buddy Allin came into the interview room and said something to the effect of: "Couldn't beat these guys on the regular tour. Can't beat these guys on this tour. All I want is to pick up top-10 money and go home." That's all I needed. Check please, I'm out of here. I called my boss and pitched going to Harbour Town to do a Greg Norman feature. Well, that record was shattered Monday at the Tavistock Cup. I didn't make it out of the parking lot.
The Tavistock Cup, for the tens of million who aren't familiar with it, is the annual Battle of the Gated Communities in which pros from Lake Nona take on their colleagues from Isleworth, although I'd like to see some ID on a few of the competitors to see where they really live. The two captains, for example, are Ernie Els for Lake Nona and Mark O'Meara for Isleworth. Els lives in Jupiter, which is at least still in Florida, while O'Meara resides in Houston, which I guess means he can use the tenuous connection that both Texas and Florida had a Bush as governor at one time. But I digress. Here is the strange and wondrous tale of my shortest stay at a tournament.
When I picked up my credential at Will Call they also handed me a shirt. Nothing unusual there. I have spent decades supplying the Salvation Army with logoed shirts given to media members by tournament organizers, a campaign I stepped up when my significant other said to me: "My goal is to get you in clothing I don't have to read." So with credential in hand and shirt in a bag, I headed for the "A" parking lot, which was in a field at the end of a windy road at Isleworth.
Now, as a veteran scribe I have learned that when I get out of my rental car in a media parking lot I best try to jot down some landmark that will give me at least a hint of where the car -- that I will almost certainly forget the make and color of immediately -- is located. What's that I see in the distance? Yes, the shuttle buses to the golf course, which must be around here somewhere.
So I get to the shuttle and a friendly enough chap says, "Didn't they give you a shirt?" to which I replied: "Yes they certainly did and a damn nice one it is." That was apparently the wrong answer. The guy, who now was getting very serious about his job, says: "In the spirit of the competition, everyone is expected to wear either Lake Nona blue or Isleworth red," or maybe it was the other way around. Frankly, the absurdity of the request -- which wasn't really a request -- directed my attention away from the details. Anyway, I replied: "In the spirit of journalism, I cannot wear your corporate uniform while I am covering your event. I am here as a journalist, not as a billboard."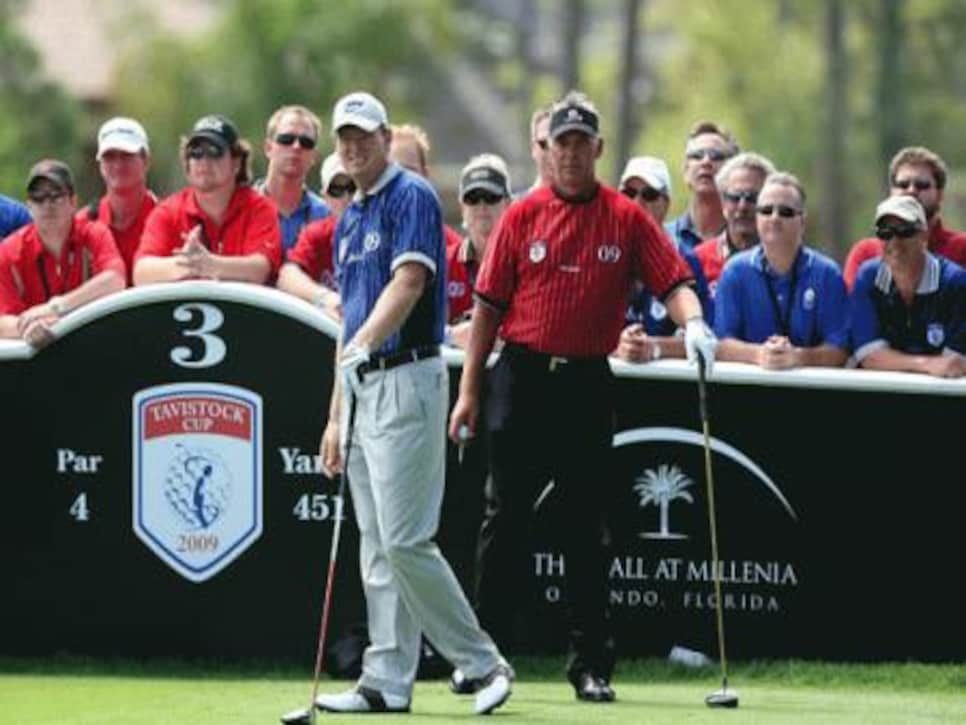 At this point, the friendly enough chap who had morphed into an overly officious quasi official went up the food chain to the senior overly officious quasi official, a place where I thought sanity would reside. I was wrong. The argument that I was there to work and not be a spectator seemed to matter not on whit. At this point I lost all interest in this made-for-TV event. The Arnold Palmer Invitational was commencing at Bay Hill, a couple miles down the road, and spending Monday with Arnie seemed like an even better idea than usual.
I handed the overly officious quasi official my business card and told him to tell whoever cared about such matters that I came, I saw and I rejected the terms of engagement. At this point perhaps I should mention that I had to wait weeks to find out of my credential application for this non-event was approved. The approval came, coincidentally, the day after Tiger Woods announced he would not play at Tavistock or Bay Hill.
In 2005, I covered all four men's major championships and all four women's majors, prompting Golf Digest senior scribe and living legend Dan Jenkins to say: "Ron, you are not only the lone golf writer to work all eight majors in the same year, you are the only one who wanted to." In a couple weeks I will work my 20th Masters, which is only 40 short of the number Jenkins has covered.
But I have something Dan doesn't. I covered a Tavistock Cup -- or at least the parking lot of the Tavistock Cup. I can tell you this: There won't be 20, or even two. Where's the nearest Salvation Army so I can drop off this shirt?
Photo by David Cannon/Getty Images