The Loop
At Olympic medal ceremony, a celebration for more than the medalists
RIO DE JANEIRO -- Everything about the Olympic Golf Course's finishing stage was designed with a grand conclusion in mind. But of the key figures quizzed about Sunday's conclusion, all admitted they couldn't have dreamed up what actually transpired in Rio.
Years of planing paid off in a scene that felt different than a major championship. Not better than a major. Just different. More gratifying maybe.
The joyful antics of the 59 protagonists all week, capped off in the dusk light by Justin Rose's final birdie, just left everyone feeling good about the week. Rich Lerner said it best on Golf Channel's Live From coverage: "This is about the happiest I've seen the sport in a long, long time."
The stage-crafting was years in the making by those who orchestrated golf's return to the Games, all with the assumption that the chances of something like Sunday's finale were only one of many possibilities. But throw in an assist from the IOC and the mysterious force that somehow pushes aside all of the bickering, and golf got its Olympian finish.
Sure, the men's golf outcome depended on players, caddies, fans, volunteers and the weather gods to make it all succeed, but the bones were put in place by the group of competitive, strangely functional leaders, with help from a few artists and agronomists.
Take the reachable par-5 18th green's tightly-mown turf, dreamed up by Gil Hanse and manicured by Neil Cleverly's team. The goal was to make the finish dramatic but not overtly punishing, with ground game dynamics a hoped-for Olympic discipline. About thirty minutes after Rose had clinched the gold with a deft 38-yard wedge shot to within a few feet of the hole, Hanse took in the post-ceremony scene and spotted the only caddie who specifically sought out his advice earlier in the week: Mark Fulcher, bagman for gold medalist Justin Rose.
Fulcher and Hanse embraced, Hanse thrilled that the caddie who had scouted the course each morning before play, had taken some of the insights and guided his boss to victory. Asked to sum up his feelings, Hanse mustered up a sentence about the entire week ending in a way that was too good to be true before heading off, eyes red.
The actual medal ceremony was a blissfully short, well-orchestrated bit of textbook Olympic order, welcomed by the golf world after way too many strange, neverending golf trophy ceremonies of late. The three track-suit wearing medal winners were led from the clubhouse and ushered to a waiting area. From there they would walk through yellow-jacket clad volunteers to the podium. Flag poles had been quickly erected and the correct colors on hand, ready to be hoisted as Rose was serenaded by "God Save The Queen."
Agent Mark Steinberg stood between the players and in the 18th hole bunker for all to see, watching his phone blow up before his clients (Rose and Kuchar) took the medal stand. His phone kept ringing and even though nearly everyone else was asked to clear the way for the athletes, Rio 2016 security let Steinberg stand on the grand stage as all of golf's leadership looked on from the front row of the family lounge tent. Steinberg wasn't strutting, but maybe he should have been given the week his player's enjoyed.
"I was telling my wife I've been doing this 25 years and have seen some pretty incredible moments with Tiger, but I just can't describe the feeling," Steinberg said. "I'm usually not that emotional but this was as exciting as it gets."
If you'd told Steinberg six years ago that he'd have two clients on the medal podium and neither was named Woods, he never would have believed you.
"Maybe it was sheer amount of negativity in advance of the event, but it just came off so flawlessly. The feeling here and the mood right now, I just don't know how to put it in words. It's different than anything I've experienced in sports."
Steinberg said he did not yet have a grasp on the world reaction to Olympic golf's impact on his medal-winning clients, but the sheer volume of calls suggested his clients will be in demand for the foreseeable future.
Then there were the leaders from golf's five families, with representatives from all but the Augusta National wing. They make up the International Golf Federation that spearheaded the Olympic movement. The IGF is largely the work of former R&A Chief Peter Dawson, who handed out the medals, and PGA Tour EVP Ty Votaw who had a lot less gray hair when the Olympic pursuit began.
The two ran into each other after the medal ceremony and embraced, too choked up to speak. The emotions after years of calls, meetings, patience and stress were apparent.
Votaw, congratulated by media members on his role in getting the course built and the Games presented in such idyllic fashion, deferred.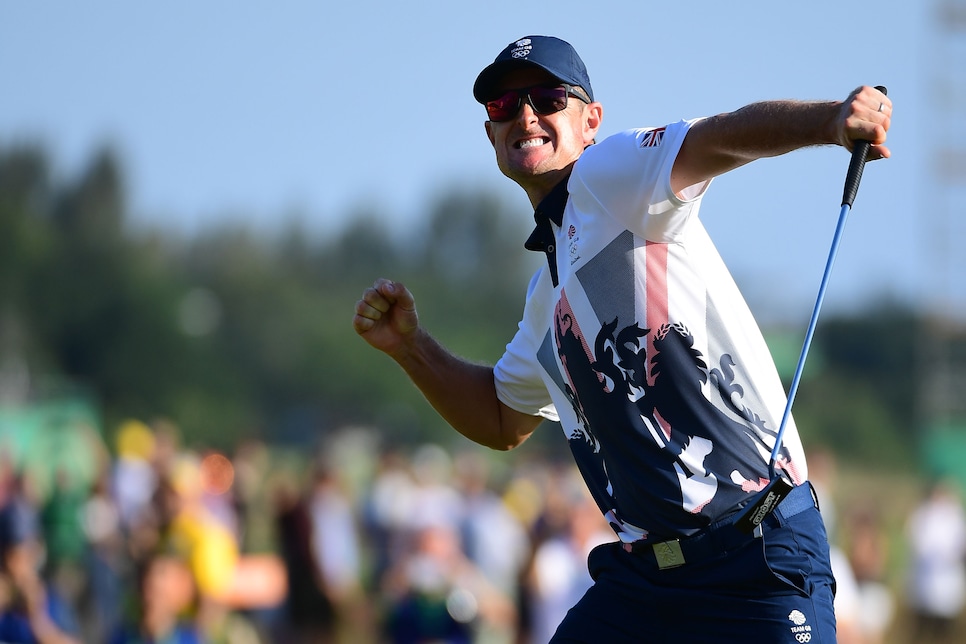 "There are so many heroes," Votaw said, his shirt soaking wet from the sun and heat that finally made this feel like a Summer Games. "Gil is a hero. Neil Cleverly is a hero. The PGA Tour's design and agronomy and construction teams are heroes. And the players and caddies who were here this week, are heroes. They had choices and they chose to be here."
Also choosing to be present for the medal ceremony were most of Kuchar's American teammates, male or female, including recent arrivals Lexi Thompson, Stacey Lewis and Gerina Piller. Keeping an understated profile for the first time all week were Rickie Fowler and Bubba Watson, who, along with Patrick Reed, will accompany Kuchar to the "Today" show set Monday morning before taking a PGA Tour charter back to the United States.
But before the medal winners left the scene, they were ushered in front of the International Golf Federation and friends for a group photo. Included were Votaw, Hanse, USGA Executive Director Mike Davis, PGA of America CEO Pete Bevacqua, IGF director Anthony Scanlon, former European Tour Chief George O'Grady and PGA Tour Commissioner Tim Finchem. They even squeezed in course superintendent Cleverly.
The scene was more chaotic than cinematic. More like a film crew getting their picture with the A-listers. But to anyone who knew what it took to get golf in the Olympics and perhaps even keep it there for a long time, it's an image that will define a week of golf whose impact is yet to be determined. Stay tuned for the sequel. It starts Wednesday with the world's best female players on the very same stage.