The Loop
Conditions turn severe at the Old Course
ST. ANDREWS, Scotland -- It was about 5 o'clock Tuesday afternoon that clouds started blotting out the sun above the Old Course at St. Andrews. If the weather forecast for the rest of 2010 British Open is to be believed, it might have been the last time we'll have seen it between now and the end of play Sunday.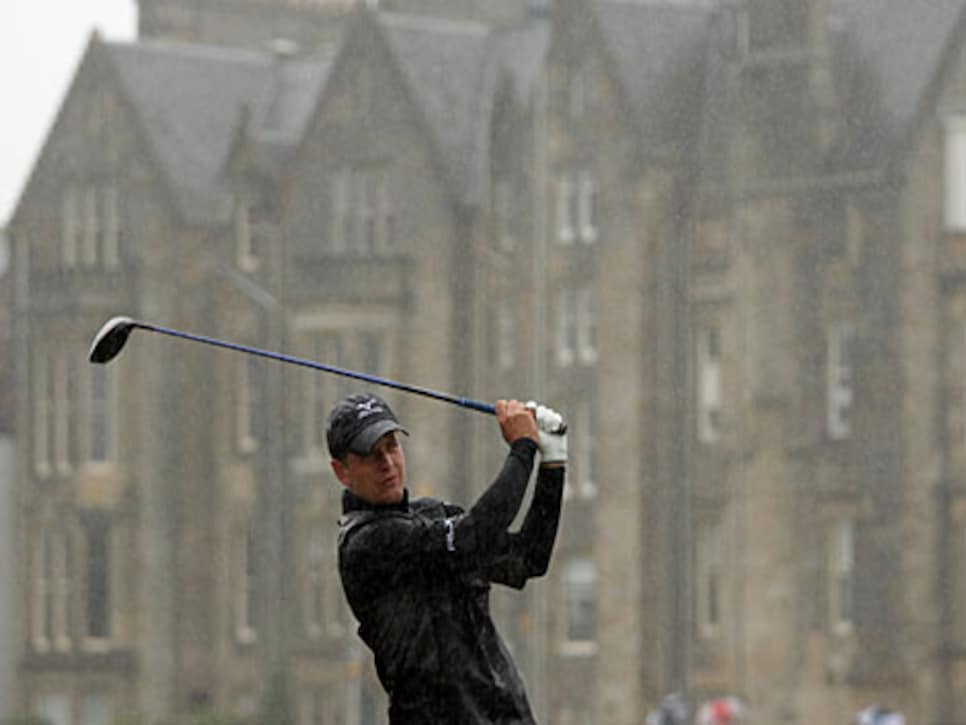 Players were greeted Wednesday with gusty winds and pestering rains as they tried to get one more practice round in prior to the start of the Open Championship. While the tee sheet remained fairly full, the number of players who decided to actually brave the elements was substantially reduced thanks to Mother Nature.
Some might describe it as "typical" British Open weather, but it's actually atypical for an Open Championship at St. Andrews, at least of late. Benign conditions greeted competitors in 2000 and 2005, explaining in part the winning scores of 19-under 269 and 14-under 274 posted by Tiger Woods. Similarly, the two Opens at St. Andrews prior to them were hardly the sort that The Weather Channel's Jim Cantore might recall with glee, Nick Faldo shooting 18-under 270 in 1990 and John Daly winning with a six-under 282.
Provided that you're not a regular at the Dunhill Championship, where rain is a frequent visitor, getting in at least a few holes today at the Old Course while it's playing in its raw form may turn out to be a smart decision.
"It was the perfect breeze that I wanted to play the golf course in," Justin Rose said of the winds blowing from the east. "I practiced last week with a westerly wind. It was a good opportunity to go out and do the last minute preparations."
Rose conceded that playing the last four holes was a bit crazy, with the "proper sideways rain that everybody dreads here." Reaching the 17th hole, Rose didn't even bother to walk to the new back tee. "There's no way we would be put back there, I don't think, on a day like today," Rose said.
Indeed, a notice in the players locker room noted that the R&A reserved the right to revert back to the old tee box rather than the controversial new box, built out beyond the practice ground on a patch of land that is ordinarily out of bounds, should conditions require a change. R&A executive director Peter Dawson confirmed it was an option but said that other refinements to the course setup should the predictions hold true would not necessarily be the case.
"I think that tee adjustments would only actually be necessary if the wind was so strong that we'd probably have to abandon play anyway," Dawson said, "so I really don't think [there will be any]."
R&A officials added that Wednesday afternoon's Champions' Challenge, featuring past Open winners, was still expected to be played. It just might not be the moment in the sun they were all hoping for.