The Loop
At Muirfield, the R&A continues to try to avoid discrimination discussion
GULLANE, Scotland -- There was, as you'd expect, some stuff about the course and the facilities and the new technology. But long before Jim McArthur, chairman of the R&A championship committee, concluded his lengthy and earnest remarks regarding the 142nd playing of the world's oldest golf event, the room was getting restless. There was, whether the all-male body that makes the rules of golf outside the U.S. and Mexico likes it or not, only one thing most of the assembled media wanted to talk about.
Or, to be more accurate, the lack of them in the Royal & Ancient Golf Club of St. Andrews and in this week's host club, the Honourable Company of Edinburgh Scoundrels . . . sorry, Golfers.
And it didn't take long for things to kick off. The second question asked of Peter Dawson, the R&A's chief executive, concerned the well-publicized absence this week of Scotland's First Minister, the suddenly morally outraged Alex Salmond. Salmond, leader of the independence-seeking Scottish National Party, has apparently just noticed that those of the female gender have never been members of either the HCEG (formed in 1744) or the R&A, which came into existence a decade later. Well spotted, sir.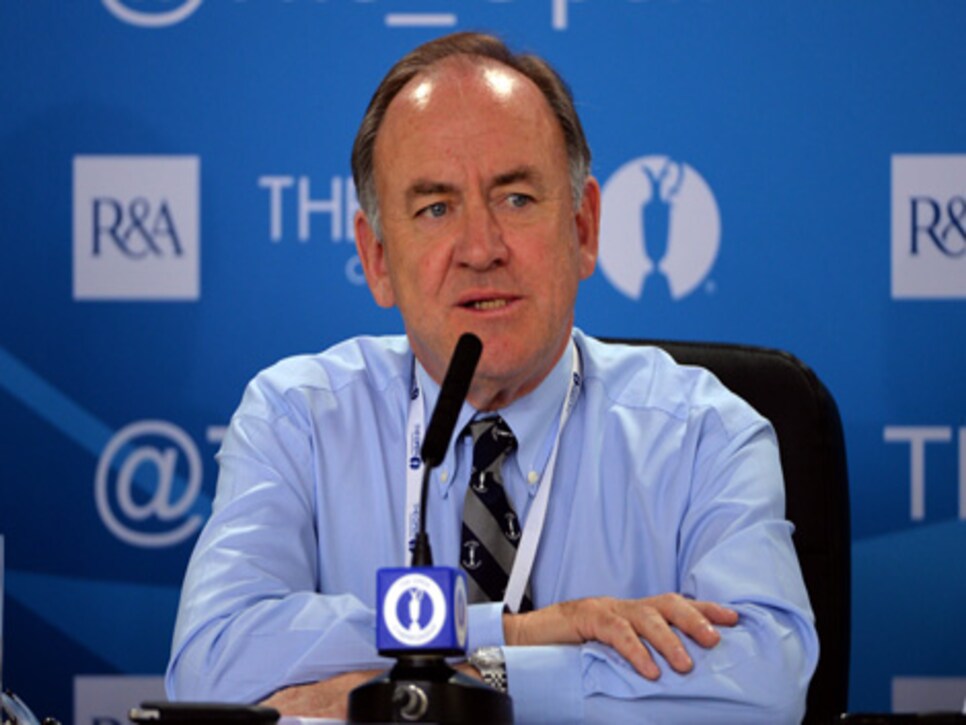 Anyway, Dawson, an old hand by now when it comes to this perennial issue, was ready with his prepared response.
"The whole issue of gender and single-sex clubs has been pretty much beaten to death recently," he said. "We understand that it is divisive. And it's a subject we're finding increasingly difficult, to be honest."
Disappointingly but predictably, Dawson then had nothing new to offer in this ongoing debate. Resorting to the arguments he has repeatedly used since he assumed his present job in 2000, the former executive for Grove Manufacturing, a company involved in the manufacturing of hydraulic cranes trotted out the same old defense of the indefensible.
"Single-sex clubs are in a very small minority in the U.K."
"They're perfectly legal."
"In our view, they don't do any harm."
"We think the right of association is important."
"We think they have no material affect on participation."
While three of those five assertions are indisputable, the other two are, at best, debatable. And Dawson, to his credit, acknowledged an "understanding" of the counter-view. But not much respect.
"Our natural reaction is to resist pressure from the media, politicians and interest groups, because we don't think they have very much substance," he continued. "But I'd like to stress we're not so insular as to fail to recognize the potential damage that campaigns like this can do to the Open. And it is our championship committee's responsibility to do what is best for the championship.
"In the last ten years, for example, we have put, as best I can estimate, about 30 million pounds into women's golf. That's what the Open's success brings with it. So it's not all bad."
Yes, yes, you could almost hear from many in the room: But what about the continuing blatant discrimination? How can any rules-making body do its job properly and at the same time exclude a well-qualified candidate because she doesn't go to the men's room? And what, said one lady, is the difference between men-only and whites-only?
"Oh, goodness me," said Dawson. "I think that's a ridiculous question, if I may say so. To compare racial discrimination or anti-Semitism with a men's golf club is frankly absurd."
On and on it went. Question after question; deflection after deflection.
Perhaps the only positive aspect of the whole, fractious affair was that, more than once, Dawson hinted that the question of gender would play a large part in the R&A's annual review of their cash cow.
For example, asked if he would accept that any governing body is hardly your typical all-male club and so should be subject to different rules regarding discrimination, the 64-year old Scot was again smart enough to dodge the thrust of the question.
"I think it's certainly beholden on us to ensure that our governance committees are representative of the world at large in golf," he responded. "We have taken some steps in that direction, but I'm sure there will be more to come."
And so it goes on: The pointed questions and the often-smug answers. Bottom line? Those in "the club" don't really care what anyone else thinks. They never have.