News
At East Lake, a community built with golf's help sees a dream realized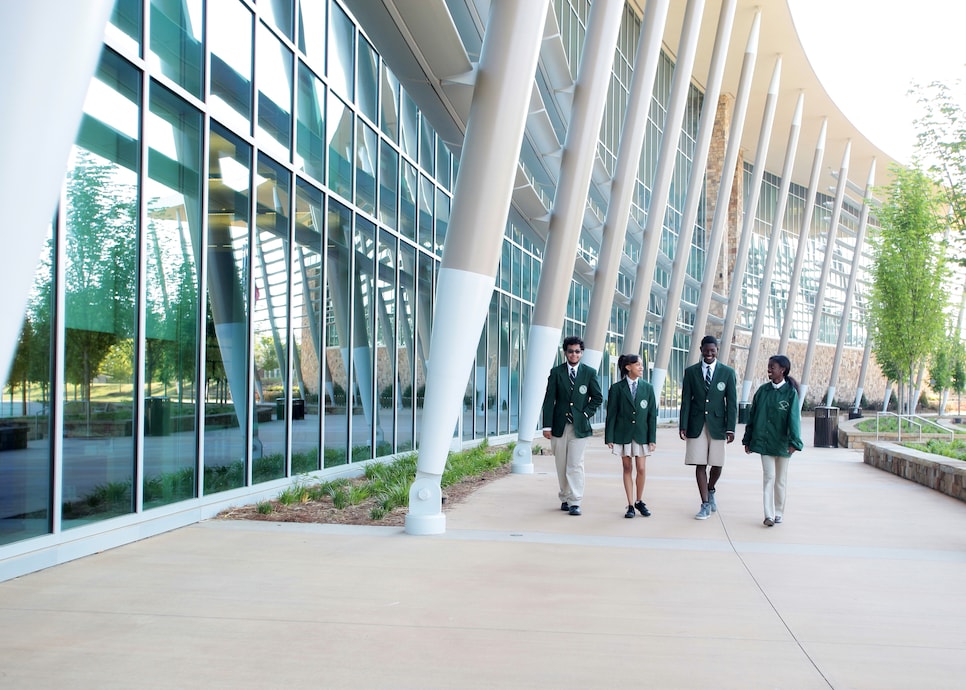 With its Frank Lloyd Wright-like glass and stacked-stone architecture, the $45 million Drew Charter Junior and Senior Academy looks more like a high-end resort than an inner-city school in what was once Atlanta's worst neighborhood. The front door is just a pitching wedge from the 13th tee of East Lake Golf Club, the home course of Bobby Jones that has hosted the Tour Championship since 2004.
So perhaps it's fitting that one of the first things you notice upon walking into the LEED (Leadership in Energy & Environmental Design)-certified building are the two new golf trophies on the receptionist's desk. Both are for second-place finishes in April by the boys and girls teams in the "Area 3 Public Golf" regional championships, sending both teams to next week's state championships for the first time.
"I'm excited our golf team has become more competitive because it's an area where we should be strong," says Senior Academy Principal Peter McKnight.
Indeed, young students start learning the game in golf classes at the elementary school down the hill right next to the nine-hole Charlie Yates course, and the Tour Championship is a big part of the school calendar each September. The East Lake Foundation gets 40 percent of its annual $5 million revenue from the Tour Championship, $400,000 of which goes to the high school's college and career readiness department, helping to pay the salaries of seven full-time counselors.
But Drew isn't a golf powerhouse, at least not yet. But there is no denying the fact that the vision for the school, and much of its powerful social message, was derived from golf and its capacity for good. Indeed, East Lake's motto is "Golf with a Purpose."
This is the first year the three-year-old high school, where the student body is 98 percent African-American, has had a senior class. When those 82 students graduate in a ceremony that will take place May 20, it will fulfill the cradle-to-college dream of Tom Cousins, the 85-year-old Atlanta real estate developer and philanthropist who was the driving force behind the community's dramatic recovery beginning in 1993. Cousins soon enticed leaders of 40 U.S. companies to buy $50,000 corporate memberships in the golf club, using the proceeds and the money from his family's trust to restore the course - redesigned by Donald Ross in 1913 - and the Philip Schutze Tudor-style clubhouse to its former glory. In addition, each corporation donated $200,000 to the foundation to assist with a neighborhood revitalization plan that would include the two public schools.
"As many great city-changing and region-changing things as Tom Cousins has been involved with and in many cases led, I don't think anything has given him greater satisfaction and pleasure," says Carol Naughton, the president of Cousins' company, Purpose Built Communities. "We have kids going to some great colleges, including Yale and Cornell. We're all very excited about it. It's going to be a very emotional day. I've known some of them since they were little kids."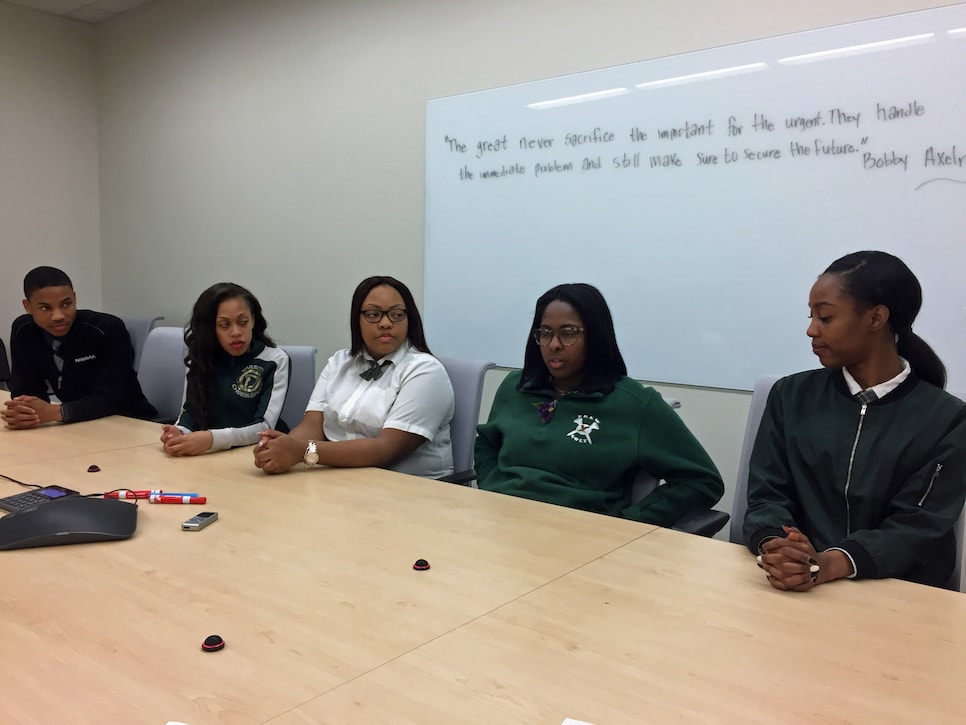 The entire senior class is expected to graduate, with many becoming the first generation of college students in their families. "What's astonishing is to think that 22 years ago less than 30 percent of teenagers in East Lake graduated high school," says Daniel Shoy, president of the East Lake Foundation. "And to think of our goal of having a hundred percent of our students in this first graduating class being accepted to college and to be productive citizens beyond high school is really tremendous."
A few of the seniors sat down with Golf World in early May in the Eva Davis Boardroom to discuss what the school has meant to them (Davis, who passed away in 2012, was the president of the East Lake Meadows tenants association that worked closely with Cousins to turn the neighborhood around. "We tore down hell and built heaven," she once said).
"It's been like a family," says Biance Cox, who plans to study forensic science and dance at Armstrong State in Savannah, Ga. "A lot of people support you along the way. No matter what, you can always count on somebody to give you advice or help you out. You also get a lot of opportunities here."
Simone Obleton, the No. 1 player on the girl's golf team who will be attending Tuskegee University to major in architectural construction science, loves the nurturing atmosphere. "The professors are always willing to help after hours and before hours," she says. "They want you to understand the content so you could use it later on in life, not just pass a test."
One of the things that makes the academy special, aside from the airy, award-winning facility itself where moveable walls and chair-desks on wheels allow for interdisciplinary classroom collaboration, is the project-based learning system the school employs to help solve real-world problems. Last year, for instance, Obleton's engineering class created a remote-controlled lawn mower for a disabled man. This year, following the highly-publicized death of a 22-month-old Georgia boy in June 2014 and subsequent murder trial of his father, they received a $10,000 grant from MIT to create an alert system to monitor child or pet presence in the backseat of a car. They'll be the only school from Georgia when they present their device at MIT's EurekaFest in June.
They've all heard the stories, of course, from their parents and grandparents of what a tough neighborhood East Lake once was, where crime and unemployment were rampant and the kids learned more survival skills than reading skills. But those days are long gone: according to the East Lake Foundation, violent crime is down 97 percent from 1995, 100 percent of adults receiving public-housing assistance (half of the 542 units) are working, and the Senior Academy is in the top three of Atlanta public schools.
"My parents told me that the mailman needed an escort because it was so rough," says Cox. "But it's very safe now. I'm comfortable being around the neighborhood." Adds Elise Hill, who will attend Kennesaw State in hopes of becoming a neonatal nurse: "I remember we would watch videos of the news that said the police didn't even want to come over here. Today you barely see police cars here at all."
East Lake has been such a success that Purpose Built Communities has replicated the model in 16 other communities in the country (soon to be 17), starting in the Bayou District of New Orleans after it was devastated by Hurricane Katrina in 2005. (It also is the only Purpose Built Community in which the proceeds of a golf course, the recently re-opened, $26 million Bayou Oaks, will help fund educational and neighborhood programs.)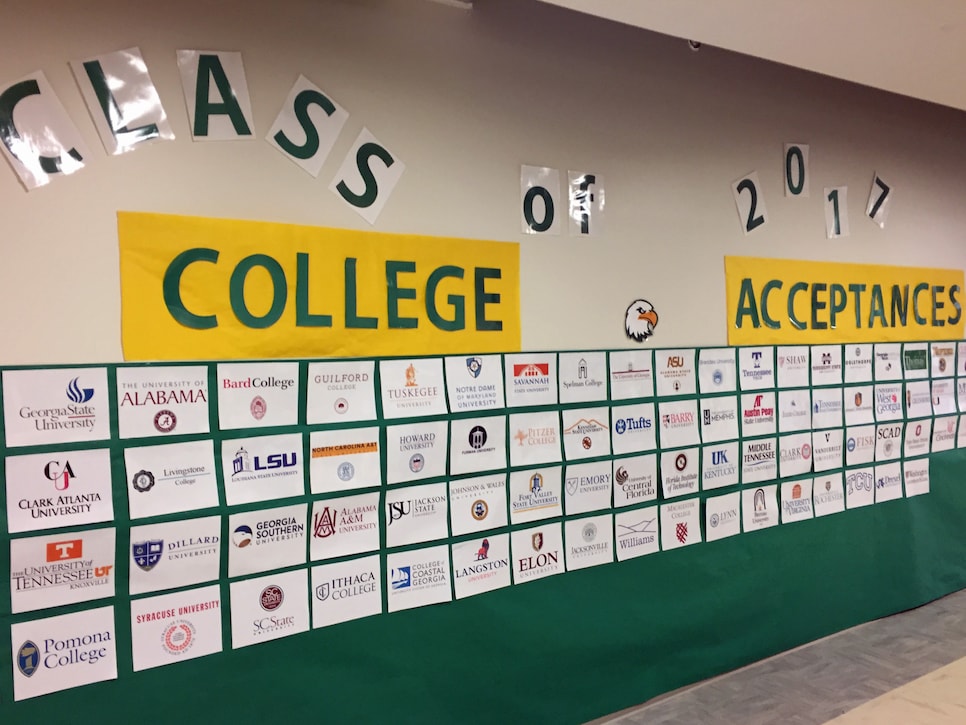 "There are three essential buckets or categories that we will look at to determine whether a community has the ability to become a network member and execute upon this model," says Naughton, who was the director of the East Lake Foundation from 2001-2008. "The first one is about leadership: do you have really superb leaders from the civic and business communities who are willing to use their time and their talents and their chits and sometimes some of their treasure to help get this initiative started and sustained over time. The second piece is an ability to do high-quality mixed-income housing. And the third piece involves a really great neighborhood school. Is there a way to really build that cradle-to-college education pipeline?"
For that reason, no matter how many communities they transform, East Lake and Drew Charter School's first graduating seniors will always hold a special place in Naughton's heart. "I fully expect to be a puddle on May 20th," she says. "It represents years and years of hard work and creativity and disruption to really create opportunities for young people they would not have otherwise had. East Lake has really become a community where kids have high expectations for themselves. They have a lot of hope. They think the world is their oyster and that there's a pathway to get there. It's a very exciting place to be. It's gone from a vicious cycle to a virtuous circle."
Golf with a purpose, indeed.