The Loop
At dawn of McIlroy Era, Westwood hopes to be more than just a spectator
BETHESDA, MD. -- There was a time when they were known as "The Gold Dust Twins". Lee Westwood and Darren Clarke were packed with talent and expected to line their trophy cases with major championship trophies. They played with a passion and lived with a flair; as one British writer said about Clarke: "He knows the outside of a cigar, the inside of a Ferrari and the bottom of a Guinness glass." The same could be said for Westwood.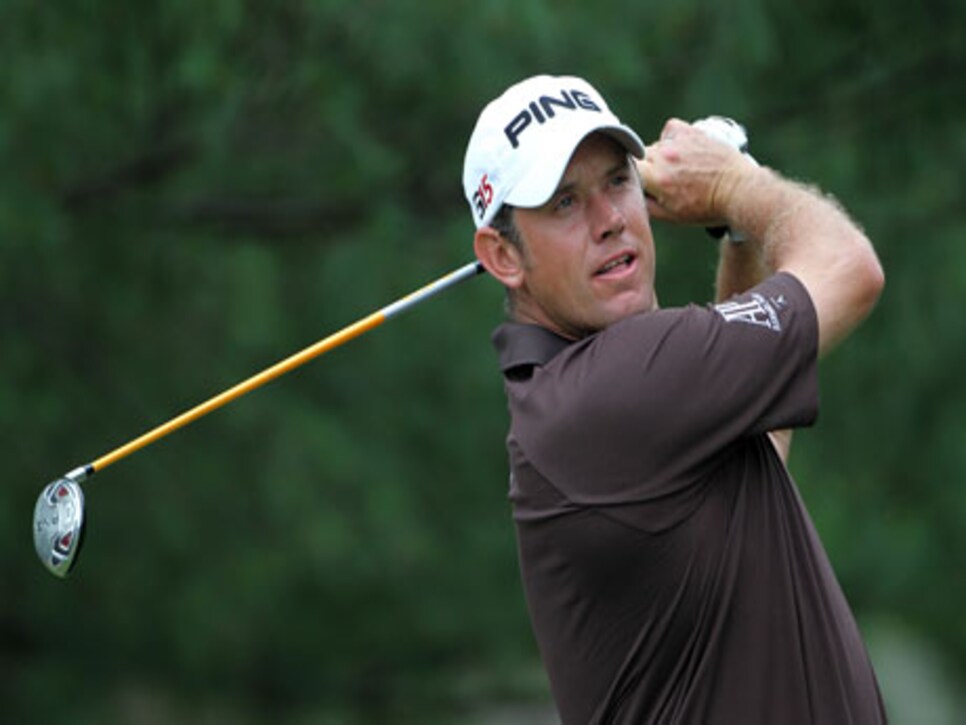 (Photo by Jamie Squire/Getty Images)
But Clarke, who turned pro in 1990, and Westwood, who joined the play-for-pay ranks in 1993, have a combined zero major championships. The window for Clarke, who turns 43 in August, appears to be closed. But Westwood, 38, has made a determined bid to fill in the blanks on his resume with a major or two. Since 2008, he has finished third in both the U.S. Open and the PGA Championship and second in both the British Open and the Masters.
A magnificent 65 on a Saturday, when rain had softened Congressional CC and the USGA had moved up many tees put Westwood in a tie for third place going into the final round of the U.S. Open. The problem is that he's competing in the Non-Rory McIlroy division of this tournament, trailing the 22-year-old by nine strokes. His young friend is playing on an entirely different level than anyone else in the field.
"I drove the ball really well," Westwood said about his play Saturday. "I think I missed one fairway, the 12th, which was a tough one.  I hit a lot of greens.  I think I missed one. I set a target on Friday night.  That's all you can do when you're chasing a big lead. I can't control how Rory is going to play, nor can he control my game.  So I'll do that.  I'm happy to be in the tournament."
The Lee Westwood in the second half of his 30s  has shown a maturity and a dedication that was lacking early in his career. He's worked hard to get in better physical shape, practices more and quite likely does a better job of making curfew. He climbed to No. 1 in the Official World Golf Ranking for a while and is currently No. 2. He is sprinting toward what could well be a Hall of Fame career.
The problem this week is that Westwood could get Ernie Elsed here. Els was the guy who was second to Tiger Woods by 15 strokes when he won the 2000 U.S. Open at Pebble Beach at a record 12-under par. In the next major that year -- the British Open at St. Andrews -- Els was second again to Woods, this time by eight strokes. So close, yet so far -- and so very demoralizing.
A 75 in the first round here left Westwood 10 strokes behind McIlory, and a 68 on Friday, remarkably, dropped Lee a dozen strokes behind Rory. On Saturday, Westwood attacked a vulnerable golf course, turning in one under-par 35 then shooting 30 on the back nine with a birdie-birdie-birdie-eagle stretch beginning on No. 13.
While Westwood is nine strokes back going into Sunday's final round, he was at one point on Saturday 14 strokes off the pace.  Does he have a chance?
"They don't give trophies away on Fridays and Saturdays," Westwood said, referring to McIlroy's big lead. "I said maybe if I can get to 10 under at the weekend.  But you don't know how Rory is going to do.  You don't know how he's going to deal with the big lead."
Then Westwood pointed squarely at the elephant in the room -- the fact McIlroy had a four-stroke lead going into the final round of the Masters and closed with a painful-to-watch 80.  "He had a big lead in a major and didn't deal with it well before," Westwood said.  "There's pressure on him with regards to that. So we'll see.  All I can do is control my game and try and shoot as low a score as possible for me."
Westwood has been here before, and has yet to close the deal. Now he is pretty much on the outside looking in. If he is going to win his first major at this U.S Open, he is going to need a lot of help from McIlroy.  Then again, Rory did put up that 80 at Augusta National. If that happens again on Sunday at Congressional, all Westwood will need is a 70 to catch the kid.
And if Westwood does get to 10-under par, it will require a 66 on his part and that would mean Rory would still have to shoot 76 to give back his advantage over Lee. That seems unlikely. Westwood was one of those players who had the misfortune of playing in the Tiger Woods Era. If he hadn't he might have a major or two. And it could be that now he is faced with the misfortune of playing in the Rory McIlroy Era, which, through three rounds of this U.S. Open, feels like it is going to be very special.