News
At Cristie Kerr's charity event, reality of breast cancer hits close to home
When you're at Liberty National, it's easy to forget about reality. The meticulously manicured course in a quiet, peaceful setting makes it easy to forget you're on a former landfill minutes away from downtown Manhattan.
On Monday, one reality that wasn't forgotten is how significant Cristie Kerr's impact has been, and continues to be, on breast cancer awareness and treatment. Kerr assembled a group of LPGA pros, celebrities, and amateurs at the Bob Cupp and Tom Kite-design to play in a pro-am scramble event that raises money for Birdies For Breast Cancer.
The cause is one that hits close to home for Kerr. Her mom was diagnosed with breast cancer in 2003. "I'm not the kind of person that likes to have things out of her control," Kerr said. "And when my mom got sick I just felt so helpless and I wanted to do something about it. And then my friends got involved."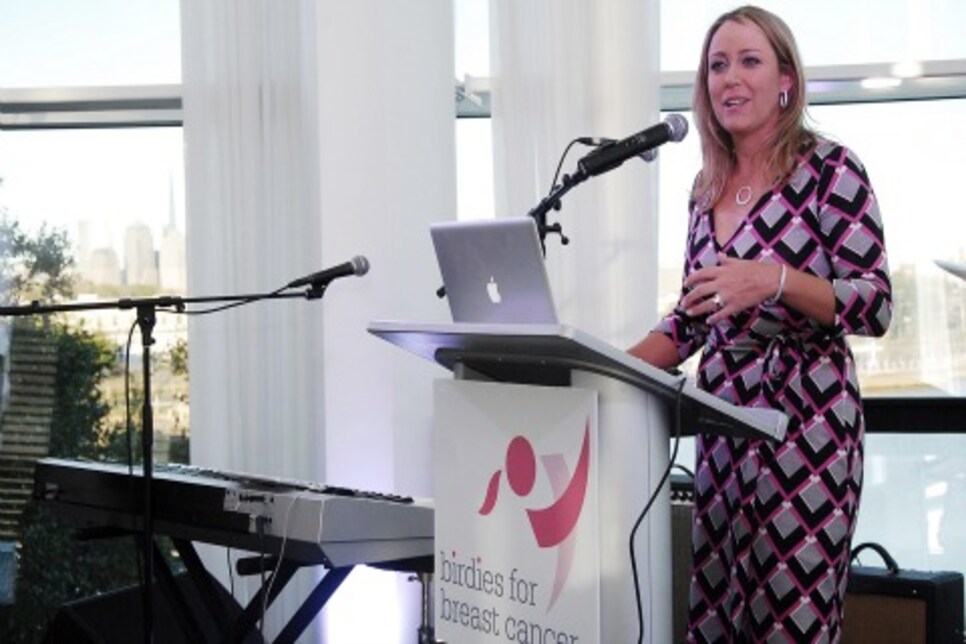 The event started small, taking place in Miami and raising $25,000 its first year. Eight years later, the event has moved north and yields more than 25 times that amount. Money is still coming in, but so far, more than $500,000 has been raised and another $250,000 was donated for the expansion of the Cristie Kerr Women's Health Center (a wing of the hospital that Kerr funded and opened 2010, where women both insured and uninsured are treated).
There are a few factors about this event that make it successful. The first is obvious by looking around. "It's a great course. And you've got Lady Liberty right there," Brooklyn Nets coach Jason Kidd said as he gestured towards the Statue of Liberty, shaking his head with a smile. "It doesn't get better than that."
But a lot also has to do with the atmosphere.
"Golf is golf. But we try to make this fun. We have a lot of give-a-ways, we have great food, and we bring a lot of great people together," Kerr sad. "Everybody says this is the most fun event all year. We do unique and interesting things that make people want to come."
Some amateurs were paired with LPGA pros, among them Morgan Pressel, while others were paired with celebrities like former Yankee Rick Cerone and Kevin Sorbo of "Hercules" fame. Coming off an off-week, instead of taking some well-deserved time at home, the LPGA players in attendance came to New York. "We try and make it a time when people want to come. They come to support me and the charity. It's pretty phenomenal."
The focus of the event was balanced expertly between fun and generosity. While smiles and laughs were numerous, the bids on silent auction items and donations proved that everyone was dedicated to raising money for an important cause.
Kerr's Birdies for Breast Cancer fund raising has been successful, but she's not done.
"Ideally, I would love to turn this into an official tour event. At the very least, I want to turn it into a wine and food festival, with golf, celebrities, and athletes." Follow @kalevins