The Loop
At Brookline: A toast to the keepers of the game!
After the U.S. Amateur final in Brookline, an unforgettable event for all of the reasons many writers have suggested, I was catching up on my reading when a Sunday Times Magazine piece on celebrity elephants caught my eye. We often lose track of elephants, after all, which tend to avoid publicity like the plague.
It struck me -- admittedly in a musing mood after three days at The Country Club and our most civilized championship -- what a perfect metaphor for our game is the celebrity elephant.  Provided that you add the part about the blind men trying to describe it.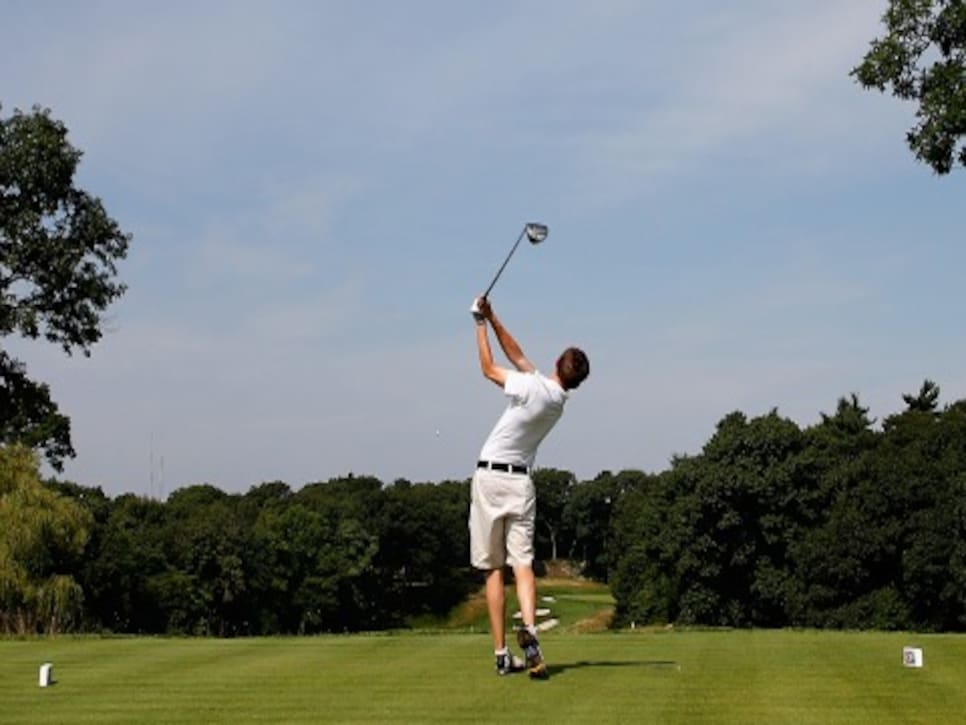 So it was gratifying to attend the Francis Ouimet Centenary Celebration that accompanied the U.S. Amateur at Brookline, and to be reminded of another group: the stewards of the game.
The brainchild of TCC member Chris Kryder, the Centenary brought together about 100 representatives from 30 or so clubs on both sides of the Atlantic that have hosted Walker Cups, Curtis Cups, Amateurs, Women's Amateurs, Junior Amateurs and British Amateurs since 1892. They are among the most reassuring names in golf: Royal St. George's, Formby, Interlachen, Kittansett, Merion, Myopia Hunt, Plainfield, Peachtree, Quaker Ridge, Rye Golf, Sunningdale, Royal Aberdeen, Ekwanok, Essex, Garden City, The Country Club and on and on.
There were some famous elephants at the Centenary. Gordon Brewer of Pine Valley, long a leader at PVCC and within the USGA. Rick Ill, who just chaired the U.S. Open at Merion. Jim Holtgrieve, U.S. Walker Cup Captain. Danny Yates, of the Georgia Yates'. Andy Cross, the Royal Liverpool captain who handed Tiger Woods his claret jug in 2006, David Purdie, the Scottish surgeon and hilarious Golf International columnist, who spoke to us on Saturday night, and, with occasionally unrepeatable stories made the point that the game unifies us.
But there were many of us who were simply lucky enough to be asked by our clubs to bear the colors -- and be awed by the fellow golfers we met.
We played golf -- Stableford, thank God -- had drinks on the oval and dinner on an indoor tennis court, and mainly, in a dozen different versions of English, talked golf. Think of the most interesting member-guest you've ever attended.
I was struck by how few mentions of the pro game came up and how often the conversation turned to architecture and course renovation, pace of play, equipment and the struggle to keep it under control. We were all facing the same challenges and to hear how Quaker Ridge had handled its renovation with Gil Hanse or how Formby was still debating whether the fir trees belonged, how the Carnoustie guys compared their rough to Brookline's, was reassuring.
If nothing else, the gathering gave birth to dozens of golf trips over the next couple of years, where the conversation will continue.
On Monday we played a kind of low-key Ryder Cup match, 18 players to a side. A member of the U.K. side pointed out in congratulations to the American side that the "Centenary Cup" was the only international cup we held at this point. Ouch.
Then as attendees headed for buses and planes, I sat there and tried to estimate the amount of time these 100 or so amateurs had devoted to the game -- serving on golf and green committees, volunteering at tournaments, running junior programs, liaising with other clubs, putting on British and US Amateurs.
A conservative estimate: 500,000 hours. A hundred years from now, this gathering of stewards will look very different. More nations. Different accents. But, one hopes, with the same devotion to the sport.
I was still mulling that over when Charles, one of the UK friends I'd made stopped by the table. "Listen," he said urgently. "Do you have Patrick's email," referring to a fellow club member of mine. "He said something about the golf swing that I need to follow up with him about. Very interesting. I think it could make a difference."