The Loop
At a place where Tiger Woods has known so much success, disappointment is becoming par for the course
AUGUSTA, GA. -- This is where it all started for Tiger Woods, the place where he first took over the No. 1 spot in the golf world, winning the 1997 Masters by a record 12 strokes at the age of 21.
A man of color wearing the champion's green jacket a mere half-dozen years after Augusta National GC first opened its doors to a non-white member made Woods more than a golfer and more than a sports star.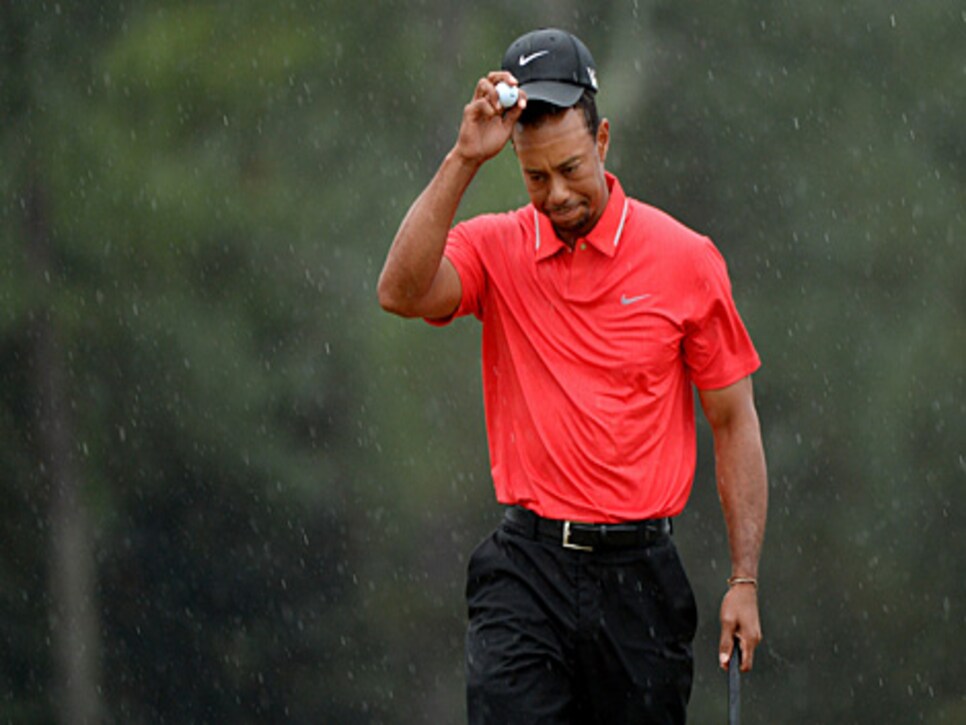 He became an instant international cultural phenomena.
What Woods accomplished here that week was about far more than golf, yet it also cannot be viewed solely as a cultural event. It was as if Jackie Robinson had integrated baseball in 1947 AND broken Babe Ruth's home run record in the same year.
This is also where Woods chose to restart his career after the scandal that rocked his life and ended his marriage. His first tournament after the Thanksgiving 2009 car crash was the 2010 Masters, and remarkably a rusty Woods finished T-4.
And he was hoping that it would be here, this week, that he would get his quest to break the record of 18 professional major held by Jack Nicklaus back on track.
But the drought continues. I thought coming into this Masters that it was the most important major championship Woods had yet to play in his career. A fifth green jacket would have placed Tiger within four majors of passing Jack and make it all seem doable.
To come away empty-handed from a course where he has had such great success in the first half of his career -- four wins in his first nine Masters as a pro -- is a huge setback for Woods.
The mountain got higher for Woods and now the questions will get harder after finishing T-4 at five-under-par 283, four strokes out of the playoffs between Angel Cabrera,Adam Scott and Steve Williams, the seriously disgruntled former caddie for Woods.
Now, Woods goes into the U.S. Open at Merion in June exactly five years removed from his last major -- the 2008 U.S. Open at Torrey Pines -- and winless in his last nine Masters.
Woods was never really in contention on Sunday, starting the day four back and never getting closer than three, although in his mind -- the mind of a guy with 77 PGA Tour wins and 14 major championships -- Tiger always thinks he had a chance to win.
"For the first eight holes, I think I left every putt short," Woods said after his two-under-par 70 played mostly in what ranged from a steady drizzle to a flat-our rain. "I thought 65 would win it outright today," Tiger said, and it turns out he was correct.
A 65 and Woods finishes at 10-under-par and wins by a stroke. But that triple-bogey 8 on the par-5 15th hole Friday -- a birdie or eagle hole -- was the real killer. First he had the bad luck of hitting the flagstick with his third shot and having it carom into the water.
Then he was hit with a two-stroke penalty the next morning after rules officials, who initially deemed his drop to be legal, were informed of Woods' comments to the media that he had dropped his ball two yards behind the original spot he hit from in order to get a better yardage into the green.
"Well, we could do that in every tournament we lose and we lose more tournaments than we win out here on tour, so that's just part of the process," Woods said when asked if he has replayed the incident on No. 15 in his mind.
Asked about photos in a local newspaper that appeared to show that he hit both shots from about the same spot and thus should not have been penalized, Woods was adamant.
"No, I saw the photos," Woods said. "I was behind it."
Woods who won four of his first nine Masters as a professional and 14 of his first 46 major championships, has now gone 0-for-9 in the Masters and has not won in his last 15 majors, dating back to the 2008 U.S. Open at Torrey Pines.
The truly disturbing number in all this is that in those 15 winless majors, Woods has finished in the top-six eight times. A couple of those were like Sunday -- backdoor chargeswhen he really wasn't in contention -- but he's also had a chance to win a half-dozen times and has been unable to get it done.
"I played well," Woods said of this Masters. "I certainly missed my share of putts today, actually this week. Mentally, I'm hungry," he said. "I always give you that hunger, but seriously, I'm like hungry. I certainly had a chance," Woods said.
"If I had posted a number today, I was right there," Woods said with the determined regret of a champion.
He wasn't thinking of the hit flagstick or the belated penalty. He was thinking of the things he could control -- the missed putts and a few wayward drives.
The next major, the next chance for Tiger to gain on Jack, comes at Merion, the place where Ben Hogan restarted his career after the 1949 car crash almost took his life. Hogan won the 1950 U.S. Open there -- and six of the next nine majors he played.
Maybe Merion is where the magic will start again for Woods. Maybe not. In either case, he remains what he became that day at Augusta 16 years ago -- one of the most watched athletes in all of sports.
That Woods leaves the Masters empty-handed only increases anticipation for the U.S Open. The first chapter of this remarkable story was written at the 1997 Masters. The ending is a longways away.