The Loop
At 46, Steve Stricker can rewrite history with U.S. Open win
ARDMORE, Pa. - Saturday might be moving day a lot of weeks in tournament golf, but on this day, at Merion GC, a firming-up course that was turning into more of a nasty exam by the hour, holding one's own was just fine.
"He was just trying to hit good golf shots, just trying to survive," said Steve Stricker's caddie, Jimmy Johnson.
Running in place proved an escalator to possibility in the final round. With wily, willful golf, Stricker did just that.
Stricker started the third round of the U.S. Open at even par, and thanks to a resilient back nine, he still stood that way at dusk, tied with Hunter Mahan and Charl Schwartzel at 210, just a stroke behind leader Phil Mickelson.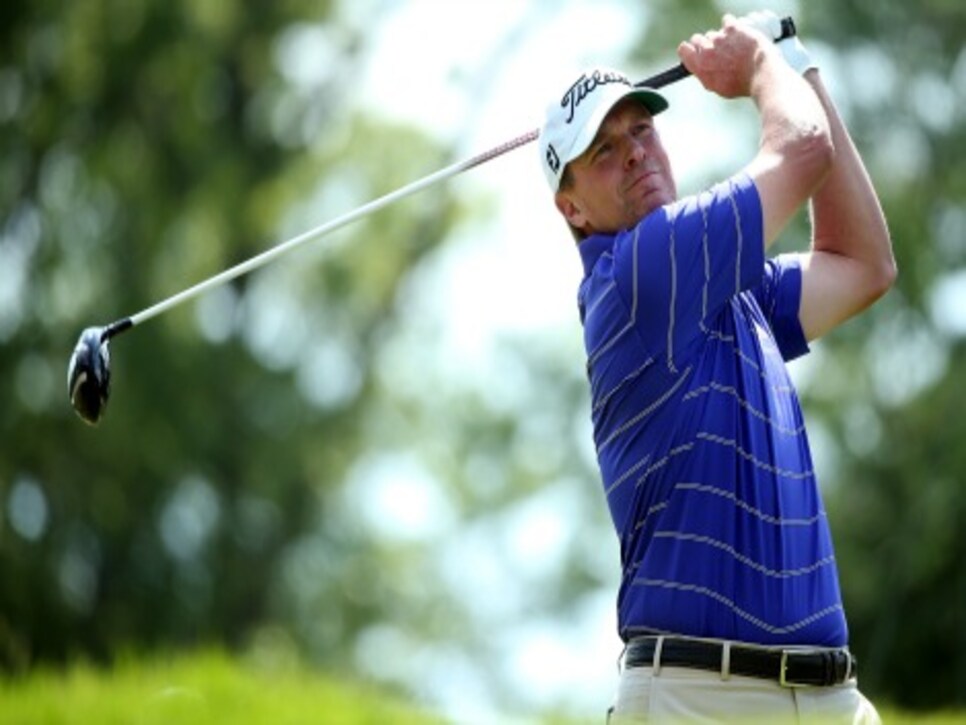 At age 46, Stricker, who as of this season is a part-time golfer who spends many more weeks at home in Wisconsin with his family than he does following the sun, is positioned to become the oldest first-time winner of a major championship and the oldest to win the U.S. Open (Hale Irwin was 45 when he won his third Open in 1990).
How sweet that moment would be for one of the game's true gentlemen, once a young buck with boundless potential who slumped into a competitive valley that would have been easy to never escape. Instead, Striker forged ahead, winning nine of his PGA Tour victories after turning 40.
Before any tears of joy come on Sunday evening, though, Stricker will need more moments of resolve like his 12-footer for par on the par-4 18th hole. "That was salty," Johnson said. Stricker had reeled off eight straight pars to begin his round before making a double bogey on No. 9.
While most of the contenders suffered a blemish on one or both of Merion's brutal two closing holes, Stricker got through them with two pars. The clutch conclusion gave him a nice shot of momentum going into what figures to be a blue-collar Sunday when nothing will be easy.
"Well it would mean a lot," Stricker said of the prospect of a maiden major title as a fortysomething. "But it's going to be a challenge tomorrow. I'm not the longest hitter in the field. There's some holes out here that I have to really work hard to make pars on. It's the longest short course I've heard of. A major win would be unbelievable, but I'm not trying to think about that yet."
Stricker has three top-10 finishes in the U.S. Open (1998, 1999, 2006) and seven top-10s in other major championships. He feels his strong showing at Merion is validation for his decision to step away and spend more time with wife Nicki and their daughters yet still be competitive when he tees it up.
He has only played in six events in 2013, the last appearance coming at the Players Championship in early May.
"I've been hitting it well at home, but that's home, it's not out here," Stricker said. "But I figured that I'm in a good place mentally. I feel like I'm doing the right thing by not playing. I'm enjoying my time at home, so it all makes sense in my mind, and I guess that's the most important thing."
There haven't been that many happy endings for older golfers in the big ones. Harry Vardon, Tom Watson, Kenny Perry -- take your pick. When golf gets cruel, it can be less kind to those in the twilight, however bright, of their careers.
"I've got to play smart golf, I've got to not make any mistakes," Stricker said of the final round. "I think that's the biggest thing. It's a course where it's tough to come back [after bad holes]."
In the calculus of possibility, Stricker also has to know 46 was good to Jack Nicklaus.
Stricker is experienced, talented, happy. Before one of the most important Sundays of his life, there would be dinner and family time. "Believe me, they're loving every minute of it," he said of his daughters. "We've also got a friend with us here too. The girls are all up until 11:30, it  seems every night. No curfew here. And frozen yogurt at night. And they're loving life."
Nicki was alongside Steve as his caddie in those early years on tour, when he won twice and drew comparisons to some of the game's most promising young players before the game got fickle. Now she's outside the ropes, rooting hard.
"I'm happy for him. He's so much more relaxed," she said of his decision to curtail his schedule. "It's in his heart the right decision, and his heart is in the right place. A victory would be pretty cool, I'd be lying if I said it wouldn't be. But he's going fishing next week, whether he wins or loses."
If he wins the big one Sunday, everything else will seem like a minnow.