Ask Golf Digest: Is Smoking CBD Oil Legal For Tour Players?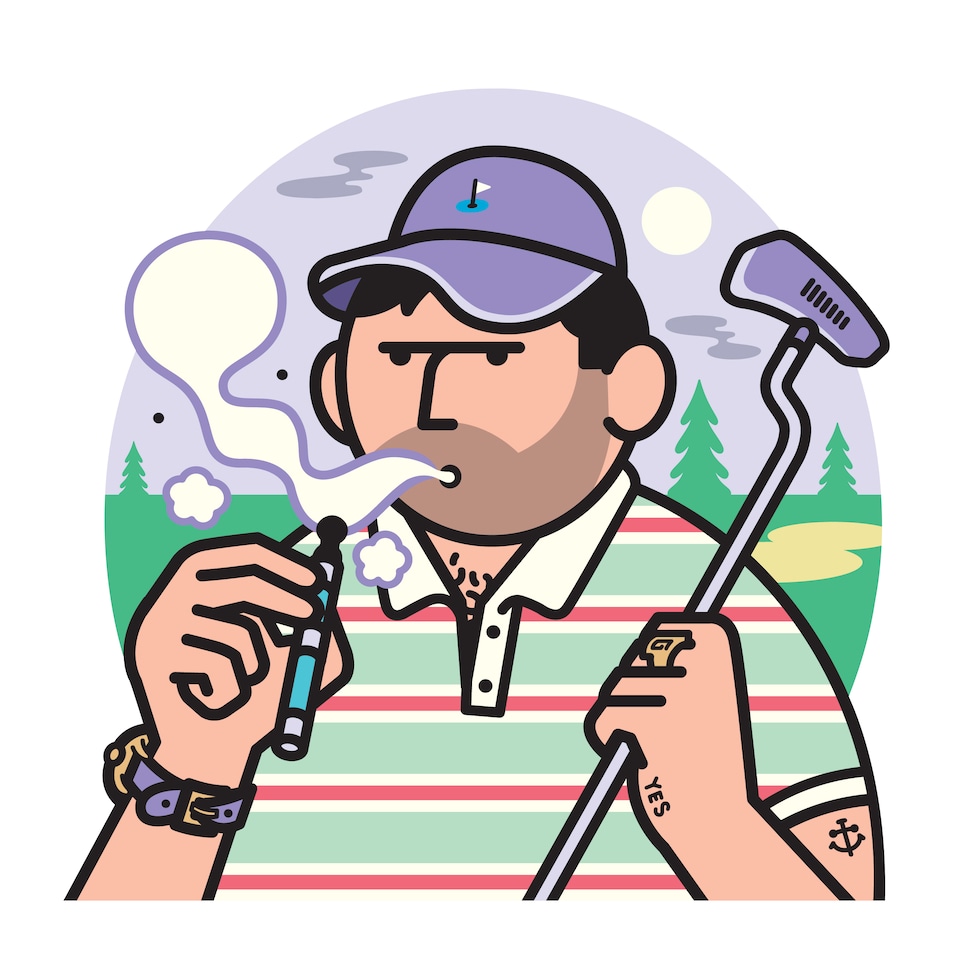 Illustration by Rami Niemi
Q: I hear some tour players are using CBD oil for aches and pains and to calm their nerves. Is this legal? – Brent Davidson, Lexington, Ky.
A: Yeah, dude. CBD (or cannabidiol) is extracted from hemp or marijuana plants but doesn't get you high. Hemp-based CBD is legal in 48 states (Nebraska and Idaho are unclear about it). Because it has no appreciable THC—the get-high compound in pot—CBD oil shouldn't trigger a positive result on a drug test, which could get a professional in hot water with his or her tour. Users say CBD reduces inflammation, improves sleep and, yes, calms the nerves. Companies are starting to market CBD liquid, pills and salves to weekend warriors for sports recovery, and Colorado-based Functional Remedies even signed up Champions Tour player Scott McCarron as an endorser. At around $200 for a month's supply, it isn't cheap—but there's no free parking at the Fountain of Youth.
Q: My friend Greg Woodward recently birdied a par 5 with three sand shots—a record that could never be broken. Has anyone on tour ever birdied a hole with three sand shots? – Ridge Stockdale, Houston
A: Good going, Greg. That is a rare feat, indeed! It's happened only twice on the PGA Tour since 2003. One of them was earlier this year, when Charley Hoffman landed in three bunkers before holing out his fourth shot on No. 7 at the Memorial Tournament. The only other one in the past 16 years was Andres Romero at the 2011 Zurich Classic of New Orleans. The tour's stats crew notes that there have been 355,487 birdies on par 5s since 2003. Made with one bunker shot: 49,027. With two: 573.
Q: Our club requires golfers playing from the forward tees to give golfers playing from the regular tees an additional three strokes when all handicaps have been established from their respective tees. This doesn't seem fair. Is this correct? – Bill Hodrick, Williamsport, Pa.
A: Sorry to break it to you, but this is correct. Though course handicaps are calculated for specific tees and will account for the difference in skill between players, that calculation does not account for the difference in the difficulty of the course if the two players are competing from separate tees. To adjust for that difference, you subtract the Course Rating from the two tees and round the result to the nearest whole number. So if your regular tees have a Course Rating of 70.2 and the forward tees are 67.4, the 2.8 difference rounds up to three, which is the number of extra strokes those playing from the regular tees get.