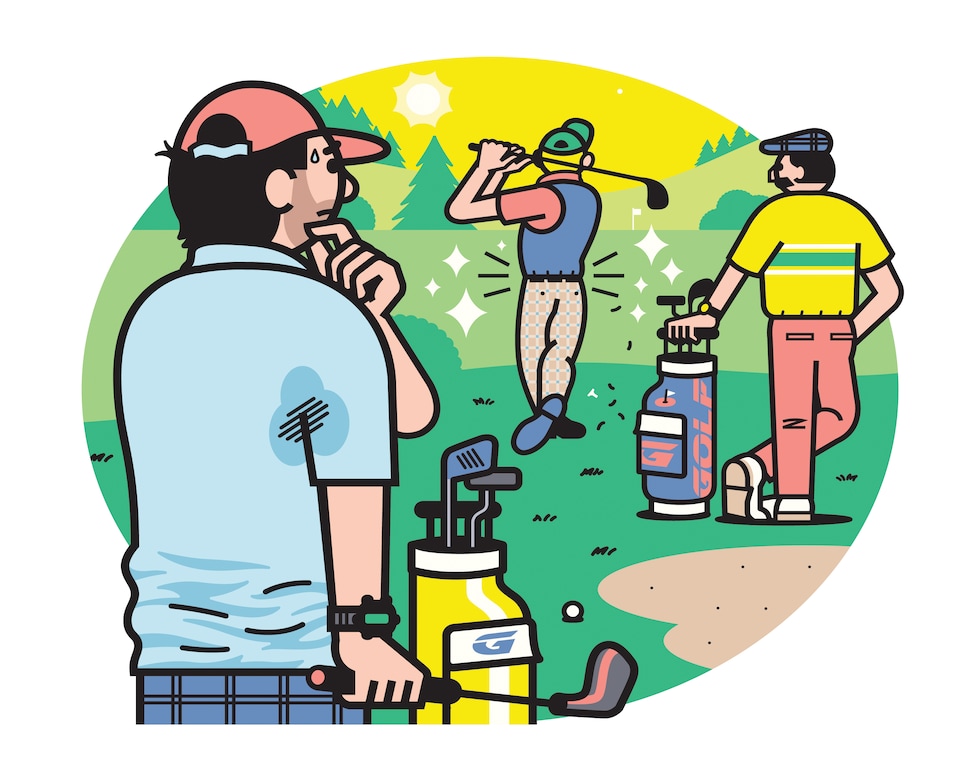 Q: During all of the years that I have been watching golf, I don't believe I have ever seen a PGA Tour professional with his shirt untucked. I cannot go three holes without my shirt becoming untucked. How do the pros keep their shirts tucked? --JIM MARN, PICKERINGTON, OHIO
A:It might seem counterintuitive, but try shoving less of your shirt below the belt. The tighter you tuck it in, the more likely your torso will pull it out of place, especially during more violent golf swings. The key is to find the sweet spot of room-to-move without the fabric overflowing into a muffin-top look. Look, too, for golf pants and shorts with "shirt grippers," a silicone material around the waistband that will help keep your shirt in place.
Let's also consider whether your shirt is even supposed to be tucked. Shirts with short, even hems that fall around the middle of the zipper are meant to be untucked—a trend gaining popularity that you might have seen on players like Rickie Fowler. You can tuck these in, but they will be much harder to keep tucked.
When a ball lands in its pitch mark in a closely mowed area, must the player take relief "as near as possible" or within one club-length, no closer to the hole? --RICK LUZAR, PINEHURST, N.C.
You get a whole club-length from the spot right where the ball embedded, no closer to the hole, to find a spot for your drop. Note that you get the same drop when your ball is embedded in its pitch mark in the rough. (See Rule 16.3.) This is new for 2019. Before claiming your relief, it must be reasonable to conclude from the available info that the ball is actually in a mark made by your ball. If not, you must play it as it lies. This was an issue for Matt Kuchar in this year's Memorial Tournament. He argued his ball had created its own mark and that he deserved relief. Officials ruled otherwise.
I once holed out a 6-iron for an albatross on my first hole of the day. Unless someone has aced a par 5 to start a round, I must hold at least part of a record for the best start: three under through 1. --DAVE PASHKO, AURORA, ONTARIO
That is a certifiably amazing start. The PGA Tour reports that it has happened only four times since 1983. The most recent was Alex Cejka, who jarred a 3-wood from 240 yards on his first hole (the 10th) at Monterey Peninsula Country Club's Shore course in the 2011 Pebble Beach tournament. How rare is an albatross? There have been only 120 in nearly 700,000 rounds played on tour since 1983.
SUBMIT YOUR BURNING QUESTIONS HERE: ask@golfdigest.com or on Twitter @GolfDigest