Editor's Note: This article first appeared in Fire Pit Collective, a Golf Digest content partner.
What I love about this question is that it can mean so many things! Is it good guy Max Homa becoming the star next door that the PGA Tour desperately needs? Rory McIlroy's walk-off putt in Dubai to end a melodramatic week? Brandel Chamblee's Zapruder-like recreation of Patrick Reed's rules issue? I agree that all of this is a little too on-the-nose for the current moment. I thought 2022 was an insane year for golf that could never really be topped but '23 is certainly off to a flying start.
Is the scrutiny of Reed's ball in the tree an overreaction or is it warranted because of his history? @scabel1956
If it had been, say, Homa who identified his ball in such an ambiguous manner, it never would have been questioned because his credibility is unimpeachable. But Reed has been involved in so much tomfoolery he will always warrant heightened scrutiny. At Torrey Pines last week, Jim Herman told me a funny story about once being paired with Reed at Kapalua. Reed hit a ball into the junk and consulted with Herman as to whether or not he should summon a rules official. "I told him, 'You should because everyone out here hates you,'" says Herman. "He kind of laughed but I wasn't joking."
Feel like Rory winning by beating the opponent rather than waiting for competitors to fall away is very good for picking up major championship #5…what do you think? #askalan @kingofwessex
We all know that McIlroy can blow away fields when he is on-song, but during the final round at Dubai it was clear that he didn't have his best stuff. In the old days the fight seemed to drain out of Rory when his swing was off-kilter, but this time he kept battling. He nearly drove it into the water on the 72nd hold but steadied himself enough to execute under extreme pressure. Grit and grind have been missing pieces in his arsenal, but the older, more mature, more focused (and more vengeful) McIlroy is one helluva complete package. Given his ongoing standard of play, it would be a stunner if he doesn't break through with another major … but we've been saying that for years now. The upcoming major championships will be the ultimate mental tests for Rory. Dubai suggests he is now, at last, up to the challenge.
What professional golfer could score a rushing touchdown behind the Philly o-line? @Lee35376258
Chesson Hadley (below) for sure—he would slip through the cracks virtually unseen. With Rahm's thunder thighs I could see him powering in, and having watched him with a soccer ball the guy has good feet. Maybe Scott Stallings. Joaquin Niemann looks shifty and fast-twitch. Same with Matt Wolff. Tony Finau is a jock with a long wingspan to reach the goal line. Ditto Dustin Johnson, but it would probably too much hassle for DJ.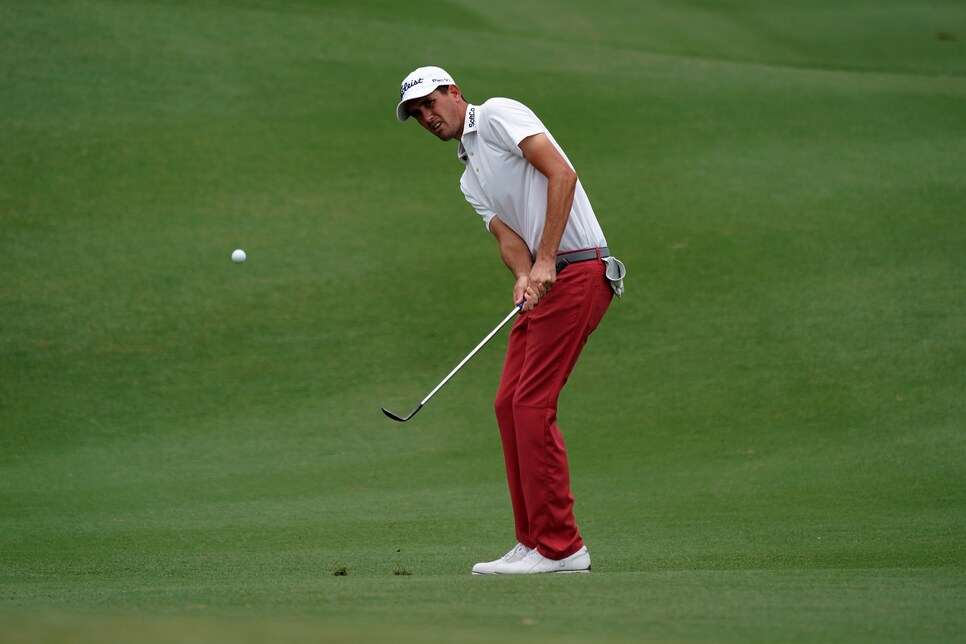 The mic'd up segment with Max Homa was a huge step forward for the tour broadcast; what's the next step on this path? Caddies mic'd up for a full round? Designated mic'd up holes? Where would you go with this, assuming other top players beyond Homa are cooperative? @luke_peacock
That last bit is the key part of the equation. Rahm is a deep thinker and quite eloquent, but I highly doubt he wants his competitive bubble invaded in this way. Ditto McIlroy. Jordan Spieth could be great, and there are rumblings that he will do it this week at the AT&T, but can they get him again at a tournament that is not sponsored by a company paying him millions of dollars? Morikawa, Scheffler, Schauffele, Cantlay … not much there there. I could see Justin Thomas enjoying the attention but, with him, less is more. So, how good can this feature be with so few funny/interesting players to choose from? I do think every caddie in the field should be mic'd, allowing the TV producers a wealth of nerdy conversations from which to choose. That's probably the best we can hope for.
Phil returning to Twitter: Great development or greatest development of 2023? @DavidAStorm
Hard for me to say since he's blocked me! But, yes, I think we all miss the jaunty, trash-talking Phil. Golf is a lot more fun and interesting when Mickelson is chewing the scenery so a return to Twitter bodes well for him to reclaim some of his old swagger.
For the Pebble Beach Pro-Am, do you think it should be added to the rotation of elevated events? You used to get Tiger, etc. into that field, now this week your headliners are Spieth, Fitzpatrick and Hovland. Seeing Rory + Tony Romo or Rahm + Bill Murray would be fantastic for fans. @JohnnyGB412
Talking to tournament folks here, it appears to be a done deal that Pebble will be elevated in 2024 and thus will finally get the field it deserves. Many top players are already compelled to play it next year as a payback for releases to the Saudi International, so granting the tournament the elevated purse will be good for morale. Hopefully, a bunch of these bold-faced names will fall in love with the Pebble's charms and become regulars.
Since you live around "Dreamland," aka the Pebble Beach area, what's the most underrated and overrated holes at Pebble? @bunkerwill
I'd say 13 is the most underrated—I love that drive and the approach takes a lot of geometry and imagination, even though the recently redone green is not as much fun as the old one. Six is probably now a touch overrated. The Mike Davis bunkers jutting into the fairway means that aiming for the short grass is now the wrong play; all the caddies tell you to play way left up on the hillside, taking the ocean and the very deep, penal bunkers out of play. If you do somehow hit the fairway it's hard to pick the right line on the blind second shot, especially with the greedy bunkers that were expanded for the 2010 U.S. Open. Of course, the best view in golf awaits when you arrive at the green, so it's hard to get too worked up about the alterations to the hole.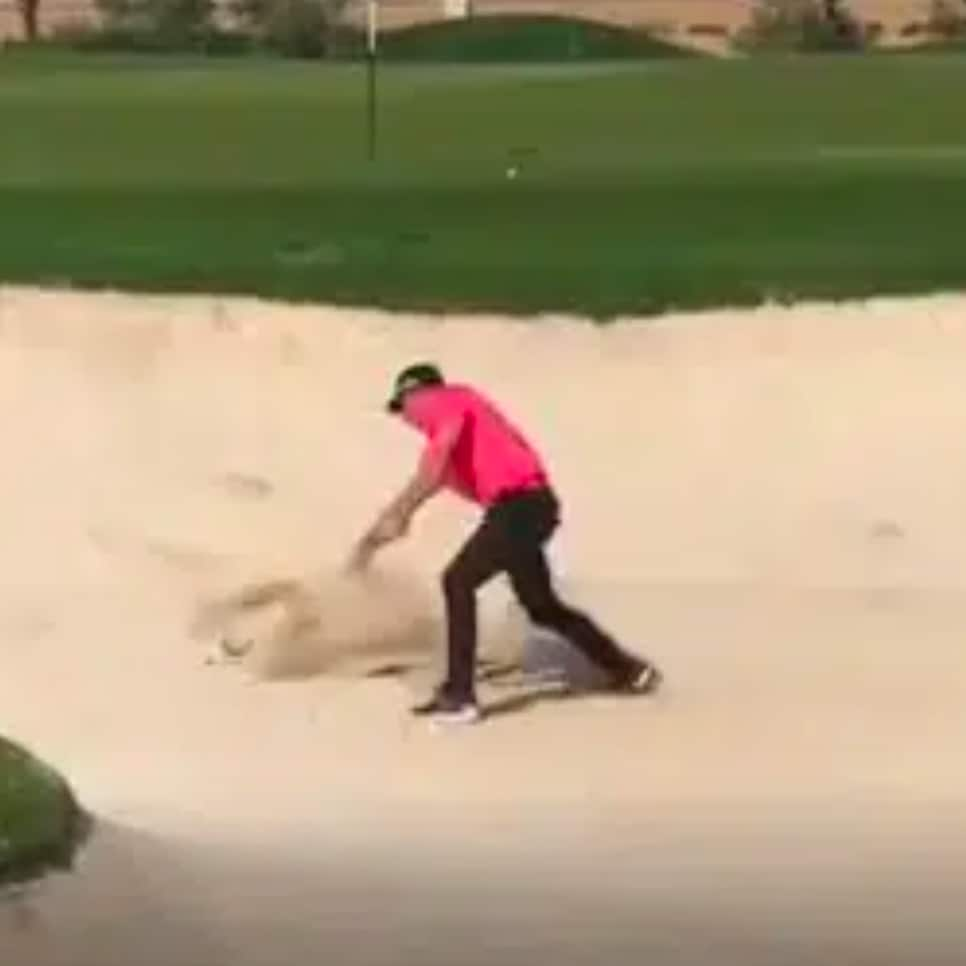 Do villians have a natural tendency to join LIV, or does joining LIV make a person more of a villian? @GolfSpyMPR
Clearly, the league's non-conformist, confrontational vibe appeals to a certain personality type. But I do think joining LIV makes players feel more unencumbered and freer to be their true selves. Guys like Reed and Sergio Garcia (above) and Ian Poulter had so many run-ins with PGA Tour officials that they came to see them as dour bureaucrats always threatening to send them to the principal's office. LIV offered a fresh start, and their new boss, Greg Norman, is one of the biggest shit-stirrers in the modern history of the professional game, so how can he ding them for causing mischief?
Wouldn't sponsors for DP World tournaments want LIV players to be allowed in an effort to not only bring more juice but also to increase the number of top players competing? @KeithKhorton
Of course! Look at the Dubai event—take away the LIV'ers and it's just another ho-hum win for McIlroy against a mostly starless field. Keith Pelley would never admit it but no doubt he is hoping his tour loses the imminent arbitration case in front of Sports Resolutions U.K. That would allow many of Europe's biggest names to continue playing DP World Tour events. That would also mean LIV golfers could qualify for the European Ryder Cup team, putting pressure on Team USA to tear down its walls. This would be a very important step for reunifying a fractured sport.
Was this week a reminder that sports without players you root against as well as for lacks something essential? @TheSecretDuffer
Definitely. The PGA Tour has lost all of its villains. If LIV players get banned from the Euro Tour it will become equally anodyne. Hate-watching/rooting against certain players is an important part of being a golf fan!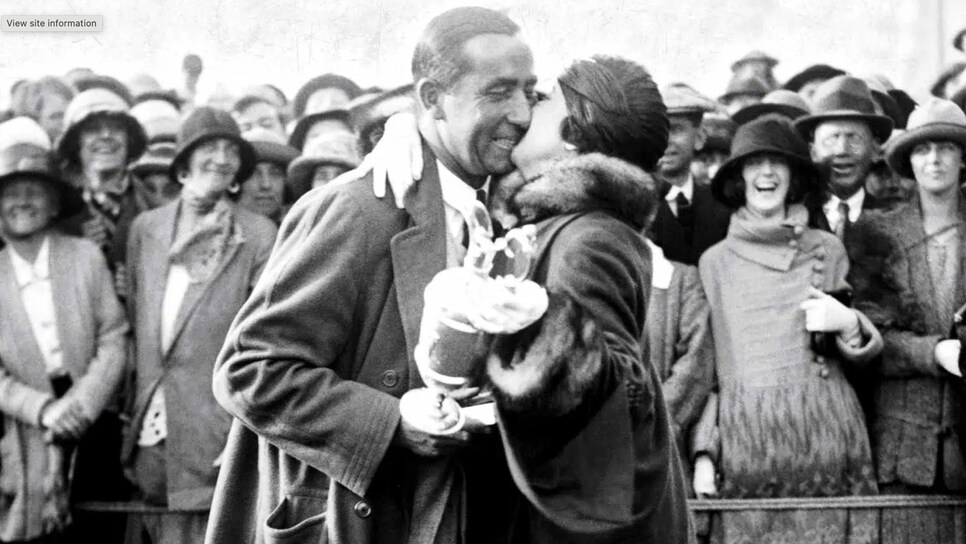 If social media existed back in the day, who was most likely to have Max Homa's presence and success on both the Internet and course? Arnie? Trevino? Or…? @ZitiDoggsGolf
Palmer was too traditional and corporate to be any fun on social media. Trevino is a very hot/cold personality; he always turns on the charm for TV cameras but the 24/7 nature of social media tends to eventually reveal a person's true self and the Merry Mex would probably have gotten himself cancelled for some kind of transgression. I'm going to say Walter Hagen (above) and Jimmy Demaret—both fun, jaunty characters and prolific winners. Peter Thomson was such a deep thinker with strong convictions he would have launched innumerable truth bombs. These old-timers don't know how lucky they were.