FIRE PIT COLLECTIVE
Ask Alan: Is Jordan Spieth entertaining or maddening?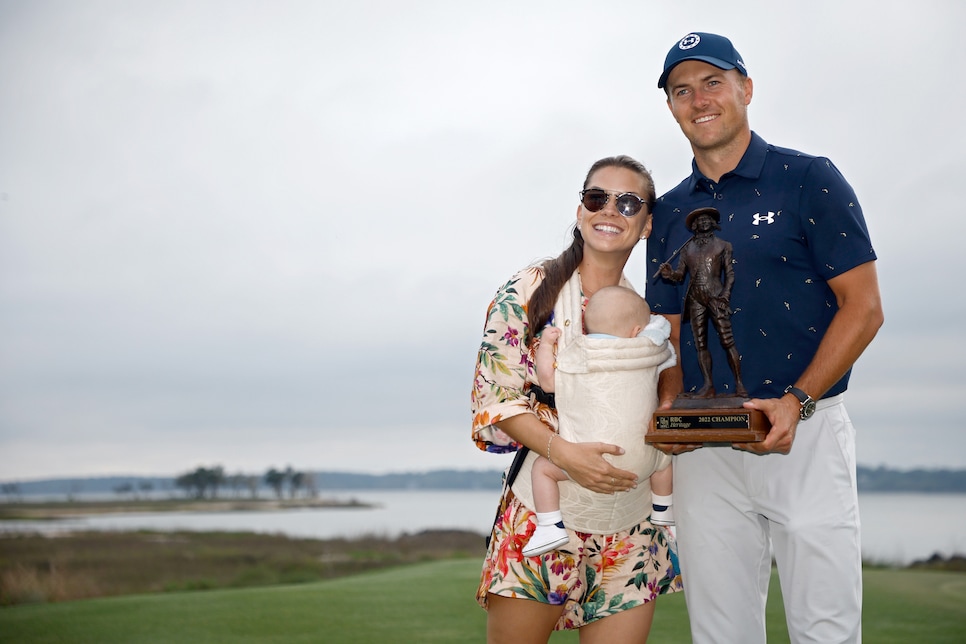 Is Jordan Spieth the most entertaining golfer of all time or the most maddening? @Kevinp613
Yes. And that is what makes him so riveting. He is both a golfing genius and a tortured soul. He can make the hard stuff look easy and the easy stuff look impossible. Spieth has both superpowers and intense frailties. Watching him scuffle to fulfill his vast potential is the best show in the game. What a competitor.
From this day forward, who has the better career: Jordan or Justin Thomas? @AndrewJFleming
Oooh, tough one. Thomas has more firepower and never loses the plot the way Spieth does. But JT doesn't have Jordan's grit—in fairness, nobody does—and he does not play with the same kind of joy. Perhaps because it has been nearly five years since he won his only major championship, Thomas seems increasingly frustrated/oppressed on the golf course. He appears more fixated on the results than the process. Meanwhile, Spieth manifests joy in the struggles. For that reason, I think Jordan will have a longer, more fruitful career.
Has Ted Scott wrapped up Caddie of the Year honors? @CCGabriel1
Don't sleep on Michael Greller! Caddieing for Spieth must be like riding a bucking bronco. If Jordan completes the career Grand Slam next month at Southern Hills, Greller may brood his way to the mythical COY honors.
If Spieth never wins another event, is he still a Hall of Famer? Three majors and a FedEx Cup winner and other wins … I say yes. @Skroutyboy
No question. I mean, have you seen some of the other folks in the Hall? If they put Billy Payne in there but deny Jordan, we will burn that place to the ground and I'm bringing the gasoline and the matches.
Do you think Scottie wins more or less than three majors? @modernml
Here is an incomplete list of players who have won fewer than three majors: Greg Norman, Johnny Miller, Dustin Johnson, Bernhard Langer, Curtis Strange, Ben Crenshaw, Jose Maria Olazabal, Tony Jacklin, Zach Johnson, Fred Couples, Davis Love III, Tom Weiskopf, Tom Kite, Sergio Garcia, Jason Day and Justin Thomas. Clearly, winning three is a monumental achievement. I certainly think Scheffler has the game and the head for it, but life can get in the way. Ask all the dudes in this paragraph.
Is this the largest crop of contenders for Best Player Never to Have Won a Major? Hovland. Cantlay. Cam Smith. Xander. Sungjae. It was Scottie before this week, unless you count career longevity. Now who is it? @evandawson
You're missing out on an important part of being BPNTHWAM, which is suffering. You have to lose a major or two even to be considered, and there needs to be a sense of struggle. You can make the case that Tony Finau is a better choice than any of the players you cited. Xander Schauffele has been there a couple of times, but the wins for him are so sporadic the dread title is not his, at least not yet. (And Olympic gold is a quasi-major.) Cam Smith certainly warrants strong consideration. If he spends another year knocking on the door but doesn't get it done, I'll be ready to anoint him.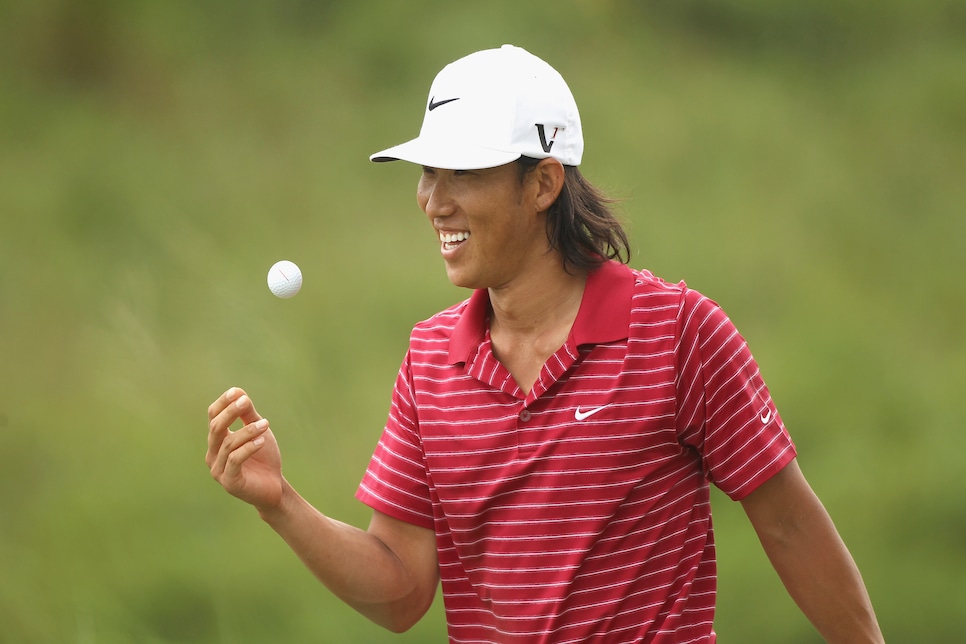 Anthony Kim would be an instant draw for one of the new tours. Realistically, what do you imagine they would have to offer him to come out and play? @HighFades
The cult of AK is remarkably durable. I'm hearing a big-ticket documentary about him is in the works, and not long ago I was interviewed for a multi-part podcast covering his flummoxing career. I agree that if he signed up with the Saudis or PGL it would stimulate a massive amount of interest, at least in the short-term. But AK is now middle-aged at almost 37 and has been out of the game for a decade, having been chased away by injuries and the driver yips. What if he comes back and can't break 80? All the intrigue would evaporate, and I think AK knows that and it's part of what has kept him in self-imposed exile. For him to put himself out there would require a check with a lot of commas and zeros.
The bigger enigma: Rickie Fowler's downfall from the player who won the Players (2015) and finished top five in every major in 2014, or Matthew Wolff's struggles—the can't-miss bomber who was once the top collegiate prospect, even above the likes of Hovland and Morikawa? #AskAlan @opinionsvary328
You could call them enigmas, or maybe both players are proof that succeeding in professional golf is about a lot more than the golf swing. Butch Harmon fired Fowler basically because he felt Rickie didn't have a burning desire to be a great player. But he's always had a great life, and now married with a child, maybe that's enough for Fowler. Wolff has been admirably open about his mental health struggles, and that appears to be an ongoing battle. Going forward he may define victory in very different ways than most players. From the outside looking in it can be vexing that neither player has won at the clip we expected, but I believe both are seeking peace more than trophies.
Seems insignificant, but has Bryson wrecked his career permanently in his seemingly maniacal pursuit of hitting a golf ball farther than any other human being? Can he dial his body back to normalcy and prevent injury and actually work on other parts of his game? @rchinnis
It's not insignificant, it's a huge story. This guy destroyed Winged Foot by creating a template for how the game could be played. Now that pursuit has seemingly broken him. This is the stuff of Shakespeare, not the sports page. I don't think DeChambeau knows how to dial anything back, and doing so would be a kind of concession he is loathe to make. I think he'll keep going 100 mph and let the chips fall where they may.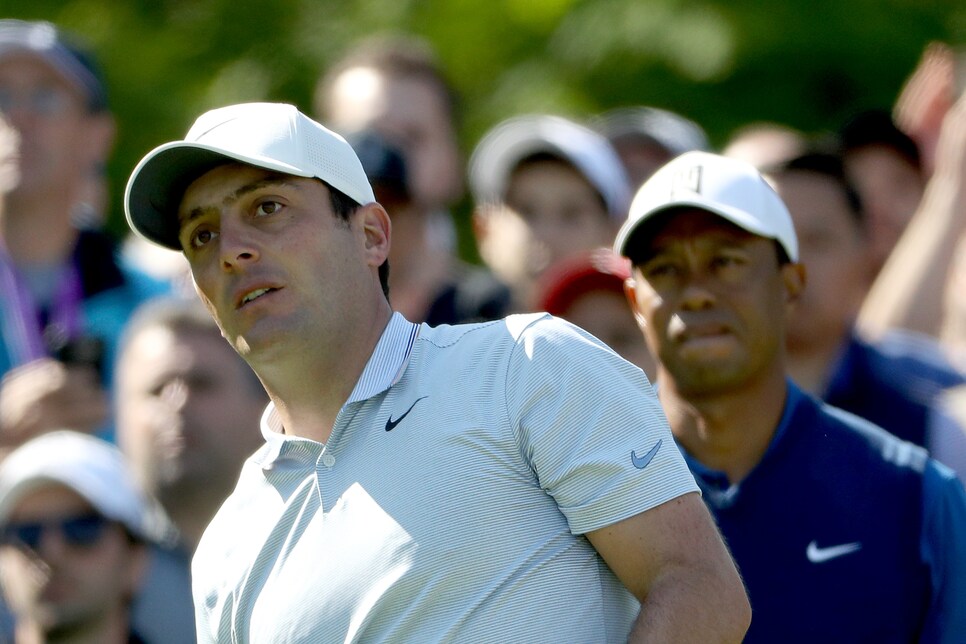 Walking off the 11th green on Masters Sunday in 2019, on the precipice of snagging a green jacket, Francesco was the best player in the world, having dominated a Ryder Cup and tamed Carnoustie with Tiger Woods breathing down his neck. Then he was swept away in a tsunami of Tigermania. Three years later, Molinari is still lost at sea. He moved his family to Los Angeles during Covid, and that's a huge lifestyle change. There have been nagging injuries. But it is stunning how far he has fallen. Frankie turns 40 in November; he still has time to be the player he was. Here's hoping.
With his headline dominance, Tiger may be stifling the stardom of golf's current and future talent. Do you agree? #AskAlan @GoranBarnes
I don't know, maybe he's giving them more room to develop. With Tiger around there's certainly less of a white-hot spotlight on the game's best young players. What boggles the mind is that circa 2015-16 it seemed like the Tiger-Phil epoch had finally ended. Woods was plagued by the chip yips and debilitating back problems, and an aging Mickelson hadn't won in ages. Yet all these years later they still tower over the sport. I thought we would all have to wean ourselves from their cults of personality, but apparently they are still going to be making headlines when Spieth, et al reach the Senior Tour.
Despite three-putts galore and shoddy chipping, Tiger still has speed and precision. That said, he was in noticeable pain as the Masters wore on, and it took a Herculean effort just to finish 72 holes. How much lower is his score if he used a cart? #AskAlan @opinionsvary328
That's like asking what I will serve at the Champions Dinner after I win the Masters — that ain't happening, and neither is Tiger riding in a cart.