AIG Women's Open
Ashleigh Buhai blitzes Muirfield for 64 to take five-shot lead in Women's Open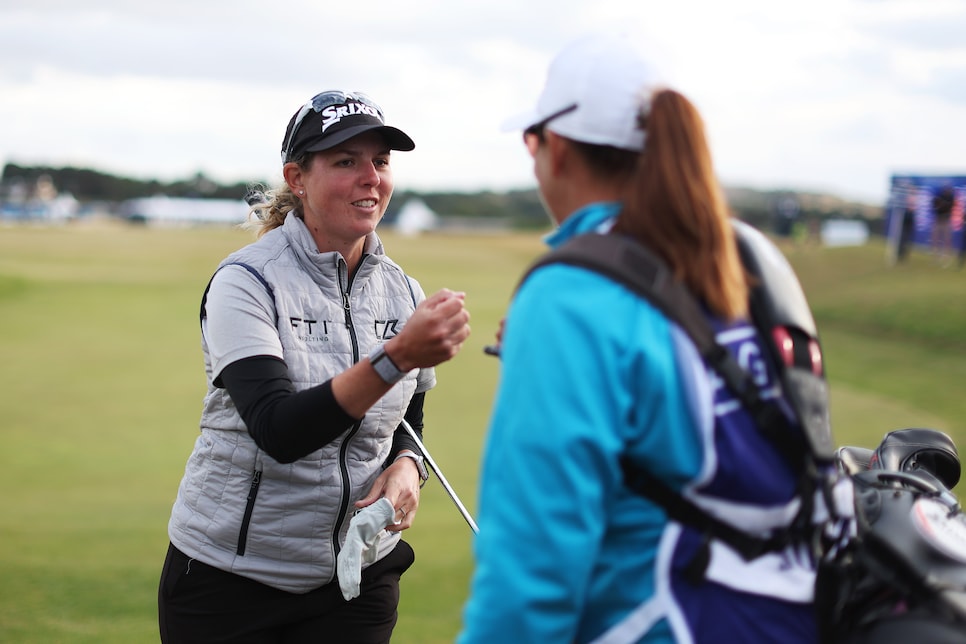 Ashleigh Buhai interacts with her caddie after chipping in for a birdie on the 17th hole during the third round of the AIG Women's Open.
Oisin Keniry/R&A
GULLANE, Scotland — Forget this "moving day" stuff. A more appropriate name for the third round of any golf tournament is surely "eliminating day." Consider the following. As Saturday morning dawned on the AIG Women's Open at Muirfield, as many as 24 players were six shots or closer to the lead held by In Gee Chun on eight under par. Every one of those pursuers would be harboring hopes of potentially tournament-winning progress over the coming 18 holes.
Not for long though. Only six holes into the third round, Ashleigh Buhai was the new leader. The South African had already made four birdies and reduced the chasing pack significantly. Only 11 players were inside our arbitrary six-shot deficit. Three holes after that, Buhai had made another birdie, the gap between her and the rest increasing almost by the minute. Now, only six players could say they were less than seven shots behind.
On and on Buhai went. After 12 holes, she was six under for the day and looking down on the rest from an ever-growing height. Only four women were then inside our six-shot gap.
And she wasn't done yet. Seven under for the day standing on the 16th tee, Buhai had gotten rid of one more challenger. Only three remained, then two—Chun and 2019 champion Hinako Shibuno—by the time the leader reached the penultimate hole.
Believe it or not, things got better still for Buhai. Over the par-5 17th green in three shots after a misjudged approach, she promptly chipped in for her eighth birdie of the day. Suddenly, only Shibuno—six back on nine under after a 66—is looking like she might just have a wee chance of catching the relentless leader.
A dropped shot at the last from Buhai, nudging her lead at 14 under down to five strokes, did offer at least a little encouragement to her nearest—and now only—challenger, however. The 33-year old's seven-under 64 was two shots clear of the lowest score of the week and, it came in blustery conditions that were never less than tricky and always at least borderline difficult. Playing partner Inbee Park was moved to say the golf Buhai played was "phenomenal." Which is fair enough. Compiled in the afternoon, when Muirfield played close to two shots harder than it had before lunch, it was, no question, one of the top rounds of 2022.
"We are going to have to play in good golf tomorrow to catch her," concluded Park, the 2015 champion at Turnberry, displaying a mastery of understatement.
"I'm obviously very pleased," said the leader. "To shoot that score in those conditions, you have to pat yourself on the back. It has to be one of the best rounds I've ever played. We were playing a three-club wind by the end and some of those holes on the back nine are pretty brutal."
Indeed, asked to pick out one shot as a highlight, Buhai was unable to do so, such was the consistency of her excellence.
"I've probably never played better than that," she continued. "I'm most proud of how I stayed calm and focused. That's all I try to control. I wasn't thinking of the outcomes. But I must say my par saves were huge. I was in three divots today and each time the ball didn't come out as I would have liked."
The strange thing about all of the above is that Buhai arrived in East Lothian with little to commend her chances of ultimate success. A missed cut at last week's Scottish Open was far from atypical in a year that has seen the three-time winner on the Ladies European Tour manage only two top-10 in 15 starts on the LPGA Tour. Maybe for that reason, she was reluctant to acknowledge just how many challengers she had dispensed with.
"I'm not sure about that," she said. "In these conditions anything can happen. Anyone can come from behind. There have been low scores this week … and high ones too. But this is my favorite tournament of the year. I love links golf. I love how you have to be creative."
A little caution—mixed with an obvious confidence—is understandable. But facts are facts. Only seven players are now within 10 shots of Bahai's lead. Call her the eliminator.