The Loop
As scrutiny heightens, Rory McIlroy still hunting for answers about his game
ROCHESTER, N.Y. -- "It was getting a little hot under here."
Rory McIlroy was talking about his recently-trimmed hair, but he could have easily just been talking about the past eight months. Far from catastrophic, the 2013 season for the defending PGA champion has still been the most taxing of McIlroy's career. A mere two top 10s. A missed cut in last month's British Open. A highly-publicized move to Nike that, thus far, has led to greater scrutiny and middling results.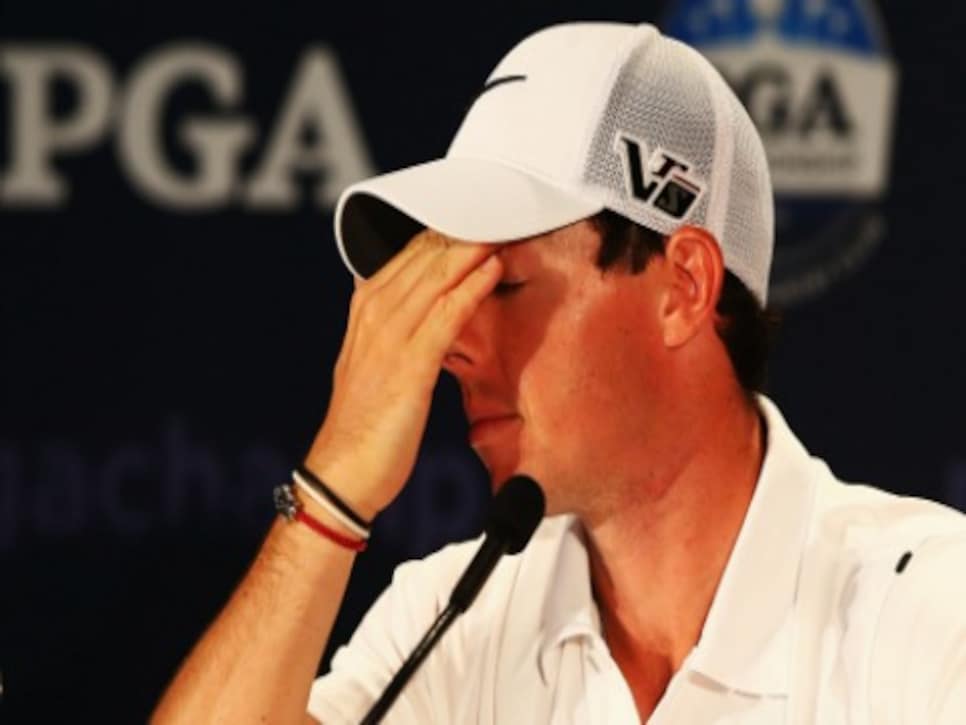 "For sure you look at the way you're swinging the club," McIlroy said. "But it's more than that. It's body language. It's how you carry yourself. It's all that sort of stuff, your little mannerisms."
"Everytime you play and don't play well, it sort of chips away at your confidence a little bit, and it's just about building that back up." said McIlroy, who played nine holes on Wednesday with Sergio Garcia and Martin Kaymer. "But I'm sitting here as confident as I have been all year."
Would it be unreasonable for the McIlroy to contend this week after struggling in the season's first three majors? Maybe not when you consider he was in a funk before last year's PGA and when he went on to win by eight strokes. Regardless, at 24, his peers say he should be allowed some growing pains.
"I think sometimes we forget how young he is and what he's been able to achieve at a very early age," said Ian Poulter, McIlroy's Ryder Cup teammate. "So the second he feels comfortable again, whether that's with his swing or equipment or whatever, you know, Rory will be winning golf tournaments."
Poulter's point was that McIlroy should be given "a break" given his age and the immense scrutiny he's been under for so long. If he felt that way as well, McIlroy wasn't going to say.
"That's not for me to decide," McIlroy said. "I'm here and I'm answering your questions and that's all I can do. It would be nicer to sit up here, talk about some more positive things, but the way this year's gone, it's understandable why I'm not."