The Loop
As hockey loses some of its edge, the original Hanson Brothers are holding on one fist at a time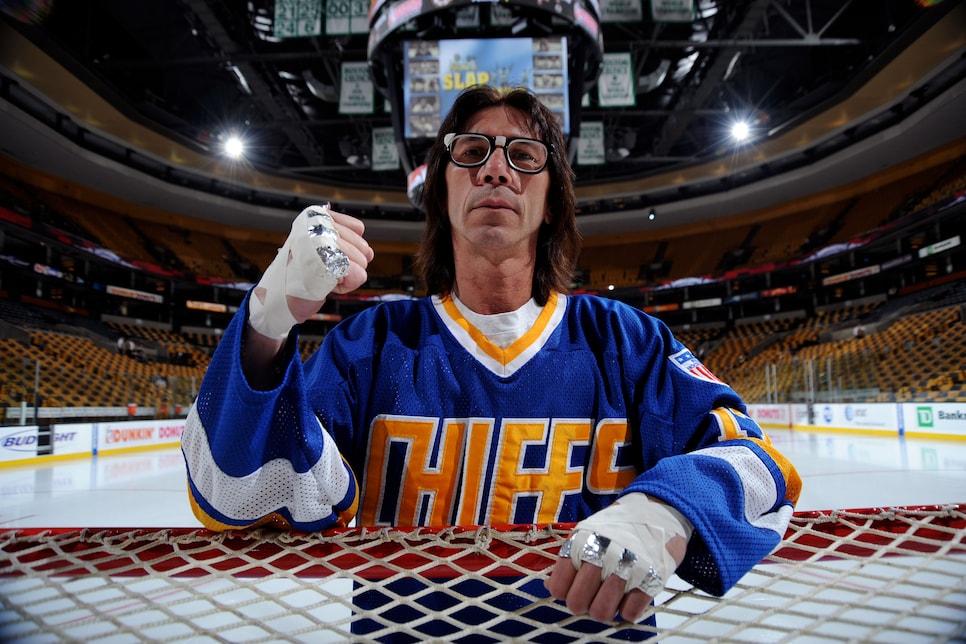 There aren't as many fights in the Stanley Cup Playoffs as there was in the past. Fighting has declined significantly in hockey since the days when teams often would send enforcers or tough guys onto the ice. Heck, in 1987, the Flyers and Canadiens got in a 15-minute brawl before their playoff Game 6 even started.
Such frequent fighting was well displayed in the classic 1977 comedy, Slap Shot,' perhaps the best and most memorable hockey movie ever made (Miracle about the 1980 U.S. Olympic hockey team is the only challenger). Slap Shot starred Paul Newman as the Charlestown Chiefs player/coach who often encouraged fighting. And the team's three Hanson brothers—Steve, Jeff and Jack, who all wore dark-rimmed glasses and had long hair—brawled constantly.
The Hanson brothers punched opposing players before the game, raked their hockey sticks across faces, slammed people into the boards, leaped into the stands to fight and even got arrested by police after one brawl.
Steve Carlson, who played Steve Hanson in the movie, says it wasn't that far removed from what actual hockey was like back then.
"You talk about real life hockey, well, Slap Shot is real life hockey,'' Carlson says. "We did get arrested by going into the stands. We did jump a team in warm-ups in real life. We did fight often. My brothers (Jeff and Jack) and Dave Hanson, they were the ones who were the enforcers. When the puck was dropped and the gloves came off, that how's the game was played back in the Broad Street Bully days. …
"We're not promoting fighting. But if a fight breaks out, so be it. That's the way the game is. I think we've lost that a little bit. I liked that style of play.''
Carlson played 14 seasons of hockey, in both the World Hockey Association and the NHL. While with the Edmonton Oilers (then in the WHA), he was Wayne Gretzky's roommate. He played with Gordie Howe as well and also coached in the minors. Despite all that, he is much better known for his role in Slap Shot.'
"No question. Actually, it kind of made me bitter when I was a player,'' he said. "I played 14 years and everyone just wanted to talk about the movie. And I was like, 'C'mon, I'm a hockey player. That movie was a long time ago. It's done. We're all over with.' I didn't realize the impact we had and the movie had on not only the youth hockey, but the middle aged and the ankle biters all the way up to grandpas and grandmas. We have a huge fan base.''
Carlson, who grew up in hockey-passionate Minnesota, just moved to Johnstown, Pa, where Slap Shot was filmed. He says he and the two other Hanson brothers in the movie (brother Jeff and David Hanson) make 25 to 30 weekend appearances each year at hockey games and other events. They do this all around the country and even had four visits to Germany.
"It's just as big (in Germany) as it is here. It's huge. Huge!'' Carlson says. "At that time we were playing in games and doing our skits on the ice. We're hitting their alumni and veterans of world cups and Olympics, and we're pushing them around and the fans are throwing stuff at us and booing us. It's pretty entertaining. We put on a pretty good show and those fans loved it. It was fun.''
Slap Shot remains so popular that when the team bus for the Humboldt junior team crashed recently, a DVD of the movie was found in the mud nearby.
"We have a huge fan base of what we do. It's pretty impressive,'' Carlson says. "One weekend we'll be in Hinton, Alberta and the next weekend we'll be in Lafayette, Louisiana. They all have the same favorite lines, they all have the same favorite stuff. What I like about is it brings a smile to peoples' faces. The way we treat them and talk to them. A lot of things we do, we like to entertain all the time.''
Interestingly, when appearing at a hockey arena, the Hanson brothers will sometimes play briefly against youth hockey players between periods—and also keep up their fighting style.
"We'll go out between the first and second period and the three bad Hanson brothers and the mascot will play the mighty, 'vicious' five- or six-year-olds from that town,'' Carlson says with a laugh. "They have these little mini-mites following the puck all over the place. Well, after the opening faceoff, the little boy pushes the puck through my legs and I trip him up. And the crowd starts booing and we pick him up off the ice and put him high against the glass.
"And with about 30 seconds left in the four-minute game, all the little mini-mites drop their gloves and chase the Hanson brothers off the ice.''
Unfortunately, the trips are often during the winter and can be tiring, especially when flights are delayed or cancelled due to snowstorms. The Hanson brothers also are getting older -- Carlson is 62 and brother Jeff was recently cured of throat cancer while Dave Hanson had a hip replacement – so they may not be doing this too much in the future.
"We're slowing down a little bit,'' Carlson says. "We're getting tired. Our bodies are breaking down a little bit and we're at an age where we have to be real careful at we do. It's been a great run.
"We're really looking to winding down. I don't know how much longer we do it but I don't think it will be much longer.''
Thus, the Hanson brothers may not be making as many appearances in years to come. Or fight nearly as much in the movie.
Or as much as NHL players used to.