The Loop
As always, Tiger says goal is to win Players
PONTE VEDRA BEACH, Fla. -- The last time we saw Tiger Woods -- other than in some video clips on his website showing him hitting balls at a clinic in China -- was in an abrupt-to-the-point-of-dismissive interview on CBS following his final round at the Masters. According to Woods, the nine holes he played Tuesday on the Stadium Course at TPC Sawgrass was his first venture onto a golf course since that fourth-place finish at Augusta National.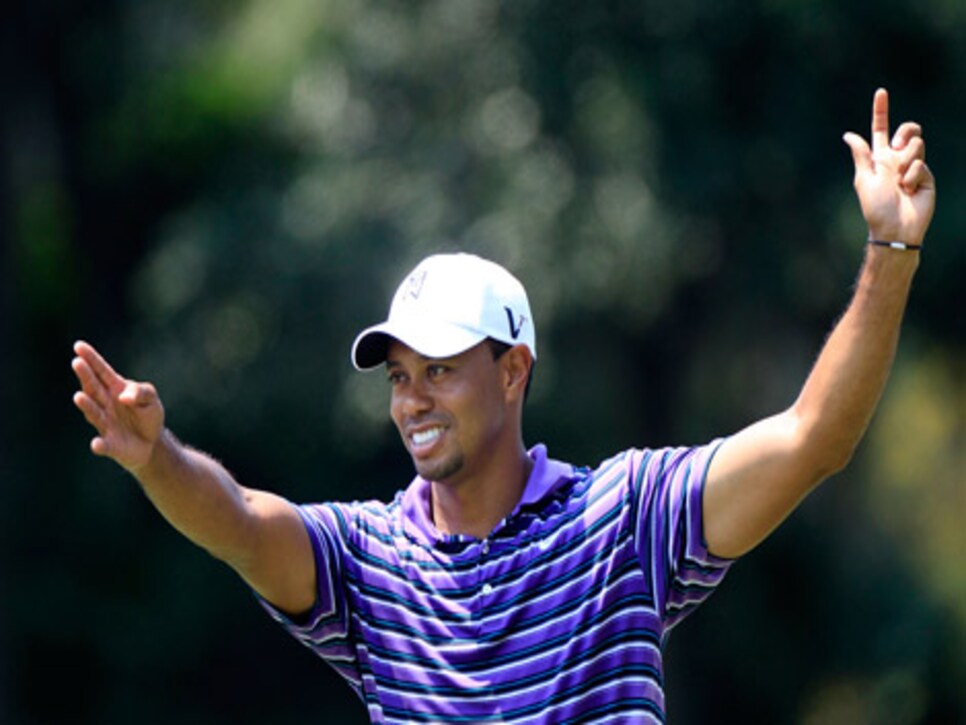 How far off is Tiger? We will know more Thursday. Photo by Getty Images
Woods, who shut it down after he returned from Asia and withdrew from the Wells Fargo Championship because of what his camp described as a minor injury to his left knee and Achilles, also says he first starting hitting balls again Monday at his home in Isleworth, near Orlando. So what are we to think that means for his chances of winning the Players Championship, which starts for him Thursday when he tees off at 8:08 a.m. on No. 1 with Martin Kaymer and Matt Kuchar?
"Just like always, to win," Woods said when asked what he expected of himself this week against what is always one of the toughest fields of the year. Tiger is not only taking on a talented field with little preparation, he is tackling with a golf course he has never played all that well, his only victory in the Players coming 10 years ago, a stretch in which he has had only one other top-10 finish.
The real question is the health of the left knee that has been operated on four times. Woods said he had mild treatment such as anti-inflammatory medicine, ice and elevation but that mostly his rehabilitation was rest. The other question that needs to be answered here this week is the state of his putting, which let him down on the weekend at the Masters as he missed putts of 2, 3 and 4 feet.
He was, as is his wont, coy on a sweltering Tuesday after his practice nine. Asked how he was feeling, a clear reference to his knee and Achilles, he responded: "Hot," punctuating the answer with a smile. He lit up the most when asked about his final round at Augusta National, when he moved into contention with a 31 on the front nine before losing momentum with missed putts on Nos. 12, 13 and 15.
Asked about the state of his game, Woods said: "It's starting to piece together." And questioned as to whether the knee or the Achilles were causing him the most problem, Woods said: "They go hand in hand."  Last year, Woods was not able to finish here, withdrawing on the seventh hole on Sunday when well out of contention.  In a sense, just finishing this week would be a step forward.
"It's all about peaking four times a year," Woods said, referring to the major championships, the next of which is the U.S. Open at Congressional CC near Washington in June. Asked about his playing schedule between now and then he said: "Let's see how I feel after four days here." That's a question that can be answered in many different ways. And the response will be fun to see.