The Loop
Arnold Palmer sort of had a thing for winning first-time PGA Tour events
Arnold Palmer was a first-timer in many golf milestones, such as being the first golfer to earn $1 million in career PGA Tour earnings, but with the RBC Heritage Classic this week, his proficiency at winning a tournament's inaugural event is example No. 1.
The debut of the Heritage Classic in 1969 was held shortly after Pete Dye designed Harbour Town Golf Links, with assistance from Jack Nicklaus. We are used to the Heritage being held the week after the Masters, as it is this week for its 47th playing, but the '69 inaugural event was held on Thanksgiving week, Nov. 27-30. Palmer, then 40, had been winless for 14 months when he put together rounds of 68-71-70-74 -- 283 to win by three shots. Winning at Harbour Town was so new that in a photo of Palmer being given the winner's plaque from tournament chairman Charles Fraser the still-under-construction lighthouse can be seen in the background (see below). Palmer felt like he had won his first tour event all over again: "I think this is one of my most important wins, almost like the first one. I wanted to win this one as much as I would a U.S. Open or Masters, or any other tournament."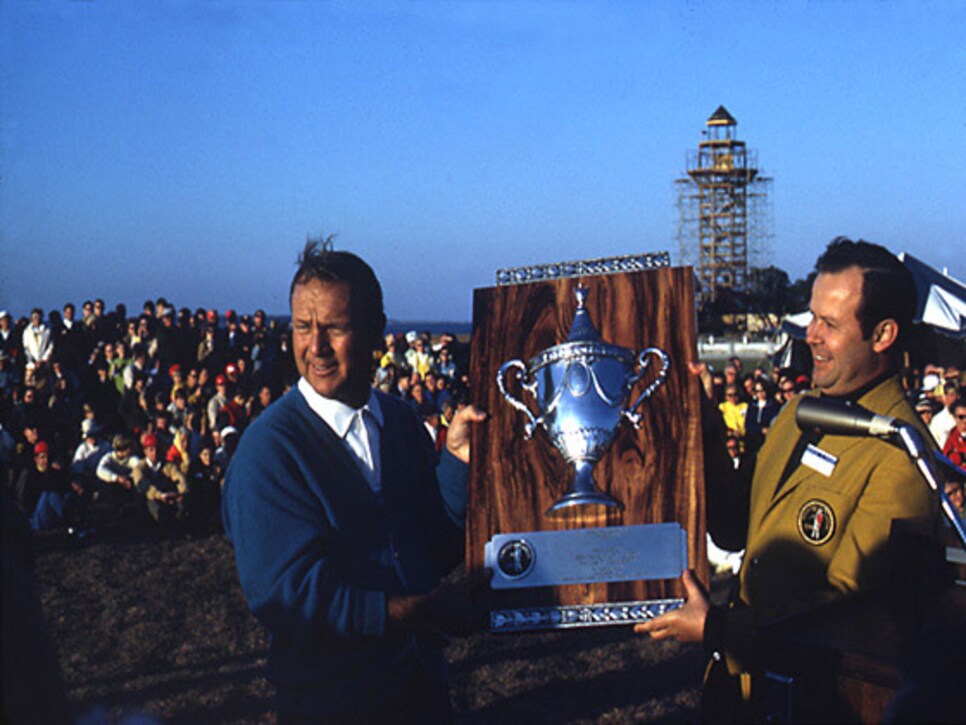 Palmer was the inaugural winner in several tour events among his 62 victories. Of the tournaments on the current tour schedule, Nicklaus won the first playing in three: The Players (1974), WGC-Bridgestone Invitational (1976, known as the World Series of Golf), and The Barclays (1967, as Westchester Classic). Palmer is next with two: the RBC Heritage and Humana Challenge (the Palm Springs Golf Classic when he won in 1960). Others with two are Harry Cooper, Ted Kroll, Byron Nelson and Sam Snead.
But Palmer won the first playing of five other tour events no longer on the schedule, including the 1968 Kemper Open, the 1963 Whitemarsh Open (Philadelphia) and the 1963 Cleveland Open. With the 1969 Diplomat Classic and 1958 Pepsi Golf Championship only being held for one year, Palmer was both the first and last winner in those events.
Photo: Golf Digest Resource Center