The Loop
Arnold Palmer helped Tiger Woods before 1997 Masters win with Bay Hill practice battle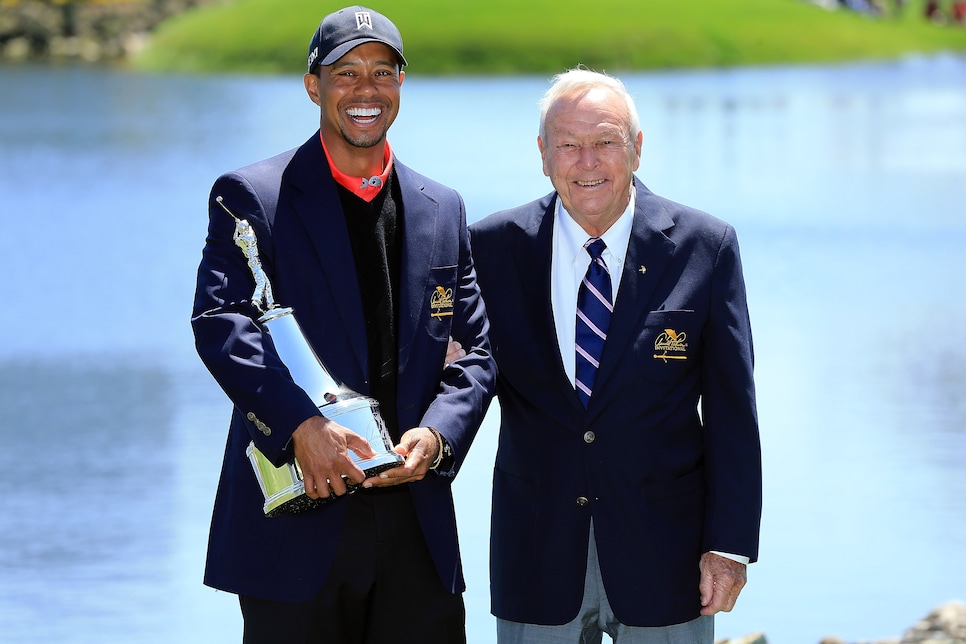 As the Arnold Palmer tributes continue to pour in, one universal theme continues to emerge: his benevolence, compassion and generosity toward others. And according to the King himself, it was through this hospitality that helped Tiger Woods prepare for his historical 1997 Masters win.
In Palmer's upcoming memoir "A Life Well Played: My Stories," Palmer's chronicles -- with help from Golf Digest/Golf World's Dave Shedloski -- about taking Woods to Bay Hill a few days before the fledgling superstar headed to Augusta National. Palmer, then 67 years old, battled Woods in a practice round, with Arnie keeping pace until the 17th hole, when Tiger closed him out. Not one prone to defeat, Palmer suggested a double-or-nothing bet on the final hole, a challenge accepted by Woods.
We'll let Palmer take it from here:
We both hit good drives in the fairway on what is Bay Hill's tough closing par-4 that measures 458 yards and features an oblong green that wraps around a lake. Of course, Tiger was miles ahead of me. I needed a driver to reach the green with my second shot, and I wasn't going to back down. I pulled out the driver. You know: go for broke.
"I'll let Alastair (Johnston, his business manager) tell part of the story from here because I wasn't privy to his conversation with Tiger until much later: 'I was standing next to Tiger, and he was really enjoying watching Arnold grinding it out,' Alastair said. "He said to me, 'Arnold never gives up, does he?'"
No, I don't. I hit my second shot through the green and into the back bunker, while Tiger found the green with his second shot. I got up and down for a par. Tiger missed his birdie putt, and we halved the hole.
A few days later, Woods would win the green jacket by a record 12 strokes. To Palmer, it was that last-minute prep that propelled him to victory.
"I'd say that Tiger Woods had quite a couple of weeks of good golf," Palmer said. "I'd also like to say I helped by putting him in a good competitive frame of mind."